Meet Calendar
Send us missing information. We have a lot of meets with no dates or incorrect dates. We want information now for the entire 2004-2005 school year.
NOTE: Hamdheld times will not be considered for US#1 at 400 meters and below. Marks missing wind readings may also be ignored.
BOYS
100 - J-Mee Samuels NC 10.25
200 - Xavier Carter FL 20.49
400 - Lashawn Merritt VA 45.25
800 - Jacob Hernandez TX 1:48.48
1500 - Victor Gras MA 3:45.19
1600 - Mike Booth PA 4:07.77
Mile - Galen Rupp OR 4:01.8
3000 - Galen Rupp OR 8:03.67 USR
3200 - Brian Sullivan TX 8:52.92
2 Mile - Shadrack Kiptoo NM 8:45.44
110H - Jason Richardson TX 13.38
300H - Kevin Craddock CA 35.93
400H - Jason Richardson TX 49.79
HJ - Scott Sellers TX 7-5
LJ - Robert Rands NE 25-1.25
TJ - Ken Hall LA 54-10.25
PV - Adam Sarafian NJ 17-4.5
SP - Zach Lloyd NV 66-7.25
DT - Zach Lloyd NV 211-5
JT - Chad Brown LA 218-6
HT - Nate Rolfe WA 237-1
4x100 - Lancaster TX 40.28
4x200 - Glenville OH 1:23.78
4x400 - Dorsey CA 3:11.45
4x800 - Saline MI 7:40.68
SMR - Cinco Katy Ranch TX 3:25.39
DMR - Saline MI 10:03.15

GIRLS
100 - Ashley Owens CO 11.13
200 - Shalonda Solomon CA 22.82
400 - Natasha Hastings NY 52.04
800 - Sarah Bowman VA 2:04.94
1500 - Sarah Bowman VA 4:23.36
1600 - Elizabeth Yetzer MN 4:46.14
Mile - Nicole Blood NY 4:42.40
3000 - Nicole Blood NY 9:24.03
3200 - Caitlin Chock CA 9:58.51
2 Mile - Nicole Blood NY 10:10.73
100H - Shantia Moss FL 13.39
300H - Ebony Collins CA 40.81
400H - Katya Kostetskaya AR 56.49.
HJ - Viktoria Andonova FL 6-1
LJ - Brittany Daniels CA, Gayle Hunter CA and Shana Woods CA 20-7.75
TJ - Brittany Daniels CA 44-11.75 USR
PV - Tiffany Maskulinski NY 13-5
SP - Sarah Stevens CO 50-4.5
DT - Jocelyn White NJ 172-2
JT - Rachel Yurkovich OR 161-11.
HT - Erin Donnelly RI 165-7
4x100 - Poly Long Beach CA 44.50 USR
4x200 - Poly Long Beach CA 1:33.87 USR
4x400 - Poly Long Beach CA 3:35.49 USR
4x800 - Bay Shore NY 8:57.48
SMR - West Catholic PA 3:52.22 USR
DMR - Bay Shore NY 11:33.42 USR
ShopDyeStat


unique items
for the HS athlete
--Camp Directory
--Parents Guide

--Training G
uide
--Training Profiles
--Pace Calculator
--the Harrier
--HS Track 2004
Great American seeds announced
The Nike Race of Champions will have 22 teams that are top 10 in the NTN regional rankings, including 9 ranked nationally in The Harrier Super 25. In addition, the ROC will include 7 boys and 18 girls running unattached, including such elite runners as Brian Sharkey FL, Jennie Barringer FL, Carmen Mims KY, Bria Wetsch MN, Kate Niehaus SC, Erin Bedell TX, and Sarah Bowman VA. Seeds were also announced for the seeded individual, red, white, blue, small school, and JV races. The Great American Cross Country Festival will be held Oct. 1-2 at Cary NC, with college races on Friday night and high school races all day Saturday.
THIS WEEK
results, rankings, and other news posted through Sept 9
Cross Country Preview
- Major meet pages, meet calendar, new regional coverage of states, regional news editors.

Pre-season NTN regional rankings.
US#2 The Woodlands TX has a lot of red shirts up front in their season opener, The Woodlands Inv.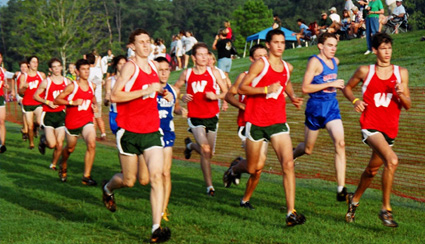 1 Northeast CT, MA, ME, NH, NJ, NY, PA, RI, VT
2 Southeast AL, DE, FL, GA, MD, NC, SC, KY, TN, VA, WV, DC, PR
Robert Bedsole leads Hoover AL over Scottsboro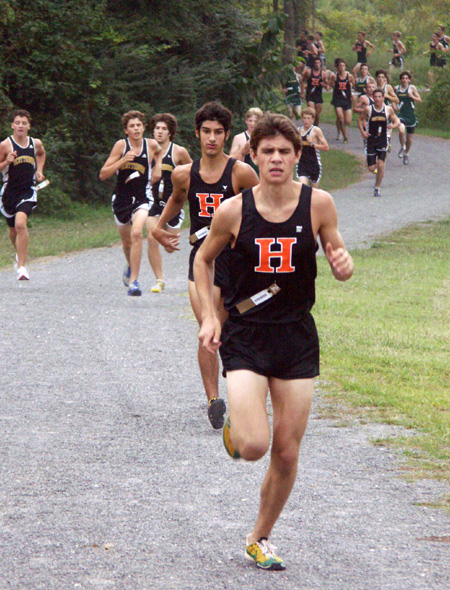 SC Eye Opener - Stephanie Buffo of Dorman (left) won the girls race. J. C. Koziel's third place finish (right) paced Northwestern.
3 South AR, LA, MS, OK, TX
4 Midwest IL, IN, MI, OH, WI
5 Heartland IA, KS, MN, MO, NE, ND, SD
6 Southwest AZ, CO, NV, NM, UT
7 Northwest AK, HI, ID, MT, OR, WA, WY
2004 Wrapup
exploits of US high school athletes in the 2003-2004 scholastic year.
Our AOY rolls include 38 athletes, 17 boys and 21 girls, from 18 states and 35 high schools. West Catholic Philadelphia (Latavia Thomas and Nicole Leach), Poly Long Beach CA (Shalonda Solomon and Shana Woods) and James Logan CA (Kevin Craddock and Talia Stewart) have two AOY athletes. California has 7 athletes to lead the states, with Florida, New York and Texas claiming 4 each and Colorado 3. Fifteen AOY's will return in 2005 -- 12 girls and 3 boys. World Junior champs Lashawn Merritt (above left) and Ashley Owens (above right) lead the AOY parade. We have performance stats of all 37 athletes and photos by John Dye, Donna Dye, Vic Sailer's PhotoRun, Kirby Lee, Margaret Gallagher, Dave Casper, Doug Speck, Bert Richardson and Greg Armstrong. AOY BOYS - GIRLS.
DyeStat Elite - 12,601 performances that qualified for DyeStat's national rankings. There were 4,038 in cross country - 3,891 indoor - 4,672 outdoor.
Top Returnees - DyeStat Elite performers who will be back in 2005 -- 1,311 outdoor and 1,172 indoor.
New Faces - These are the freshmen (and even younger) performers who earned national ranking in the DyeStat Elite indoor and outdoor lists. There were 289 new faces, including 22 boys and 267 girls, proving again that girls mature earlier than boys. These are the stars of the future, and for some the future is now.
Big Meets - index to all the big interstate meets - cross country - indoor - outdoor
College Choices - where the class of 2004 will attend college. Choices 2004
Cross Country
Super 25 national rankings
Great American ROC entries

Pre-season US#1 teams in Marc Bloom's Harrier Super 25 rankings are Saratoga Springs NY girls and York Elmhurst IL boys.

Saratoga has been #1 nine of the last 11 years, but faces a serious challenge this year from Smoky HIll Aurora CO, like Saratoga boasting two returning Foot Locker national finalists.

York, returning to national power with coach Joe Newton's best team since the Don Sage-led teams of the late 1990s, is picked to bump last year's top team, The Woodlands TX, down to #2. DyeStat has the complete Super 25 list this year, thanks to The Harrier.

The Race of Champions at the Great American Cross Country Festival (Cary NC Oct 1-2) is the seeded race with the best teams and some elite individuals. It perennial includes a powerful lineup of some of the best teams in the country. Ten boys teams and 12 girls teams are ranked in the new NTN Regional Rankings. The girls ROC will feature the top two teams in the country in Marc Bloom's Harrier Super 25 pre-season list -- Saratoga Springs NY and Smoky Hill Aurora CO -- each with two returning runners from last year's Foot Locker national finals -- Nicole Blood (7th) and Lindsey Ferguson (26th) of Saratoga Springs and Katelyn Kaltenbach (1st) and Morgan Schulz (11th) of Smoky Hill.
Cross Country Preview --- Cross country is coming, and we are getting ready with all the preview information you need.

The Harrier
by Marc Bloom
XC Pre-season issue in August. Free Yearbook to new subscribers

DyeStat uses Hy-Tek
for meet results