Meet Calendar
Send us missing information. We have a lot of meets with no dates or incorrect dates. We want information now for the entire 2004-2005 school year.
NOTE: Hamdheld times will not be considered for US#1 at 400 meters and below. Marks missing wind readings may also be ignored.
BOYS
100 - J-Mee Samuels NC 10.25
200 - Xavier Carter FL 20.49
400 - Lashawn Merritt VA 45.25
800 - Jacob Hernandez TX 1:48.48
1500 - Victor Gras MA 3:45.19
1600 - Mike Booth PA 4:07.77
Mile - Galen Rupp OR 4:01.8
3000 - Galen Rupp OR 8:03.67 USR
3200 - Brian Sullivan TX 8:52.92
2 Mile - Shadrack Kiptoo NM 8:45.44
110H - Jason Richardson TX 13.38
300H - Kevin Craddock CA 35.93
400H - Jason Richardson TX 49.79
HJ - Scott Sellers TX 7-5
LJ - Robert Rands NE 25-1.25
TJ - Ken Hall LA 54-10.25
PV - Adam Sarafian NJ 17-4.5
SP - Zach Lloyd NV 66-7.25
DT - Zach Lloyd NV 211-5
JT - Chad Brown LA 218-6
HT - Nate Rolfe WA 237-1
4x100 - Lancaster TX 40.28
4x200 - Glenville OH 1:23.78
4x400 - Dorsey CA 3:11.45
4x800 - Saline MI 7:40.68
SMR - Cinco Katy Ranch TX 3:25.39
DMR - Saline MI 10:03.15

GIRLS
100 - Ashley Owens CO 11.13
200 - Shalonda Solomon CA 22.82
400 - Natasha Hastings NY 52.04
800 - Sarah Bowman VA 2:04.94
1500 - Sarah Bowman VA 4:23.36
1600 - Elizabeth Yetzer MN 4:46.14
Mile - Nicole Blood NY 4:42.40
3000 - Nicole Blood NY 9:24.03
3200 - Caitlin Chock CA 9:58.51
2 Mile - Nicole Blood NY 10:10.73
100H - Shantia Moss FL 13.39
300H - Ebony Collins CA 40.81
400H - Katya Kostetskaya AR 56.49.
HJ - Viktoria Andonova FL 6-1
LJ - Brittany Daniels CA, Gayle Hunter CA and Shana Woods CA 20-7.75
TJ - Brittany Daniels CA 44-11.75 USR
PV - Tiffany Maskulinski NY 13-5
SP - Sarah Stevens CO 50-4.5
DT - Jocelyn White NJ 172-2
JT - Rachel Yurkovich OR 161-11.
HT - Erin Donnelly RI 165-7
4x100 - Poly Long Beach CA 44.50 USR
4x200 - Poly Long Beach CA 1:33.87 USR
4x400 - Poly Long Beach CA 3:35.49 USR
4x800 - Bay Shore NY 8:57.48
SMR - West Catholic PA 3:52.22 USR
DMR - Bay Shore NY 11:33.42 USR
ShopDyeStat


unique items
for the HS athlete
--Camp Directory
--Parents Guide

--Training G
uide
--Training Profiles
--Pace Calculator
--the Harrier
--HS Track 2004
Super 25 national rankings update
The first update of The Harrier editor Marc Bloom's Super 25 national cross country team rankings for the 2004 season has been released. Saratoga Springs NY girls and York Elmhurst IL boys retain the US#1 ranking, but early season results shook up the rest of the lists. Six new teams moved into the boys top 10 -- Fayetteville-Manlius NY, Mountain View UT, Jesuit Tampa FL, Marshall MN, Milford MI, and Cedar Cliff PA. The girls rankings were more steady, with three new teams in the top 10 -- Fountain Valley CA, West Plains MO, and Kingwood TX. Super 25 as of Sept. 20.
THIS WEEK
results, rankings, and other news posted through Sept 23
US#2 Smoky Hill CO girls win big Liberty Bell Inv despite injury to Katelyn Kaltenbach. Albuquerque Academy NM and Denver South CO boys win separate divisions. Katie Follett and John McGuire are fastest of day. Zoe Nelson leads Flathead MT girls at Great Falls. US#1 York IL boys open with perfect 15 in dual meet. PA: Council Rock North PA boys, Eleanor Roosevelt MD girls win at Briarwood. MD: River Hill MD boys, Unionville PA girls win at sloppy Bull Run. DE: Thomas Jefferson VA boys win at Lake Forest Inv. OR: Lincoln boys win at New Balance Inv; Megan O'Reilly leads Mt. Spokane girls. CA: Royal Simi Valley boys, Maria Carrillo girls, Brian Bethke and Alma Escobar are big winners at big Woodbridge Inv. South Week: Kingwood TX sweeps Texas A&M Inv. Northwest week: Jesuit, Ferris, Eisenhower, Zoe Nelson and Megan O'Reilly star.
1 Northeast CT, MA, ME, NH, NJ, NY, PA, RI, VT
Northeast Week Sep 18 - Runners splash through wind and waves of Hurricane Ivan. "My girls loved it," said Bethlehem NY coach Jack Rightmyer at Guilderland Inv. Council Rock North PA boys and Eleanor Roosevelt MD girls (Southeast region) get big wins at Briarwood Inv in Philadelphia.
PA Briarwood Inv - Council Rock North PA boys roll over LaSalle & NE#7 Chaminade NY. Eleanor Roosevelt MD wins girls race.
NY Guilderland Inv - NE#4 Bethlehem NY girls rout NE#10 Columbia NY. Bethlehem 24 (1 2 5 7 9), Columbia 77 (8 10 14 17 28).
NY Suburban Council - US#1 NE#1 Saratoga Springs NY girls shook off a rare loss by Nicole Blood and still scored a perfect 15 in a dual scored 5k race at Colonie. Blood, who took a flu shot earlier in the day, felt sick during the race and finished fourth. But Saratoga's top 5 bunched in a 27-second spread with former Argyle runner Caitlin Lane first at 18:20, Lindsay Ferguson 18:35, Karyn Delay 18:36, Blood 18:46 and Hannah Davidson 18:47. Saratoga beat NE#4 Bethlehem 15-44, Colonie 15-50 and Averill Park 15-50.
2 Southeast AL, DE, FL, GA, MD, NC, SC, KY, TN, VA, WV, DC, PR
3 South AR, LA, MS, OK, TX

South Week Sep 18 - Kingwood TX sweeps Texas A&M Invitational team titles. Region awaits 1st Nike South Invitational next week with more than half of the South region's ranked teams.
TX Texas A&M Invitational - Kingwood TX sweeps with SO#1 girls and SO#3 boys. Carroll Southlake sweeps individual honors with Kevin Ondrasek (right) and Miranda Walker.

on-site coverage at
Texas A&M by
John Sullivan,
South Region editor.
4 Midwest IL, IN, MI, OH, WI
Midwest Week Sep 18 - Midwest powers York IL boys, Clarkston MI girls, and Bowling Green OH girls dominate their meets.
US#1 York IL boys open with perfect 15 in dual meet at Downers Grove led by Sean McNamara 14.30 3 miles.
5 Heartland IA, KS, MN, MO, NE, ND, SD
Heartland Week Sep 18 - Liberty MO boys, Iowa City West girls are solid at big Rimrock Farm meet - Yankton SD girls impressive at Norfolk.
6 Southwest AZ, CO, NV, NM, UT
Southwest Week Sep 18 - US#2 Smoky Hill Aurora CO girls win big Liberty Bell Invitational despite injury to defending Foot Locker national champion Katelyn Kaltenbach. Other regional action.
Liberty Bell Invitational - US#2 SW#1 Smoky Hill Aurora CO girls win big meet (93 teams) despite injury to Katelyn Kaltenbach. SW#5 Albuquerque Academy NM boys and SW#9 Denver South CO boys win separate divisions. D'Evelyn's John McGuire 15:30 3.1m and Fort Collins' Katie Follett 17:54 are fastest individuals of the day. .
7 Northwest AK, HI, ID, MT, OR, WA, WY
Northwest Week Sep 18 - Jesuit WA, Ferris WA, Eisenhower WA, Zoe Nelson WA and Megan O'Reilly OR star.
OR New Balance Inv - Lincoln boys win, NW#3 Central Catholic Portland is third. Megan O'Reilly leads NW#5 Mt. Spokane girls.
MT Great Falls Invitational - NW#3 Flathead MT girls 29, Bozeman MT boys 48 win team titles on very hilly and difficult 3-mile course. Flathead's Zoe Nelson 17:59 and Helena's Jon Metropoulos 16:32 are individual winners. Flathead scores 1-2-6-7-13, with freshman Tara Klein closing the gap in 13th. .
adidas Outdoor Championships move
The adidas Outdoor Championships, held in Raleigh for the past 11 years, will move to Greensboro NC this year (June 17-18) to the track facility of North Carolina A&T.
Iolani runners crest a hill with Hawaii mountains in background.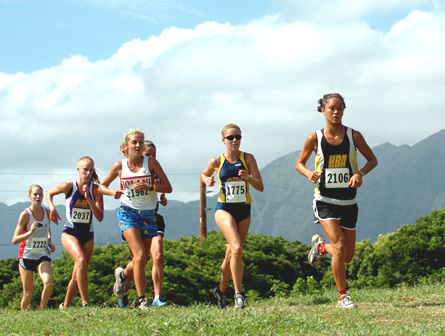 Iolani photo albums - 93 action pix by John Dye
Warming Up - Boys Varsity sequence - Girls Varsity sequence
Iolani Invitational




9/18/04 Oahu HI


DyeStat on-site coverage
Snohomish WA wins by 1 and 4.


Lauren Ho wins thriller over Amanda Patterson.
Jordan McNamara breezes.
Woodbridge Inv collage by Bill Leung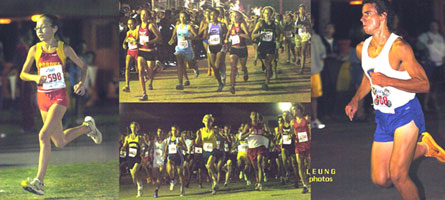 MMOC
photo
albums
John Dye's action shots at the Midwest Meet of Champions.
Getting Ready -
Boys ROC -
Girls ROC

left, 107 Shannon Titus, Bowling Green OH, and 330 Carlie Green, Milford MI
Great American adds Mountain View
Mountain View UT, #1 ranked boys team in the NTN Southwest region, is one of several teams azdded to the the Race of Champions at the Great American Cross Country Festival at Cary NC Oct 1-2. There are now 24 boys teams in the ROC and 26 girls teams. Great American entries

The Harrier
by Marc Bloom
XC Pre-season issue in August. Free Yearbook to new subscribers

DyeStat uses Hy-Tek
for meet results