Cross Country DyeStat Elite
We list the best 5k and 3-mile times in the United States.
List #1 Oct 22 -
How to Get Ranked
THE NIKE LIST
fastest in the US
Boys 5k
15:01 Cory Thorne NH
15:06 Guor Majak NH
15:06 Dan Roberts MI
15:09 Ryan Sheridan NY
15:10 Fitsum Tesfa CA
15:10 Jeff See OH
Girls 5k
16:55 Nicole Blood NY
16:57 Aislinn Ryan NY
17:08 Marie Lawrence NV
17:21 Laura Cummings NY
17:24 Whitney Anderson CO
Boys 3m
14:22 Brandon Bethke CA
14:30 Brett Campfield CA
14:30 Sean McNamara IL
Girls 3m
17:00 Zoe Nelson MT
17:03 Karen Taner CA
17:06 Alma Escobar CA
17:07 Stephanie Sipes WA
17:11 Brie Felnagle WA
16:52 (2.95m) Tori Tyler CA
.
ShopDyeStat


unique items
for the HS athlete
--Parents Guide

--Training G
uide
--Training Profiles
--Pace Calculator
--the Harrier
--HS Track 2004
the good news:
DyeStat has been sold.
the bad news:
None. There is no downside to this.
Dear DyeStatters,
Exciting times are ahead for DyeStat!

Donna and I have sold DyeStat.com to BC Sports, the company that owns Student Sports. Student Sports is a print and online publishing company with longstanding and deep relationships with high school football, basketball and soccer players through the publications and special events it promotes.

BC Sports approached Donna and me because they would like to establish the same strong connection to the high school track & field athlete that they have with the other sports. They've asked us to continue to manage DyeStat.com for the next 4 years (at least) while they explore ways to help us make DyeStat.com bigger and better.

So, DyeStat.com isn't going away, nor are Donna and I.
When we started DyeStat 8 years ago, we had no idea what it would become. I sometimes call it a hobby gone berserk. It has certainly come to dominate my life. Lately, I have had to consider that at my age (a very healthy 68, but 68 nevertheless), I can't keep doing DyeStat 7 days a week indefinitely. In order to have other people take over some of my duties, we need new revenues or outside investors. Fortunately for all of us, BC Sports stepped up. They have pledged to continue everything we now provide and to add even more features. Donna and I will continue to cover all the big meets for years to come.
That's it for now. I have to go post some results and rankings.
John Dye
INDEX
to DyeStat's on-site coverage
DONNA
ON THE SIDE
at Mt. SAC
Mt. SAC Div 1-2 sweepstakes

Royal boys, Murrieta Valley girls, Brandon Bethke and Marie Lawrence
Knockout blow in last 250 meters gives Brandon Bethke round 3 over Mark Matusak
Marie Lawrence (right) takes charge on the uphill slopes of the Switchbacks
Royal boys' depth turns back Don Lugo's big 3
Murrieta Valley girls add another big title to their resume.

the story in text and photos by Rich Gonzalez and Doug Speck
Mt. SAC Div 1/2 Sweepstakes - 124 action photos by John Dye
Boys Individual - Boys Team - Girls Individual - Girls Team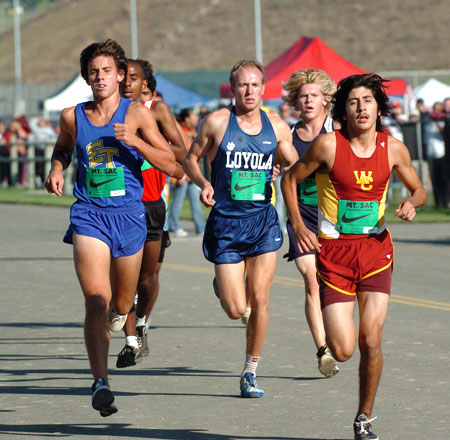 THIS WEEK
results and other news posted through Oct 28
1 Northeast CT, MA, ME, NH, NJ, NY, PA, RI, VT
2 Southeast AL, DE, FL, GA, MD, NC, SC, KY, TN, VA, WV, DC, PR
3 South AR, LA, MS, OK, TX
4 Midwest IL, IN, MI, OH, WI
5 Heartland IA, KS, MN, MO, NE, ND, SD
6 Southwest AZ, CO, NV, NM, UT
Whitney Anderson 16:56 at altitude!

Summit CO sr Whitney Anderson, who was second at Great American behind Aislinn Ryan and ahead of Nicole Blood and Erin Bedell, ripped off a near record 16:56 5k in her regional at Delta CO (4,953 feet). It is believed to be the second fastest 5k ever in Colorado behind 1989 Foot Locker champion Melody Fairchild's 16:45.
7 Northwest AK, HI, ID, MT, OR, WA, WY
DyeStat Elite
initial XC lists have 1,000 performances
First cross country DyeStat Elite listings have 1,000 performances at 3 miles and 5k. Send us your times that meet the criteria.
How to Get Ranked - Oct 22 DyeStat Elite.
NTN Regional Rankings
update comes with 16 days to go until
first Nike Team Nationals Selection Sunday
The October 22 NTN regional rankings update comes with only 16 days remaining before the first invitations (Midwest, Heartland and Southwest) go out for the first Nike Team Nationals in Portland December 4. The top two teams in each region will be invited and the third and fourth teams in each region are considered for at large bids. Four boys teams moved into the top four of their region this week: Ferris Spokane WA to NW#1, Madison West WI to MW#4, Shawnee Mission Northwest KS to HL#3, and El Camino Oceanside CA to CA#3. The top four girls teams remained the same with some shuffling of the order.
NTN Regional rankings - NTN Top 4

DyeStat uses Hy-Tek
for meet results

The Harrier
by Marc Bloom