1 Northeast CT, MA, ME, NH, NJ, NY, PA, RI, VT
2 Southeast AL, DE, FL, GA, MD, NC, SC, KY, TN, VA, WV, DC, PR
Southeast Week Oct 9 -SE#2 Oakton VA girls edge C. Milton Wright MD by 4 points. Andy Biladeau runs 9:08.5 2-mile at halftime of football game. Laurel Pritchard 18:31 beats freshman Emily Reese by 19 seconds at Furman.
Furman Invitational - Robert Bedsole 15:36 5k leads Hoover AL boys 43. Brookwood girls 148 (Collins Hill 154). Vestavia Hills AL soph Laurel Pritchard 18:31 (Chamblee freshman Emily Reese 18:50).
3 South AR, LA, MS, OK, TX
South Week Oct 9 - South region top ranked The Woodlands TX boys and Kingwood TX girls roll over ranked teams at Humble. Tupelo MS girls win Mississippi College Inv.
LA Catholic Invitational - Mountain Brook AL sweeps team titles over top Louisiana teams. Mountain Brook's young girls team scored 28 points. Individual winners are Lydia Woodward 18:32 of Barbe LA and St Paul sr Jonathan Thomas 15:52.
4 Midwest IL, IN, MI, OH, WI
Midwest Week Oct 9 - Rockford MI girls, Bowling Green OH girls, Clarkston MI girls and Milford MI boys are all impressive.
MW#5 Madison West WI boys won the Madison city championships with a perfect 15.
OH Eisenhart Inv - MW#8 LaSalle Cincinnati OH 52.
5 Heartland IA, KS, MN, MO, NE, ND, SD
Heartland Week Oct 9 - Kansas: Jana Gwinn (Blue Valley North) goes 15:00 at SM West Meet, Emporia runs to boys and girls victories at Emporia. Minnesota: Marshall boys, Roseville girls win Lions Meet of Champions. Ramsay Kavan 13:44 4k leads HL#2 Yankton SD girls to perfect 15 win.
HL#9 Lee's Summit North MO girls 39 win Excelsior Springs Invitational.
HL#3 Iowa City West girls 31 beat Iowa #2 Cedar Falls 79 in MVC Super meet, with four girls in the top eight led by individual winner Sarah Wickman 14:44.
6 Southwest AZ, CO, NV, NM, UT
Southwest Week Oct 9 - Denver South CO boys edge Fort Collins CO. South Tahoe and Reno girls are 2nd and 3rd at big Clovis meet in Fresno with Reno's Marie Lawrence the individual winner by 33 seconds.
Utah Region 1 - Alexis Meyer 18:40 3m leads SW#3 Fremont UT girls 19 (1 2 4 5 7) over Davis 56 and Weber 61. Viewmot's Brian McKenna 15:21 wins boys race, but runnerup Josh Adams 15:32 leads unranked Davis UT 34 (2 5 6 9 12).
7 Northwest AK, HI, ID, MT, OR, WA, WY
DyeStatCal - the internet home of high school track and cross country in California.
California week Oct 9 -At Clovis, Madera boys edge CA#1 Royal, which ran with #1 runner missing for SAT test. Fountain Valley girls win.
At Inland Empire, Murrieta Valley girls, Don Lugo boys.
Tori Tyler 16:51 is fastest time at tough Crystal Springs course since 1985.
Clovis Invitational - CA#5 Madera boys edge CA#1 US#3 Royal Simi Valley, 91-94, with Royal missing #1 runner taking SAT test. Mel Lawrence of Reno wins in 17:08, one of fastest times ever at Woodward Park, the California state meet course. CA#2 Fountain Valley girls 87, SW# 5 South Tahoe 103, SW#4 Reno NV 128.
Inland Empire Challenge - Fitsum Tesfa 14:47 3m leads CA#2 Don Lugo boys 54 over CA#4 Murrieta Valley 70. Soph Liana Boucher 18:03 (Danielle Evans 18:04) leads CA#3 Murrieta Valley girls 31 (1 3 8 9 10).
California Report - Furious finish at Clovis Invitational in Fresno - Ayala (red with black A) had a great trail pack, placing its 3rd to 7th runners intact from 39th to 43rd.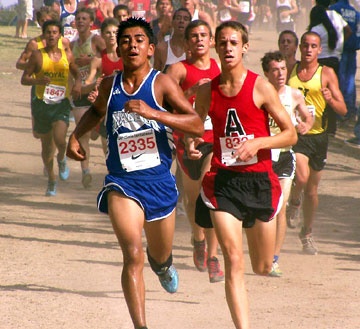 photo by Bill Buettner
DONNA
ON THE SIDE

at the
Portage
Invitational
Mountain Brook AL girls enjoy a mud bath after muddy victory
at Catholic HS Invitational in Baton Rouge LA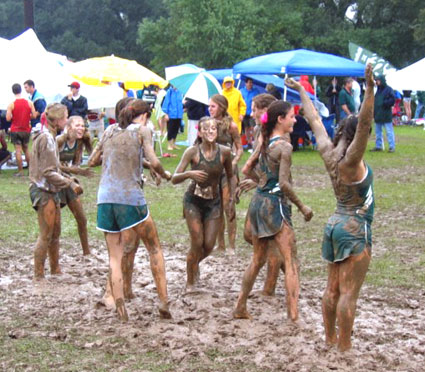 FAYETTEVILLE - MANLIUS NY

throws a shutout at CBA. NE#1 F-M claims 1st through 5th with 12-second spread all under 13 minutes to crush NE#3 Christian Brothers Academy NJ in perhaps the greatest team performance in 32 years of the Manhattan Inv. Boys Varsity C
Rockford MI soph
Rachel Wittum 17:45 and Middletown OH sr Jeff See 15:10 lead teams to Division 1 victories. Vicksburg MI jr Dan Roberts 15:06 runs fastest time of day in Division 2. Results and Pix

Fayetteville-Manlius 15 1. Tom Gruenewald 12:42
2. Owen Kimple 12:49
3. Jarred Burdk 12:49
4. John Heron 12:51
5. Andy McCann 12:54 Christian Brothers 54

(6. Chris Horel 12:59)

Manhattan
Record day at a cross country mecca


Nicole Blood becomes first girl under 14 minutes at Van Cortlandt for 2.5 miles
Saratoga Springs NY girls score 39, and Fayetteville-Manlius NY boys roll with a perfect 15, destroying team average records in the process. Girls Eastern States - Boys Varsity C
Newton-North's Chris Barnicle misses Victor Gras' one-year-old meet record by less than a second.

On-site reports from Manhattan

Don Rich sees "a ballet on spikes " from his perch on Freshman Hill.
Ed Grant calls it "a meet that will be long remembered", and the dean of New Jersey track writers has a very long memory.
meet the Stotans - F-M coach Bill Aris calls his team "the new Stotans." In case you didn't know, that is a contraction of "stoic" and "spartan".
the mighty men of Fayetteville-Manlius NY
no one else in sight at Manhattan finish line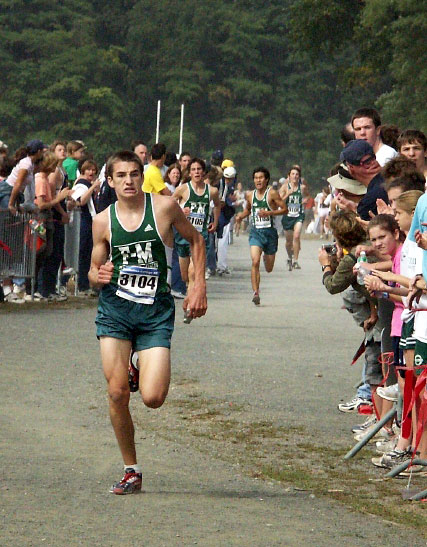 Manhattan record - Nicole Blood vanquishes Aislinn Ryan,
who beat her at Great American a week ago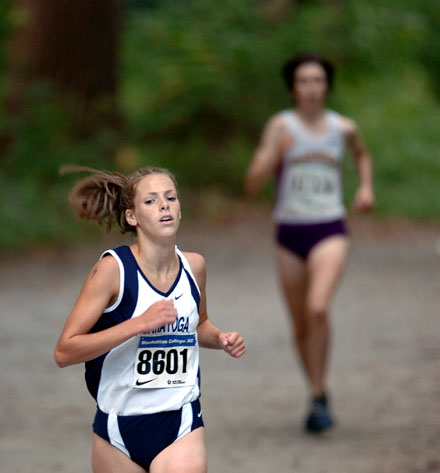 the stars at Portage

Rachel Wittum


Jeff See


Dan Roberts