Cross Country DyeStat Elite
We list the best 5k and 3-mile times in the United States.
List #1 Oct 22 -
How to Get Ranked
THE NIKE LIST
fastest in the US
Boys 5k
14:45 Kevin Schwab OK
14:58 David Raucci NY
15:01 Cory Thorne NH
15:02 Brock Hagerman IN
15:03 Scott MacPherson TX
15:04 Ben Schulz TX
15:05 Dan Gerber TX
15:06 Guor Majak NH
15:06 Dan Roberts MI
15:06 John McGuire CO
15:07 Kiel Uhl IA
15:09 Ryan Sheridan NY
15:10 Fitsum Tesfa CA
15:10 Jeff See OH
15:10 Tim McLeod FL
Girls 5k
16:55 Nicole Blood NY
16:56 Whitney Anderson CO
16:57 Aislinn Ryan NY
16:57 Brittany Tinsley OH
17:03 Jordan Hasay CA
17:08 Marie Lawrence NV
Boys 3m
14:22 Brandon Bethke CA
14:30 Brett Campfield CA
14:30 Sean McNamara IL
14:36 Fitsum Tesfa CA
14:41 Rob Barany WA
14:41 Robert Bedsole AL
14:43 Ted Price CA
14:43 Mark Matusak CA *
Girls 3m
16:36 Aislinn Ryan NY
16:42 Nicole Blood NY **
16:42 Melissa Dewey VA
16:48 Marie Lawrence NV*
16:52 Tori Tyler CA *
17:00 Zoe Nelson MT
17:01 Katelyn Bastert IL
17:03 Kauren Taner CA
* 2.91m Mt. SAC
** 3.05 miles
ShopDyeStat


unique items
for the HS athlete
--Parents Guide

--Training G
uide
--Training Profiles
--Pace Calculator
--the Harrier
--HS Track 2004
NTN Regional Rankings
Nov 5 update; first NTN selections loom
We have the Nov 5 update to the rankings that are the basis for invitations to the first Nike Team Nationals in Portland December 4. Teams from the Midwest, Heartland and Southwest regions are the first to be picked. Rankings in those three regions will be adjusted after the last state meets are finished this weekend. Selections will be announced Tuesday. The top two teams in each region will be invited to Portland, and the third and fourth ranked teams will be considered for national at large bids. Only two teams are new in the top four this week -- Unionville XC Club PA to NE Girls #3 and Reno XC Club NV to SW Girls #4. NTN Regional rankings - NTN Top 4

The Harrier Super 25
New York retains top spots with Fayetteville-Manlius boys and Saratoga Springs girls
Nov 1 -- The Harrier magazine Super 25 rankings released today, based on results through Oct. 30, continue Fayetteville-Manlius NY boys and Saratoga Springs NY girls as the #1 high school cross country teams in the country. The Harrier Super 25 national team rankings

BOYS
GIRLS
1.Fayetteville-Manlius, NY
2.York Elmhurst, IL
3.The Woodlands TX
4.Royal Simi Valley, CA
5.Ferris Spokane, WA
6.Jesuit Portland, OR
7.Cedar Cliff PA
8.Liberty MO
9.Lockport NY
10.Mountain View Orem, UT
11.Marshall MN
12.Christian Bros Academy NJ
13.Eisenhower Yakima, WA
14.Dana Hills CA
15.Shawnee Mission NW KS
16.Mead Spokane, WA
17.Madison West WI
18.Los Alamos NM
19.Northridge IN
20.Tucker Richmond, VA
21.Fort Collins CO
22.Denver South CO
23.Hoover, AL
24.Madera CA
25.West Plains MO
1.Saratoga Springs NY
2.West Plains MO
3.Clarkston MI
4.Flathead MT
5.Kingwood TX
6.Bay Shore NY
7.Yankton SD
8.Fountain Valley CA
9.Bellarmine Prep WA
10.Bowling Green OH
11.Jesuit Portland, OR
12.Iowa City West IA
13.Los Alamos NM
14.Ventura CA
15.Smoky Hill Aurora, CO
16.Roosevelt Sioux Falls, SD
17.Waukesha West WI
18.Carroll Southlake, TX
19.Fremont Plain City, UT
20.Murrieta Valley CA
21.Oakton Vienna, VA
22.Naperville North IL
23.Valparaiso IN
24.Champlain Valley VT
25.Reno NV
Caitlin Chock
joins the Oregon Project

PORTLAND OR 11/2/04 -- Caitlin Chock, the California prep star who set an American HS record for 5000 meters of 15:52.88 finishing fifth at the World Junior Championships in Grosseto Italy last summer (right), is moving to Portland this week to join the Oregon Project. Chock signed with the University of Richmond, but withdrew last month and returned to California. The Oregon Project is a Nike-sponsored experimental distance training program headed by Alberto Salazar, 3-time New York Marathon champion and former world record holder in the marathon.


photo by Vic Sailer / PhotoRun
THIS WEEK
results and other news posted through Nov 4
1 Northeast CT, MA, ME, NH, NJ, NY, PA, RI, VT
Northeast Week Oct 30 --NE#1 US#1 Fayetteville-Manlius NY is perfect 15 in league championships. F-M coach Bill Aris said, "Our 29 second compression is a little wider than our last few races, but it was in large part due to our 1st 2 guys having great days, while the rest of my top 5 simply ran well." NE#2 Cedar Cliff PA easily overcomes 1-2 punch of Manheim Twp's Craig and Brad Miller.
NE#5 Unionville PA girls dominate strong district by 122 points. Allentown Central Catholic PA wins rubber match over NE#8 Parkland PA in district meet, but the state meet next week will be round 4.
NY Orange County Championships - Warwick Valley NY jr Aislinn Ryan 16:36 3m, breaking the Bear Mountain course record set in 1986 (Liz Brenden 16:45).
NY Suburban Council Championships - Nicole Blood 16:42 3.05 mi (fastest in US this season) breaks Erin Davis' course record at Saratoga State Park to lead US#1 NE#1 Saratoga NY 16 (1 2 3 4 6) over NE#7 Bethlehem NY 65 (5 8 9 19 24).
Maine State Meet - Old Town jr Cassie Hintz 17:53 5k edges Cape Elizabeth soph Elise Moody-Roberts by 3 seconds. Portland sr Ayalew Taye 15:40 and Belfast sr Levi Miller 15:43 are fastest boys.
New Hampshire State Meet - Portsmouth sr Cory Thorne breaks John Mortimer's 10 year old state record of 15:24 in winning his 3rd consecutive Class L state championship by 26 seconds over Concord sr Guor Majak. . NE#4 Manchester Central NH girls, NE#8 Hanover NH girls, and NE#9 Londonderry NH boys win class titles. Londonderry's five man time of 83:24 was the best ever on Derryfield Park course designed in 1981.
Vermont State Meet - NE#3 Champlain Valley girls score 32 points with five in top 11.
Connecticut Class Championships - Previously ranked New Milford has fastest team time of meet, placing five in the top 17 to win Class LL.
East Lyme sr Matthew Warren 15:58 5k and Lyman's Kelly Sorrell 15:28 4k are fastest runners of day.
Ed Grant's New Jersey week - Sectional action: South Jersey's Anthony Kelhower surprises Chris Pisano. Toms River North boys beat NE#5 Cherokee. NE#7 Morris Hill boys win easily. NJ#1 Roxbury girls win again.
PA District 3 - Cedar Cliff sweeps, with NE#2 US#7 boys overcoming 1-2 finish by Manheim's Miller brothers. Cedar Cliff sr Pat Caulfield said:
"Even this morning, I was thinking about States. This wasn't our best race. We're going to have to have our best race at States to win."
| | |
| --- | --- |
| Craig Miller led from the gun, and ran 15:58 for 1st, 16 seconds ahead of twin brother Brad. | Cedar Cliff's Corey Creek, a junior, has been a 'pleasant surprise' this season, stepping up as the key 5th man that has locked up each win. |
2 Southeast AL, DE, FL, GA, MD, NC, SC, KY, TN, VA, WV, DC, PR
3 South AR, LA, MS, OK, TX
South Week Oct 30 - Favorites win in Texas districts. SO#10 Jenks OK falls to unranked Edmond Memorial in Oklahoma state meet. Mustang OK soph Kevin Schwab finishes season unbeaten in OK state meet.
OK Oklahoma State Meet - SO#10 Jenks boys lose to OK state meet 2nd seed Edmund Memorial in 5A. Kevin Schwab finishes unbeaten.
4 Midwest IL, IN, MI, OH, WI
Midwest Week Oct 30 - Northridge IN boys, Valparaiso IN girls, Waukesha West WI girls, and Madison West WI boys win state titles. York IL boys and Bowling Green OH girls win state meet warmups.
Indiana State Meet - very windy and wet conditions. Boys - MW#6 Northridge 104 (4 11 16 32 41), MW#8 Carmel 131. Hamilton Southeastern jr Justin Roeder 16:07 5k, taking the lead from Brock Hagerman in the third mile. Girls - MW#10 Valparaiso 87 (4 14 16 21 32), Westfield 112, MW#5 Indianapolis Cathedral 123. Concordia Lutheran Fort Wayne sr Adele Mitchell 14:35 4k.
Wisconsin State Meet - MW#3 Madison West boys and MW#4 Waukesha West girls are victorious on a wet and windy day.
5 Heartland IA, KS, MN, MO, NE, ND, SD
6 Southwest AZ, CO, NV, NM, UT
Southwest Week Oct 30 - SW#3 Fort Collins and SW#4 Denver South boys and SW#2 Smoky Hill girls win Colorado state meet titles
Colorado State Meet - Smoky Hill Aurora defends title without Kaltenbach. Whitney Anderson 17:26 wins by 89 seconds. John McGuire 15:06 is 7-second winner over Mohamud Ige. SW#3 Fort Collins boys win 5A, and SW#4 Denver South wins 4A.
Nevada Regionals - SW#5 Reno NV girls and Marie Lawrence follow up Mt. SAC success with smash wins in Northern Nevada regional. Soph Marie Lawrence 18:26 5k breaks sister Collier's course record at Rancho San Rafael by 31 seconds as she leads Reno over SW#4 South Tahoe, 30 (1 2 4 8 15) to 42 (5 6 9 10 12). Reno boys, led by Joseph Parker 16:36, also beat South Tahoe, 37-74. Both teams will go at it again in the Nevada State Meet next Saturday at Boulder City.
Two fastest boys of the Colorado State Meet were D'Evelyn sr John McGuire (356) and Denver South jr Mohamud Ige, who duelled in 4A. McGuire 15:06 5k won by 7 seconds at 6000 feet altitude in Colorado Springs. SW#2 US#16 Smoky Hill Aurora girls won the 5A team title.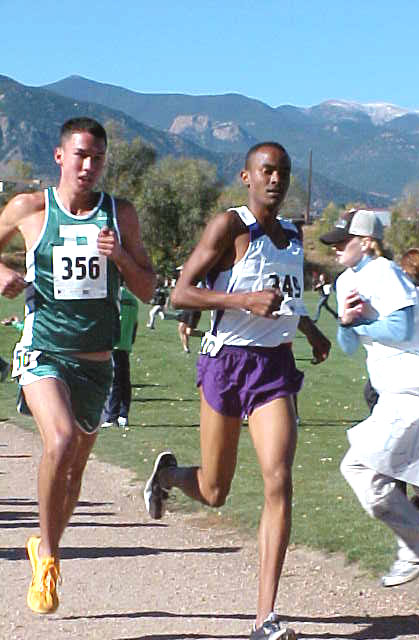 7 Northwest AK, HI, ID, MT, OR, WA, WY
Northwest Week Oct 30 - US#23 NW#4 Eisenhower (60) wins Eastern Washington Regional meet over NW#1 Ferris (67) and NW #3 Mead (72). Eisenhower was led by Sr Robbie Barany 15:22 (#1) and Sr Charles Cummings 15:30 (#3) for 5k. Same three teams will do it again next Saturday in Washington State Meet.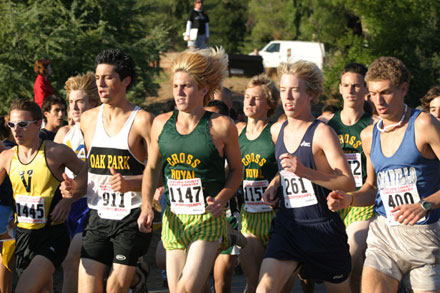 Unionville PA sr Katie Thaeder ran 17:54 5k in her district meet, fastest on that course since Jessica Cickay in 2001, leading her NE#5 team to a 122-point victory margin.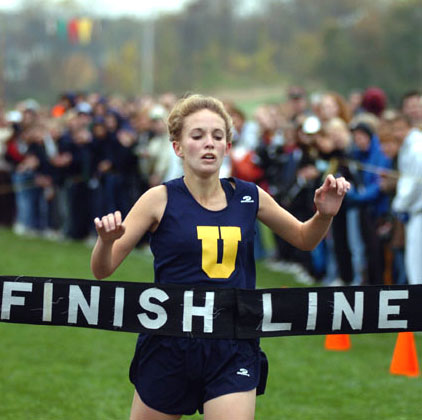 the good news:
DyeStat has been sold.
the bad news:
None. There is no downside to this.
Dear DyeStatters,
Exciting times are ahead for DyeStat!

Donna and I have sold DyeStat.com to BC Sports, the company that owns Student Sports. Student Sports is a print and online publishing company with longstanding and deep relationships with high school football, basketball and soccer players through the publications and special events it promotes.

BC Sports approached Donna and me because they would like to establish the same strong connection to the high school track & field athlete that they have with the other sports. They've asked us to continue to manage DyeStat.com for the next 4 years (at least) while they explore ways to help us make DyeStat.com bigger and better.

So, DyeStat.com isn't going away, nor are Donna and I.
When we started DyeStat 8 years ago, we had no idea what it would become. I sometimes call it a hobby gone berserk. It has certainly come to dominate my life. Lately, I have had to consider that at my age (a very healthy 68, but 68 nevertheless), I can't keep doing DyeStat 7 days a week indefinitely. In order to have other people take over some of my duties, we need new revenues or outside investors. Fortunately for all of us, BC Sports stepped up. They have pledged to continue everything we now provide and to add even more features. Donna and I will continue to cover all the big meets for years to come.
That's it for now. I have to go post some results and rankings.
John Dye
DyeStat Elite
initial XC lists have 1,000 performances
First cross country DyeStat Elite listings have 1,000 performances at 3 miles and 5k. Send us your times that meet the criteria.
How to Get Ranked - Oct 22 DyeStat Elite.

DyeStat uses Hy-Tek
for meet results

The Harrier
by Marc Bloom