Cross Country DyeStat Elite
We list the best 5k and 3-mile times in the United States.
List #1 Oct 22 -
How to Get Ranked
THE NIKE LIST
fastest in the US
Boys 5k
14:45 Kevin Schwab OK
14:58 David Raucci NY
15:01 Cory Thorne NH
15:02 Brock Hagerman IN
15:03 Scott MacPherson TX
15:04 Ben Schulz TX
15:05 Dan Gerber TX
15:06 Guor Majak NH
15:06 Dan Roberts MI
15:06 John McGuire CO
15:07 Kiel Uhl IA
15:09 Ryan Sheridan NY
15:10 Fitsum Tesfa CA
15:10 Jeff See OH
15:10 Tim McLeod FL
Girls 5k
16:55 Nicole Blood NY
16:56 Whitney Anderson CO
16:57 Aislinn Ryan NY
16:57 Brittany Tinsley OH
17:03 Jordan Hasay CA
17:08 Marie Lawrence NV
Boys 3m
14:22 Brandon Bethke CA
14:30 Brett Campfield CA
14:30 Sean McNamara IL
14:36 Fitsum Tesfa CA
14:41 Rob Barany WA
14:41 Robert Bedsole AL
14:43 Ted Price CA
14:43 Mark Matusak CA *
Girls 3m
16:36 Aislinn Ryan NY
16:42 Nicole Blood NY **
16:42 Melissa Dewey VA
16:48 Marie Lawrence NV*
16:52 Tori Tyler CA *
17:00 Zoe Nelson MT
17:01 Katelyn Bastert IL
17:03 Kauren Taner CA
* 2.91m Mt. SAC
** 3.05 miles
ShopDyeStat


unique items
for the HS athlete
--Parents Guide

--Training G
uide
--Training Profiles
--Pace Calculator
--the Harrier
--HS Track 2004
NTN Regional Rankings Nov 12
Selection Sunday 2 comes this weekend
New in the top four this week are Washington Pensacola FL boys to SE#4, Carroll Southlake TX boys to SO#2, Kingwood TX boys to SO#3, Northridge IN boys to MW#3, Milford MI boys to MW#4, Albuquerque Academy NM boys to SW#2, South Tahoe CA girls to SW#2. The top two in each region are invited to the first Nike Team Nationals in Portland December 4, and the third and fourth place teams are considered for four national at large bids. Sunday November 14 is the second Selection Sunday. The selection committee will extend invitations to the Northwest and Southeast regions and will also make the first two at large selections (coming from the Northwest, Southeast, Southwest, Heartland and Midwest regions). Selections will continue on Nov. 21 and 28 in the other regions.
Selection Sunday 1 - NTN Top 4 - complete NTN Regional rankings
College Choices 2005
North Carolina gets Katelyn and Brie; Zoe picks Oregon
The last two Foot Locker girls national champions made their college choices on the first day of the early signing period. Flathead MT sr Zoe Nelson, 2002 Foot Locker national champion, decided on the University of Oregon after campus visits to Oregon, Northern Arizona and Duke. Smoky Hill Aurora CO sr Katelyn Kaltenbach, the defending Foot Locker champion, signed to follow sister Megan to the University of North Carolina. UNC got another top Western runner in Brie Felnagle, ace of US#9 Bellarmine Tacoma WA. Katelyn Kaltenbach's Smoky Hill teammate Morgan Schulz, also a Foot Locker finalist last year, decided on Notre Dame. Still another former Foot Locker finalist (2002), home schooled Chantelle Dron of New Hampshire, cast her college lot with Colorado State, where she will study equine science.
More early decisions:
Other decisions on the first day of the early signing period are NC sprinter J-Mee Samuels to Arkansas, NY distance runner Ellen Dougherty to Villanova, NY distance runner Mary Liz McCurdy to Stanford, CA hurdler Kevin Craddock to UCLA, CA distance runners Mark Matusak and Jake Schmitt to UC-Berkeley, NY high jumper Lauren Biscardi to Notre Dame, GA sprinter Justin Oliver to Texas A&M, SC hurdler Dennis Martin to Florida, SC sprinter Tiaerra McLaurin to Louisiana State, AL distance runner Robert Bedsole to North Carolina State, TX thrower D'Andra Carter to Texas Tech, MI distance runner Liz Mengyan to Illinois, WI distance runner Ryan Gaspar to Wisconsin, ME distance runner Eric Giddings to Stanford, FL distance runner Andy Biladeau to Virginia, AAU heptathlon record holder Hillary Werth IL to UCLA, UT cross country champ Patrick Smyth to Notre Dame, Dallas Skyline sprinters Krystin Lacy and Chanelle Curry to UCLA.
The NCAA's national letter of intent early signing period runs from Wednesday November 10 to Wednesday November 17. Send college choices of the class of 2005 to John Dye at [email protected] giving the name of the athlete, your name, your association with the athlete, and a way to verify the information.
Border Battles
After state meets are over, some teams go looking for bigger fields to conquer. The ultimate is the new Nike Team Nationals in Portland OR 12/4.. But first there are some regional frays.
BORDERCLASH - 6th running of this unique race on the campus of Nike World Headquarters at Beaverton OR 11/21 between the best runners from the Washington and Oregon state meets. DyeStat will be on site again.
BORDER WAR - Southwest bragging rights will be debated Saturday 11/20 at Kiwanis Park, Tempe AZ between the top 25 boys and girls from Nevada, Arizona and New Mexico. each state will be entered.Border War - Southwest supremacy will be argued by the 25 best runners of Nevada, Arizona and New Mexico
Foot Locker Favorites - Midwest Girls
DyeStat identifies the top contenders for the coveted spots in the Foot Locker Cross Country Championship finals in San Diego Dec. 11. 8-part series by Steve Underwood.
2nd of a series: Midwest Girls -- To figure out Foot Locker Midwest Girls, you have to start with Colorado, home of perhaps the biggest question (Katelyn Kaltenbach) and the biggest splash (Whitney Anderson) in the country this year.
Midwest Boys -- Jeff See OH, John McGuire CO, Sean McNamara IL, Kiel Uhl IA, Justin Switzer MI, Dan Roberts MI, Chris Rombough WI, and Ryan Gasper WI are most likely to grab the eight qualifying spots Nov. 27 in Wisconsin.
THIS WEEK
results and other news posted through Nov 11
Super Saturday
Eighteen state meets took place Saturday 11/6, and some amazing things happened. MW#1 US#3 Clarkston MI had five girls including their lead runner go down in a big pileup at 400 meters and their #2 runner misjudge the finish line, and still won the Michigan state meet. MW#1 US#2 York Elmhurst IL boys swept 1-2-3 in the Illinois state meet, an unprecedented feat in the state of Lincoln. NW#2 US#5 Ferris Spokane was the last man standing in the heavyweight Washington state meet. SW#5 South Tahoe, which straddles California and Nevada like the lake, made a bid to move up in the rankings by beating rival Reno in the Nevada state meet, but Reno's incomparable Marie Lawrence won individual honors, chopping 26 seconds off older sister Collier's course record. The fifth time was the charm for SW#5 Albuquerque Academy boys. They lost only to SW#2 Los Alamos in the regular season and that happened four times, but the Academy won when it counted in the New Mexico state meet -- their 7th title in 10 years.
1 Northeast CT, MA, ME, NH, NJ, NY, PA, RI, VT
tears of joy for Unionville girls
in Pennsylvania State Meet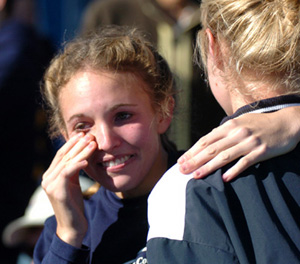 photo by Don Rich
2 Southeast AL, DE, FL, GA, MD, NC, SC, KY, TN, VA, WV, DC, PR
Southeast Week Nov 6 - Andrew Bumbalough 14:14 ! Sets new TN state meet and course record by 22 seconds. Fast times in Florida. Cool conditions and high stakes lead to fastest times of the season.
Jeremy Criscione ( Interlachen High,FL) sets FL State meet record with a 15:02. Previous record, Ryan Deak, 15:11. Jenny Barringer 17:08 at FL 4A state meet
Florida State Meet - Oviedo sr Jenny Barringer 17:08. Ranked teams all win, with SE#5 Washington Pensacola boys up by 105 points in 3A.
Georgia State Meet - SE#8 Parkview boys 63 beat SE#7 Walton 70 and unranked Collins Hill girls win 5A titles.
North Carolina State Meet - SE#8 Providence girls repeat in 4A. Pinecrest boys edge Chapel Hill.
South Carolina State Meet - Spring Valley has fastest runners of the day: jr Kate Niehaus 18:20 tk (56-second margin) and sr Reid Wilson 16:15.
Tennessee State Meet - Brentwood Academy sr Andrew Bumbalough 14:14 3m state meet and course record, winning by a minute!
Maryland regionals - SE#2 C.Milton Wright MD girls 19. Woodlawn soph Dwight Parker 16:33 stays undefeated on cold, windy 3.1 mile course.
Kentucky regionals - .
Tennessee State Meet - Brentwood Academy SR Andrew Bumbalough 14:14 3.0m sets new state meet and course record by 22 seconds.
3 South AR, LA, MS, OK, TX
South Week Nov 6 - Soph Emily Crow leads Tupelo girls to perfect 15 in Mississippi state meet, their fourth straight title.. Rogers and Bentonville win Arkansas 5A titles. Texas is ready for state meet after finishing regionals.
Mississippi State Meet - All undergrad Tupelo girls, ranked #7 in South region, socre perfect 15, led by soph Emily Crow 15:20 4k. Tupelo boys give school a sweep in 5A. .
Texas regionals - .
4 Midwest IL, IN, MI, OH, WI
5 Heartland IA, KS, MN, MO, NE, ND, SD
Missouri State Meet -
Class 4 - HL#1 Liberty boys 80 (5 12 17 21 25), HL#6 St. Joseph's Central 118. HL#6 Lee's Summit North girls 98 (10 11 18 19 40).
Class 3: HL#1 US#2 West Plains girls run a perfect 15 score, led by sr Jennifer Harper 19:27 5k. HL#4 West Plains boys 44.
Fastest of the day were Eureka jr Meredith Snow 18:53 5k and Hickman sr Tim Cornell 16:21.
Minnesota State Meet - HL#2 Marshall boys 34 (1 3 6 7 17) win class AA, with HL#9 Eden Prairie 3rd, HL#10 Hopkins 6th. HL#10 Minnetonka 78 (2 8 13 25 30), with HL#5 Lakeville 3rd and HL#7 Eden Prairie 5th. Fastest of day are Lakeville jr Elizabeth Yetzer 14:29 4k and Marshall sr Yahya Iman 15:40 5k.
Kansas State Meet - more results.
Elizabeth Yetzer 14:29 4k is fastest at Minnesota State Meet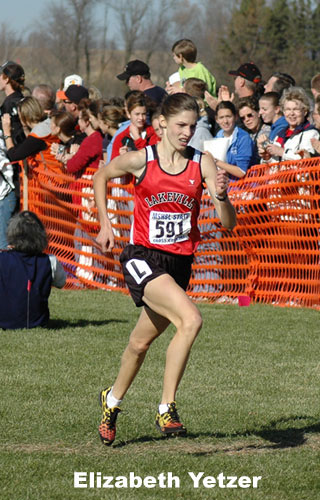 photo by Louis Leblanc
6 Southwest AZ, CO, NV, NM, UT
New Mexico State Meet - Fifth time is the charm for SW#5 Albuquerque Academy boys, beating SW#2 Los Alamos after four losses to them this season to win their 7th 4A title in 10 years. SW#1 Los Alamos girls win 10th title in 13 years.
Arizona State Meet - Regionally ranked Page boys (SW#8) and Flowing Wells (SW #7) won their respective divisions, with Flowing Wells defeating (SW #10) Mountain Pointe.Fastest runners of day ar Kenny Comier 14:45 and Kari Hardt 18:12.
Nevada State Meet -
4A - Reno Boys/S. Tahoe Girls, Joe Parker, Reno 16:12, Mel Lawrence, Reno 17:57, taking 26 seconds off older sister Collier's course record.
3A - Lowry Boys and Girls, Jake Steinman, Lowry 16:55, Addie Devine, Incline 20:19
2A - Sage Ridge Boys/Whittell Girls, Matt Trachok, Sage Ridge 18:16, Wendy Harris, Lund 19:12.
| | |
| --- | --- |
| Marie Lawrence breaks sister Collier's record | South Tahoe girls beat Reno |
7 Northwest AK, HI, ID, MT, OR, WA, WY
Northwest Week Nov 6 - Ferris WA boys reverse regional loss. Bellarmine WA girls win 6th girl tie breaker to beat Gig Harbor. Jesuit sweeps OR titles. Brie Felnagle breaks course record.
Washington State Meet - NW#2 US#5 Ferris boys win showdown over unranked Mead and NW#1 Eisenhower. NW#2 US#9 Bellarmine girls 84 edge NW #4 Gig Harbor 84 on tie breaker, with NW#5 Snohomish 90 a close third. Fastest of day are Bellarmine sr Brie Felnagle 17:53 5k and Kamiak sr Kelly Spady and Eisenhower sr Robbie Barany, both timed in 15:24 in 4A.
Oregon State Meet - Jesuit sweeps team titles. soph Kimber Mattox runs from soccer success to state XC title. Kenny Klotz keeps boys individual title at Central Catholic.
Bellarmine WA girls had to go to the 6th runner tie breaker
to beat Gig Harbor in Washington State Meet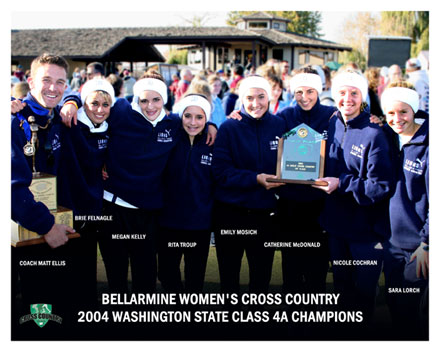 NTN Selection Sunday 1
- first 12 teams invited
The first 12 teams have been invited to the new Nike Team Nationals (NTN). After analyzing the last state meets in the Midwest, Heartland and Southwest regions , the NTN selection committee extended invitations to the top 2 ranked boys and girls teams. The third and fourth ranked teams remain eligible for national at large bids to be announced later.
NTN Regional Top 4 teams Nov. 7

BOYS

GIRLS

MIDWEST

1. York XC Club, Elmhurst IL *
2. Madison West XC Club WI *
3. Northridge XC Club IN
4. Milford XC Club MI
1. Team Running Gear Clarkston MI *
2. Bowling Green XC Club OH *
3. Waukesha West XC Club WI
4. Naperville North XC Club IL

HEARTLAND

1. Liberty XC Club MO *
2. Marshall XC Club MN *
3. Shawnee Mission NW XC Club KS
4. West Plains XC Club MO
1. West Plains XC Club MO *
2. Yankton XC Club SD *
3. Iowa City West XC Club IA
4. Roosevelt XC Club, Sioux Falls SD

SOUTHWEST

1. Mountain View XC Club UT *
2. Albuquerque Academy XC Club NM *
3. Los Alamos XC Club NM
4. Fort Collins XC Club CO
1. Los Alamos XC Club NM *
2. South Tahoe XC Club CA * **
3. Smoky Hill XC Club Aurora CO
4. Fremont XC Club Plain City UT

* Invited on Nov. 7 -- ** Competes in Nevada state meet
More teams will be picked each Sunday in November to complete the fields of 20 boys teams and 20 girls teams who will toe the line in Portland December 4.
NSSF picks Nike
to sponsor outdoor meet
The National Scholastic Sports Foundation has changed sponsors for its outdoor championship -- adidas is out and Nike is in. The meet, which was held at Raleigh the last few years, will be held at North Carolina A&T's facility in Greensboro NC next June 17-18.
NSSF director Jim Spier said he was thrilled to have Nike as sponsor for the outdoor meet. "Our mission is to provide first-class opportunities for athletes, coaches and fans, and Nike's involvement is a big part of making that happen."
Josh Rowe, Nike youth running director, echoed these remarks: "We are proud to have championships now in all three high school seasons -- cross country, indoor and outdoor. We are happy with our association with NSSF as we build on this partnership to continue to elevate high school athletics at the championship level."
Nike is now the sponsor of all three NSSF meets -- Great American, Nike Indoor, and Nike Outdoor.
NTN - Foot Locker West conflict is resolved
Nov 6, 2004 -- DyeStat has learned that Western coaches are being told by NTN officials that Nike and Foot Locker have agreed that additional runners from the new Nike Team Nationals (NTN) in Portland December 4 will qualify for the Foot Locker Cross Country Championship national finals the following week in San Diego. The agreement involves expansion of the Foot Locker finals fields from 32 to 40 (10 from each of the four Foot Locker regions). As a result, individuals in the Foot Locker West region who are on teams invited to NTN will not have to choose between running with their team in Portland and competing in the Foot Locker regional at Mt. San Antonio College, Walnut CA, the same day, December 4.
Twenty boys teams and 20 girls teams will run at NTN in Portland. The basic agreement is that the first two individuals across the NTN finish line in Portland from each of the four Foot Locker regions will qualify for the Foot Locker finals. If, however, any of these 16 individuals (8 boys and 8 girls) has already qualified in the three earlier Foot Locker regionals, the slot would go to an alternate at the Foot Locker regionals. The first three Foot Locker regionals will be held November 27 in New York (Northeast), North Carolina (South) and Wisconsin (Midwest). These regionals qualify eight runners to San Diego, with the 9th and 10th runners designated as alternates
DyeStat Elite
1,438 3m and 5k performances
DyeStat Elite listings as of 11/5 have 1,438 performances at 3 miles and 5k. Send us your times that meet the criteria.
How to Get Ranked - Nov 5 DyeStat Elite.
The Harrier Super 25
New York retains top spots with Fayetteville-Manlius boys and Saratoga Springs girls
Nov 1 -- The Harrier magazine Super 25 rankings released today, based on results through Oct. 30, continue Fayetteville-Manlius NY boys and Saratoga Springs NY girls as the #1 high school cross country teams in the country. The Harrier Super 25 national team rankings

BOYS
GIRLS
1.Fayetteville-Manlius, NY
2.York Elmhurst, IL
3.The Woodlands TX
4.Royal Simi Valley, CA
5.Ferris Spokane, WA
6.Jesuit Portland, OR
7.Cedar Cliff PA
8.Liberty MO
9.Lockport NY
10.Mountain View Orem, UT
11.Marshall MN
12.Christian Bros Academy NJ
13.Eisenhower Yakima, WA
14.Dana Hills CA
15.Shawnee Mission NW KS
16.Mead Spokane, WA
17.Madison West WI
18.Los Alamos NM
19.Northridge IN
20.Tucker Richmond, VA
21.Fort Collins CO
22.Denver South CO
23.Hoover, AL
24.Madera CA
25.West Plains MO
1.Saratoga Springs NY
2.West Plains MO
3.Clarkston MI
4.Flathead MT
5.Kingwood TX
6.Bay Shore NY
7.Yankton SD
8.Fountain Valley CA
9.Bellarmine Prep WA
10.Bowling Green OH
11.Jesuit Portland, OR
12.Iowa City West IA
13.Los Alamos NM
14.Ventura CA
15.Smoky Hill Aurora, CO
16.Roosevelt Sioux Falls, SD
17.Waukesha West WI
18.Carroll Southlake, TX
19.Fremont Plain City, UT
20.Murrieta Valley CA
21.Oakton Vienna, VA
22.Naperville North IL
23.Valparaiso IN
24.Champlain Valley VT
25.Reno NV

Nov 21 Beaverton OR

DyeStat uses Hy-Tek
for meet results

The Harrier
by Marc Bloom