Results and other news posted in week ending July 1.
Galen Rupp skips Miracle Mile in Vancouver
Fresh off his national record 8:03.67 3000m in the Kajacks International Classic, Central Catholic Portland OR sr Galen Rupp was set to return to Vancouver BC Thursday (7/1) to run in the Miracle Mile against elite international competition. But Rupp deferred his quest for a fast mile until later in the summer. He had two hard races recently in the Kajacks 3000m and the Junior Nationals 5000.
The Miracle Mile Gold Edition of the Harry Jerome Classic, which celebrates the 50th anniversary of the famous Roger Bannister - John Landy race at Vancouver. The Harry Jerome web site said:
"The Gold Edition will feature an international field of competitors,
including representatives from Commonwealth countries Australia, New
Zealand, Great Britain, Kenya and Canada in celebration of that historic
1954 race that remains one of the great sporting contests to have ever been
held in Canada.
"Fifty years ago Australia's John Landy made an ill-fated glance over his
left shoulder as rival Roger Bannister surged past on the right side to win
the Miracle Mile in 3:58.8.
"Kenya's Elkanah Angwenyi ran 3:54.52 to finish third behind young American
phenom Alan Webb (3:50.85) at the recent Prefontaine Classic in Oregon. The
Kenyan may well be the favourite in the Gold Edition mile.
"But look also for another young American sensation seeking to dip under the
four-minute mark in the tradition of former American miling greats Jim Ryun
and Steve Scott and, more recently, 21-year-old Webb. Galen Rupp, 18, a
senior at Portland's Central Catholic high school, comes into the Jerome
meet with a personal best of 4:01.8 for the mile and will be seeking a
sub-four-minute time for a new best. "
Rupp, coached by former marathon great Alberto Salazar, came close to sub-4:00 when he ran 4:01.8, best in the US this year and US#8 all time, in the special Bannister Mile at Nike World Headquarters May 6. Last Friday (6/25), Rupp won the USA Junior Nationals 5000m in 14:16.21 over Josh McDougal and Foot Locker cross country champ Matt Withrow at College Station TX.
Victor Gras 3:45.19 1500m US#1
Belmont MA senior ran fourth in the Boston High Performance series Saturday (6/26), taking over the season lead from Galen Rupp, who ran 3:45.3 en route to his US#1 4:01.8 mile in the Bannister Mile at Nike World Headquarters, Beaverton OR, on May 6.
Matt Gabrielson Adidas 3:42.01
Erik Nedeau New Balance 3:42.78
Darin Shearer Run Florida 3:44.73
Victor Gras Belmont HS 3:45.19
US Junior Nationals




June 25-27, 2004 College Station TX

National championship for athletes under age 20. Qualifier for Team USA for 10th World Junior Championships (WJC) in Grosseto Italy July 12-18. INDEX - RESULTS
SCOREBOARD - winners and comments

Team USA -

athletes who qualified to represent the US at the World Junior Championships in Grosseto Italy July 12-18.
Brittany Daniels smashes TJ record
with Beamonesque 44-11.75!
Lashawn Merritt doubles 200-400. Gayle Hunter wins heptathlon easily. Allyson Felix wins 200. Jessica Eldridge edges Sarah Bowman and Erin Bedell in womens 1500. Tia Ferguson wins 3000m. Kevin Craddock wins 110H.
See SCOREBOARD for more winners and comments.
See RESULTS for complete meet results on one page.
W-TJ: CA jr Brittany Daniels 44-11.75 +1.4 smashes US high school record, and TX sr Erica McLain, now the US#3 all time performer, gets 43-7.75 +0.0 on fourth try for second. Both Daniels and McLain had bettered the old record (44-2.25 by Ychlindria Spears in 2001) with wind-aided attempts earlier this season, joining Spears and Juliana Yendork (six jumps 43-6 or better in 1991) as the only US HS girls ever to surpass 44 feet. But Daniels' winning effort was truly Beamonesque, and she is only a junior.
M-200: VA sr Lashawn Merritt 20.72 +0.0, matching his 200-400 double at AOC Raleigh.
W-200: Pro Allyson Felix 22.73 +0.3 wins. CA sr Shalonda Solomon 23.03 is second, then Penn State's Shana Cox 23.03 and CA sr Jasmine Baldwin 23.31.
M-110H: CA jr Kevin Craddock 13.83 +0.0 in photo finish over Tennessee U.'s Aries Merritt 13.84.
W-100H: U. South Carolina's Ronetta Alexander 13.22 +0.0. FL sr Shantia Moss 13.39 is a strong second in the fastest HS time of the year, with seven runners meeting the WJC standard.
W-1500: Oklahoma U.'s Jessica Eldridge 4:21.13. Two high school juniors are next: Sarah Bowman VA 4:23.36 and Erin Bedell TX 4:26.62.
Heptathlon: CA sr Gayle Hunter 4635 wins easily.
Caitlin Chock crushes 5k field in 16:10.60 - new national record!
Galen Rupp beats Josh McDougal by 9 seconds in 5k. High schoolers Ashley Owens, Latavia Thomas, Nicole Leach, Tim Harris, Nick Brown, Lashawn Merritt, Galen Rupp, Mark Taylor and Zach Pollinger also win. Washington's Brian Harris 211-8 on his last throw, improving 14 feet from his previous best effort here.
Arrhenius curse?
Anders Arrhenius, father of the throws champion Arrhenius brothers of Utah, sends the following message about injuries to all three sons:
"Listen to this: Leif has had the cast on for five weeks and has two more to go. Nik has broke the tip of his ulna bone in the wrist and has a light cast on it. Today we found out that Dan has been throwing with a broken foot since before nationals and he is in a walking boot. It's a curse on the Arrhenius family this year." --- Anders Arrhenius
Webb named USATF Athlete of the Week
Alan Webb's 3:50.85 mile at the Prefontaine Classic last Saturday, fastest ever by an American on US soil, earned him USATF Athlete of the Week honors. John Schiefer called it "the most impressive American mile performance in history."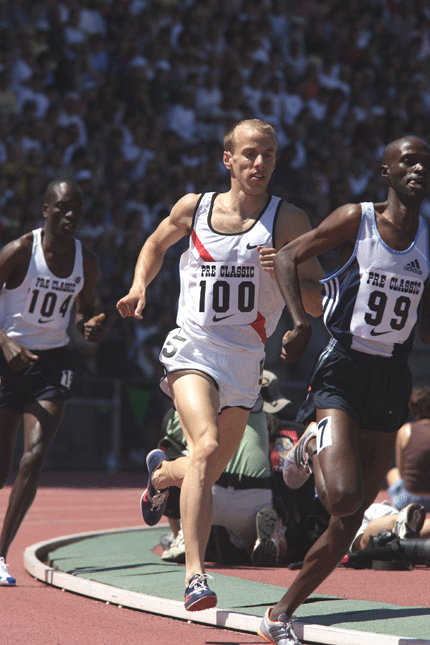 photo by Victah Sailer, PhotoRun