Cross Country
Meet Calendar
Send us missing information.
NOTE: Hamdheld times will not be considered for US#1 at 400 meters and below. Marks missing wind readings may also be ignored.
BOYS
100 - J-Mee Samuels NC 10.25
200 - Xavier Carter FL 20.49
400 - Lashawn Merritt VA 45.25
800 - Jacob Hernandez TX 1:48.48
1500 - Victor Gras MA 3:45.19
1600 - Mike Booth PA 4:07.77
Mile - Galen Rupp OR 4:01.8
3000 - Galen Rupp OR 8:03.67 USR
3200 - Brian Sullivan TX 8:52.92
2 Mile - Shadrack Kiptoo NM 8:45.44
110H - Jason Richardson TX 13.38
300H - Kevin Craddock CA 35.93
400H - Jason Richardson TX 49.79
HJ - Scott Sellers TX 7-5
LJ - Rashaad Nunnaly CA 24-11.5
TJ - Kenny Hall LA 51-8.75
PV - Adam Sarafian NJ 17-4.5
SP - Zach Lloyd NV 66-7.25
DT - Zach Lloyd NV 211-5
JT - Chad Brown LA 218-6
HT - Nate Rolfe WA 237-1
4x100 - Lancaster TX 40.28
4x200 - Glenville OH 1:23.78
4x400 - Dorsey CA 3:11.45
4x800 - Saline MI 7:40.68
SMR - Iowa City IA 3:27.18
DMR - Saline MI 10:03.15

GIRLS
100 - Ashley Owens CO 11.13
200 - Shalonda Solomon CA 22.82
400 - Natasha Hastings NY 52.04
800 - Sarah Bowman VA 2:04.94
1500 - Sarah Bowman VA 4:23.36
1600 - Elizabeth Yetzer MN 4:46.14
Mile - Nicole Blood NY 4:42.40
3000 - Nicole Blood NY 9:24.03
3200 - Caitlin Chock CA 9:58.51
2 Mile - Nicole Blood NY 10:10.73
100H - Shantia Moss FL 13.39
300H - Ebony Collins CA 40.81
400H - Katya Kostetskaya AR 56.49.
HJ - Viktoria Andonova FL 6-1
LJ - Brittany Daniels CA, Gayle Hunter CA and Shana Woods CA 20-7.75
TJ - Brittany Daniels CA 44-11.75 USR
PV - Tiffany Maskulinski NY 13-5
SP - Sarah Stevens CO 50-4.5
DT - Missy Faubus CA 170-1.
JT - Rachel Yurkovich OR 161-11.
HT - Erin Donnelly RI 165-7
4x100 - Poly Long Beach CA 44.50 USR
4x200 - Poly Long Beach CA 1:33.87 USR
4x400 - Poly Long Beach CA 3:35.49 USR
4x800 - Bay Shore NY 8:57.48
SMR - West Catholic PA 3:52.22 USR
DMR - Bay Shore NY 11:33.42 USR
ShopDyeStat


unique items
for the HS athlete
--Camp Directory
--Parents Guide

--Training G
uide
--Training Profiles
--Pace Calculator
--the Harrier
--HS Track 2004
USATF Jr Olympics


July 27 - Aug 1, 2004 at Eugene OR
on-site with Doug Speck & Mike Kennedy
Friday
7th grader Jordan Hasan's 4:34.02 1500m in prelim is Youth Girls national record. Local favorite Emilee Strot doubles in throws. Hot prelims by Kenny O'Neal 10.40, Jasmine Baldwin 11.59 , Sa'de Williams 55.05, Ebony Collins 55.82.
Event notes - Pix: Album 1 - Album 2 - Album 3
Thursday


Ken Hall smashes TJ record
with 54-10.25 +1.7 and 56-2.5 +4.6
| | |
| --- | --- |
| | Louisiana state champ Ken Hall, who just finished his junior year at Tara HS in Baton Rouge, exploded to the best triple jumping ever by a US High School Prep - old Prep National Best was 53-11.5 wind-aided or otherwise with a wind legal jump by Greg Yeldell of North Carolina from 1998. Hall this day went past 54, 55, and out to 56 feet, with a best of 56-02.5w (wind +4.6 mps) and wind legal mark of 54-10.25 (+1.7 mps wind). Mike Kennedy of Track and Field News (in attendance in Eugene) called it the best prep field event performance since Michael Carter's 81-03.5 Shot Put from way back in 1979, with Jack Shepard (Boys Editor T&F News), by phone, indicating it was prep history's #2 Field Event performance ever behind Carter's. |
Doug Speck was there and was stunned
from DyeStatCal story of Hall's record day
"All who observed (Hall's jumps) left the stadium with a bit more reverence for this great sport of ours after observing Ken Hall's efforts this day. Just when you seem to put some limits on what is excellence in an activity, someone comes along and bashes down the door leaving you shaking your head. Sometimes you go years before there is such an effort, but the human capacity is truly amazing. Here in a championship setting with unquestioned measured results, Ken Hall's spirit and effort was just so much bigger than life it left all who observed it quite stunned. Keep going to track meets and you will sometimes see the same--we have a saying, 'the kids never let you down on the track and in the field.' This was one of those days with the possibility of more in the future having us travel all over the place (set a record with 13 hour drive to Eugene from home this particular week - as we left today I said, 'yep, that made the whole drive worthwhile and there's three days to go!')."
[Editor's Note: Doug Speck is one of the most knowledgeable observors of high school track anywhere. He is an editor of DyeStatCal.]
Some of the best high school athletes in the country are competing at Eugene, as evidenced by 164 DyeStat elite performances in the regional qualifying meets. With 5,657 athletes entered, it is the largest meet ever held at historic Hayward Field in track-crazy Eugene. DyeStat will have live reports from Eugene by Doug Speck and Mike Kennedy.
Alan Webb runs 3:50.73 PR in London
Alan Webb ran fourth in the Norwich Union IAAF Super Grand Prix mile in London Friday (7/30), less than a second behind the winner, Paul Korir.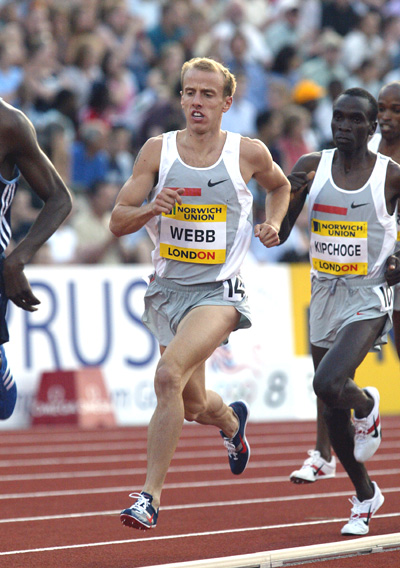 photo by PhotoRun
Alan Webb talks about his breakthrough season as a pro and his preparation for the Olympic Games; he races in London today.
Northern Virginia track writer Pearl Watts, who has covered Alan Webb since he was a freshman at South Lakes HS in Reston VA 7 years ago, interviews America's best miler as he prepares for the Olympic Games in Athens next month.
"I already consider this a successful season," Webb told Watts. "Anything that happens in Athens will be gravy."
And Webb explains that primal scream after winning the US Olympic Trials. "it wasn't planned. Considering where I was at this time last year, it just seemed like everything had come full circle. So much stress seemed to have been lifted off. That whoop was just me telling myself that I knew that I could do it." More . . .
Russell Blunt East Coast Invitational
J-Mee Samuels NC continued his red hot late season campaign, topping Edino Steele in a windy 100 meter series. Samuels ran 10.22 +3.0, 10.07 +3.6 and 10.25 +2.9 in the three rounds. Complete Results: BOYS - GIRLS
Junior Olympics nationals on tap
The Junior Olympics age group national championships, final meets of the outdoor season, are ready to go -- USATF in Eugene OR and AAU in DesMoines IA. These are the last meets that count for DyeStat Elite national rankings for the 2004 outdoor season. The USATF meet starts Tuesday and runs through Sunday. The AAU meet starts Saturday July 31 and runs through the following Saturday August 7.
Cross Country Calendar
We have our first calendar of meets for the 2004 cross country season. First big meet is the Iolani Invitational Sept. 18 in Hawaii, which is growing to 30 out of state teams this year. At the end of the season, the new Nike Team Nationals in Portland Dec. 4 will share the national championship stage with the Foot Locker individual championships in San Diego Dec. 11. MEET DIRECTORS: Send missing information to John Dye.
1,323 College Choices by Class of 2004
The NCAA national letter of intent signing period for this year's seniors ends August 1. DyeStat has received 1,323 college choices by the class of 2004 as of July 22. Send choices to John Dye, giving your name and how you know the information is correct. (NOTE: Names already submitted that were not already in our rankings database will be added in the next update.)
Some noteworthy choices added in this update: Dashanta Harris CA, hurdles, to UCLA. Katya Kostetskaya AR, hurdles/sprints, to Texas State (formerly Southwest Texas). Shayla Jemmott VA, TJ, to North Carolina A&T. Ron Bias MD, jumps, to Independence Community College. Nicci Faires GA, PV, to UCLA. Walter Dix FL, sprints, to Florida State. Tim Harris FL, 800, to Miami. Andrew Brunson GA, HJ, to Tennessee. Jeremy Alvarez NY, sprints, to Southern Connecticut. Nick Krouse MA, distance, to North Carolina. Nick Brown IL, jumps, to Illinois. Michael Davis NJ, PV, to Arkansas State. Jasmine Baldwin CA, sprints, to Mount San Antonio. Kylee Schuler PA, distance, to Richmond. Kate Merrill NC, distance, to Richmond. Nina Warren MD, sprints, to North Carolina Central. Alyson Kohlmeier Canada, distance, to Michigan. Kyle Shackleton CA, distance, to UCLA. Mark Dillard LA, sprints, to Louisiana Tech. Sophia Wallace NJ, sprints, to Rutgers. Derek Johnson CO, hurdles, to Drake. Leah Avila CO, distance, to Colorado. Nikki Peterson WY, distance, Indiana U. Steve Hallinan PA, distance, to American. David Mock PA, distance, to William and Mary. Adriene Beltz PA, distance, to St. Joseph's. Cassandra Strickland NV, jumps, to California Berkeley. Ryan Fontenot LA, hurdles, to Louisiana State. Caitlin Chrisman IL, distance, to Wake Forest. Reginald Dardar LA, sprints, to Louisiana State. Jeremy Zagorski NJ, distance, to Boston College. Ari Zamir NJ, distance, to Brown. Tenisha Griggs MI, sprints, to Louisiana State. Brian McCabe NY, distance, to American. Victor Cheng WA, sprints, to Yale. Ian Fitzgerald PA, distance, to William and Mary. Christo Landry VA, distance, to William and Mary. David Groff VA, distance, to William and Mary. Jerald Watson LA, sprints, to Auburn. Maggie Infeld OH, distance, to Georgetown. Jordan Orr NC, 800, to Virginia. Britni Lawrence TX, PV, to Texas Tech. Syliva Galarza NJ, throws, to Coastal Carolina. Sirdonea Davis MD, sprints, to Mississippi. Nyoka Norman SC, hurdles, to North Carolina. Connie Abbott KS, distance, to Kansas. Chante Sessoms VA, sprints/jumps, to East Carolina. Ben Dickens FL, PV, to Stanford.

2004 Outdoor

National Rankings update
Russell Blunt East Coast Invitational
Age group athletes from the Eastern seaboard compete at Greensboro NC. Mt. Tabor NC senior to be J-Mee Samuels, who is US#1 this year at 100m after his 10.25 mark at the AAU Region 3 Junior Olympics meet July 11, is the top ranked athlete on hand. Some other top athletes are: jumpers Ryan McCoy NC, Andre Tillman NC, Camelia Morman NC, Brandon Cathcart NC and Mark Sturgis NC; hurdlers Reuben McCoy NJ, Dwayne Joseph NJ, and Krystal Cantey NJ; 800m Chris Thomas FL; 400m Krystal Cantey NJ, Sade Nero FL and Faraign Giles VA; sprinters Edino Steele NY, Reuben McCoy NJ, Travis Padgett NC, Tiaerra McLaurin SC, Kharya Brown VA, and Erica Montgomery NC.. Performance List
Ritz turns pro
Dathan Ritzenhein, two time Foot Locker cross country national champion at Rockford MI, is turning pro, giving up his final 2 years of eligibility at the University of Colorado. Ritz, who came back from an injury red shirt year to win the NCAA cross championship last fall, is nursing a stress fracture again, but is on the US Olympic team and hopes to run the 10000 meters at Athens. He owns the US college 10k record at 27:38.50.
"I wouldn't be able to do this without my three years at Colorado," Ritzenhein said from Boulder. "Coach Wetmore and the athletic department have prepared me well and I couldn't do what I'm doing without everything that I've learned here. I'm sure that I could have stayed for another year or two, but this is where I'll be happiest. I'm confident in this decision…it's one that I've had to deal with before and have thought about for weeks. But this time around is different. I feel like this is the best move to make to make me the best runner that I can be."
Post Season Top Marks
Hundreds of DyeStat Elite performances are being posted in the summer championship meets. AOC Raleigh had 435 marks, best of the entire outdoor season; USA Junior Nationals 124, Golden West 159, Great Southwest 89, USA Youth Championships 55 and Golden South 36.
Woodson swept the Washington DC Championships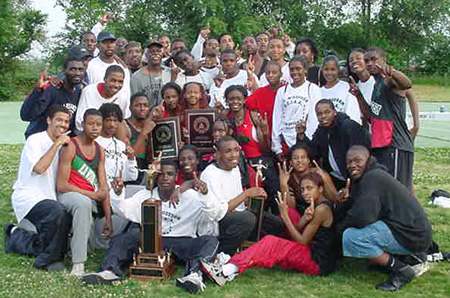 DyeStat
Camp Directory

"If your goal is to reach high school runners, there is no better place to advertise than DyeStat.com. Advertising with DyeStat.com not only gave us a broader audience, it noticeably boosted our camp attendance."
Drew Ryun, director
Jim Ryun Running Camps

DyeStat Camp Directory

DyeStat Sponsors
and Advertisers
Use them - they keep DyeStat going.
The Harrier
by Marc Bloom
XC Pre-season issue in August. Free Yearbook to new subscribers

DyeStat uses Hy-Tek
for meet results