THE NIKE LIST
fastest in the US
Boys 5k
14:32 Andy Bumbalough TN
14:34 Scott MacPherson TX
14:45 Kevin Schwab OK
14:57 Justin Harbor FL
14:58 David Raucci NY
15:01 Cory Thorne NH
15:01 Jack Bolas NC
15:01 Andy Biladeau FL
15:02 Brock Hagerman IN
15:02 Jeremy Criscione FL
15:03 Daniel Lacava TX
15:04 Ben Schulz TX
15:05 Dan Gerber TX
15:05 Robert Bedsole AL
Girls 5k
16:55 Nicole Blood NY
16:56 Whitney Anderson CO
16:57 Aislinn Ryan NY
16:57 Brittany Tinsley OH
17:03 Jordan Hasay CA
17:08 Marie Lawrence NV
17:08 Jenny Barringer FL
Boys 3m
14:22 Brandon Bethke CA
14:30 Brett Campfield CA
14:30 Sean McNamara IL
14:35 Mark Matusak CA
14:36 Fitsum Tesfa CA
14:41 Rob Barany WA
14:41 Robert Bedsole AL
14:43 Ted Price CA
14:43 Diego Mercado CA *
Girls 3m
16:36 Aislinn Ryan NY
16:42 Nicole Blood NY **
16:42 Melissa Dewey VA
16:48 Marie Lawrence NV*
16:51 Katelyn Bastert IL
16:52 Tori Tyler CA *
17:00 Zoe Nelson MT
* 2.91m Mt. SAC
** 3.05 miles
ShopDyeStat


unique items
for the HS athlete
--Parents Guide

--Training G
uide
--Training Profiles
--Pace Calculator
--the Harrier
--HS Track 2004
Indoor is here!
We haven't finished with cross country yet, but the indoor season is already starting on the East Coast. So, here we go:
Meet calendar -- updated for 2005 indoor and outdoor seasons. Meet Directors: If we missed your meet, send email to John Dye.
Millrose Mile selection process -

Policies for the coveted invitations to the HS boys and girls mile races at the Millrose Games (Madison Square Garden Feb 4) have been announced by the invitations directors Larry Byrne (boys) and Jim Spier (girls). National candidates will be picked in December and the winners of two races at the New York Armory (Hispanic Games Jan 8 and New Balance Games Jan 22) will receive automatic selections. The balance of the field will come from Eastern States runners, based primarily on performance at a selected list of indoor meets in December and January.

December 18 - first big weekend of the season.

51st Bishop Loughlin Games -

first mega meet of the season will bring 6,000 athletes from six states into the New York Armory on W. 168th Street near Broadway.

HOCO Winter Festival -

Howard County sponsored meet at the PG Sportsplex, Landover MD.

New Haven Invitational - New Haven CT

DyeStat Elite cutoffs for national ranking of indoor performances
Early meet results
Mark Springer dies - The USATF Director of Grass Roots Programs & Planning, which includes the Junior Olympics program, died at the age of 47. He had been in a coma since an auto accident on the way home from work at USATF headquarters in Indiana on September 10. Doug Speck remembers a memorable man.

DONNA ON THE SIDE AT FOOT LOCKER FINALS
166 photos of the sideline scenes in San Diego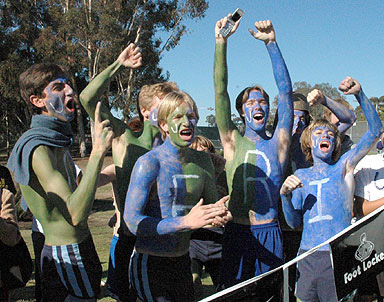 Two San Diego finalists brought out a huge group of fans.
These are for Riley Booker.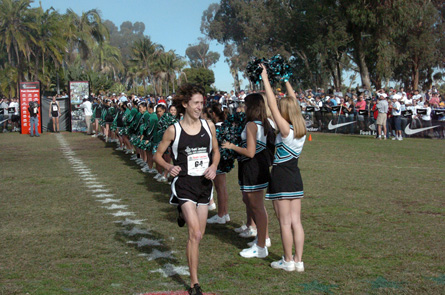 Foot Locker introductions - See all 80 finalists before the fray. NE Boys - NE Girls - SO Boys - SO Girls - MW Boys - MW Girls - WE Boys - WE Girls .
Ken Cormier


photos by John Dye

Aislinn Ryan


Double Surprise!
Aislinn Ryan and Ken Cormier
Warwick Valley NY jr Aislinn Ryan 17:31 duplicated her Great American win by getting on top early and never looking back, putting big daylight on her pursuers Marie Lawrence NV 17:39, Ramsey Kavan SD 17:47, Whitney Anderson CO 17:49 and Brittany Tinsley OH 17:49. The Midwest girls 28 beat the West 46.
Douglas AZ sr Ken Cormier's win came after a steady rally over the last mile until he caught duelling leaders Andy Bumbalough TN and John McGuire CO with 300 meters to go and then shook off a counter punch from Bumbalough near the finish (below). Mark Matusak CA finished strong to edge McGuire for third and lead the West region boys to the team title, beating defending champs Midwest, 32-38.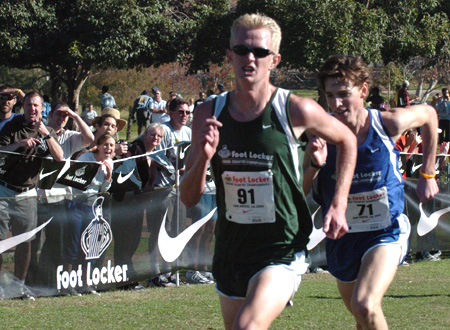 Cormier and Bumbalough with 100 meters to go. photo by John Dye
flash report
Sur-prise! Sur-prise!
SAN DIEGO -- In a wide-open affair bringing together the top boys from all over the map, the favorites ended up, well, all over the map! - Rich Gonzalez reports
Girls battle was framed at halfway point with Ryan, Lawrence and Kavan in order, but Ryan relentlessly pushed the pace and never let the other two strike.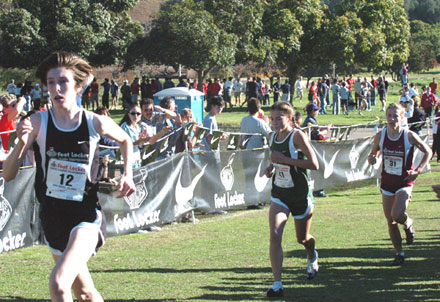 FOOT LOCKER 2004
26th running of the premier elite individual cross country meet
Balboa Park, San Diego, Dec 11
DyeStat on-site coverage

Foot Locker

on FoxSports Dec. 20. Check your local listings
Foot Locker qualifiers at NTN - Bernard Lagat surprises Sandy Roberts of North Carolina with a phone call
West - Dec 4 at Mt. SAC, Walnut CA
the meet's web site - RESULTS - pix by Bill Leung
Kenny who? Arizona champion Kenny Cormier improves 79 seconds over 2003 to win West regional. Conquering Mt. SAC was easy as sipping a smoothie for Marie Lawrence, Zoe Nelson and Alma Escobar. Twelve California runners qualify. Erik Boal's story

Midwest on-site coverage by John & Donna Dye and Steve Underwood
Complete Results -
Jeff See edges Levi Fox in a Buckeye duel; Ramsay Kavan (L) moves up from 2nd to 1st this year as four Colorado girls and Ohio's Brittany Tinsley follow her.

South - on-site coverage by Ricky Quintana
Complete Results -
Ricky Quintana's report -- two of South's all time best prove their mettle with two sensational performances
Andy Bumbalough 14:32 takes 11 seconds off Alan Webb's course record; Jenny Barringer (r) wins second straight South regional.
Southwest Quotes - Summer mileage and Kaltenbach trail blazing are key to Smoky Hill's success, says coach Greg Weich. Los Alamos coach Kathy Hipwood talks about training at altitude and racing at sea level.
NTN fun away from the course - team skits, gong show, goodie bags, awards - 3rd edition of DONNA ON THE SIDE from Nike Team Nationals
DONNA ON THE SIDE - RACE DAY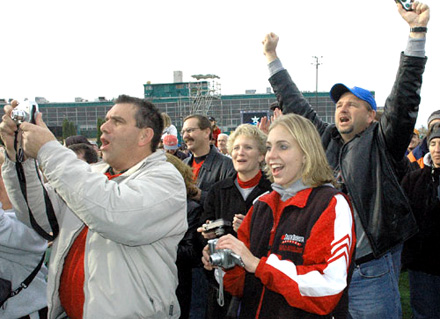 Julian Aguirre reports - Northwest region teams were on a mission for respect, and they earned it. Mead WA boys, Jesuit Portland OR boys, Eisenhower Yakima WA boys, and Bellarmine Tacoma WA girls all place in the top 10. "This was so awesome," said Bellarmine's ace Brie Felnagle. "I beat Nicole Blood." Jesuit OR runner John Maletis: "It was the best weekend of our lives!
Champion York runners talk to Midwest editor Scott Bush: "This was for Mr. Newton." - "We treated the weekend as a business trip. We can socialize now after the race, but before it was all business." - fifth man Schroeder didn't even make the state meet team last month.
Ramsay Kavan talks to Heartland editor Tony Bozarth: "We're taught to run how we feel, and I felt really good. [Winning NTN] makes me that much more excited for Foot Locker next week!" Calculus is her favorite class.
NTN Splits

BOYS - GIRLS -

Attention, stats freaks. You heard about the new FinishLynx system with standings and team scores every 1,000 meters. Well, here are all the figures -- enough to keep you busy analyzing until next season.
NTN action photo albums
The "camelbacks", a series of short hills five feet apart, took runners out of their rhythm and, along with mud and generally soft footing, kept the flat course from being a speedway.
The famous spread (9 seconds at the New York Federation meet) of Fayetteville-Manlius NY (Stotan AC) was stretched out by York's upfront duo of Sean McNamara and Matt Dettman and by passing runners in the last 500 meters. Here, Stotan's 3-4-5 runners in maroon are finishing 31, 34, and 35. Stotan's fifth was 7 places ahead of York's fifth, but that couldn't overcome York's 42-point advantage through four runners.
Saratoga dominated the team race, but Ramsey Kavan dominated the individual race, remaining unbeaten on the year, with back to back wins in the mud (Foot Locker Midwest Nov. 27).

the meet
NTN

Nike Team Nationals




Portland Meadows, Portland OR, Dec. 4

DyeStat on-site coverage

Sean McNamara leads York IL to decisive victory over Fayetteville-Manlius NY.
Divine right of queens: Saratoga wins.
Complete results & splits - BOYS - GIRLS

Rich Gonzalez' NTN report
Never before had such breathtaking storylines played out quite like this: Champion met champion. Talent met technology. And for the first time ever, America met its true number ones.

FoxSportsNet TV schedule, courtesy of Walt Murphy:

December 8
3:00pm--Detroit, Florida, New England, Ohio, Pittsburgh, South
4:00pm--Chicago, Midwest, North
5:00pm--Arizona, Rocky Mountains
6:00pm--Bay Area, Northwest, West

December 10
1:00pm--New York
BOYS

GIRLS

York Elmhurst IL 92
Fayetteville-Manlius NY 127
Mead Spokane WA 147
Royal Simi Valley CA 173
Mountain View Orem UT 206
Saratoga Springs NY 51
Smoky Hill Aurora CO 125
Yankton SD 154
Bellarmine Prep Tacoma WA 211
Fremont Plain City UT 221


photo by Brian Myers, PhotoRun

Thanks to the new Finish Lynx scoring system, with team scores and standings every 1000 meters, the crowd could follow the team battle on 23-foot screens. The system also fed coaches (left) the data on Palm Pilots. In the boys race, the Harrier Crusaders OR (Jesuit) were out early, but Stotan NY (Fayetteville-Manlius) took the lead after 2,000 meters. York Elmhurst IL responded in the third segment but had only a 5-point lead with 1,000 meters to go. It seemed that a furious finish loomed. But York pulled away for a convincing win behind individual winner Sean McNamara. Matt Dettman's fourth place finish was a key for York as the Illinois crew and others pushed F-M's 3-4-5 runners back.

There was no suspense in the girls race after Saratoga put their four Foot Locker finalists in the top six after 1,000 meters. Ramsay Kavan of South Dakota settled the individual race early as well, with Brie Felnagle WA closing fast to beat Saratoga's Nicole Blood for second. Next were Smoky Hill CO's Foot Locker finalists -- Katelyn Kaltenbach and Keara Sammons -- finishing together in 4th and 5th place.

they said it at NTN . . .
NTN quotes and photos by Don Rich, Northeast regional editor

Bill Aris, coach of Fayetteville-Manlius NY (runner-up to York IL)

"I believe York would be an outstanding team on any type of course."
This [NTN] is the best thing to happen to high school cross country, and maybe to high school athletics. It shows vision."

F-M junior Andrew McCann: (left) "There were so many great teams in the race. It wasn't an upset. I'm never going to forget it. This is probably going to be the best year of my life, I can tell you that right now. Next year we're going to have a new group of Stotans -- another great team."
Jared Burdick, the only senior on F-M: "This [NTN] is definitely the cherry on top of the sundae."
Linda Kranick, coach, Saratoga NY girls, US#1 for 11 of last 13 years :

"Our kids are just regular kids like the kids on every other team."
"What this meet has done for cross country running is unbelievable."

Pat Caulfield, Cedar Cliff PA runner: "This [NTN] is epic for cross country."

Leo Collins reports:
2-legged thoroughbreds and high technology
on display at Portland Meadows.
It was a wonderful experience for both fans and competitors. there were no gloomy faces to be seen after the race had ended. Everyone seemed to know they had taken part in something special.
Choosing the best is not an easy task & this was a brilliant step in the right direction.
A Jesuit Portland runner: "This season has been the most fun. It's all about team!"

.
VISIT

TRACK-TECH.COM


for


USA Open T&F Camp, FL,
USA Open XC Camps, CO,
USATF Jr Elite Camps CA
T&F TRAINING software
USATF Development Videotapes


.

Tucson Elite
Throwing Camp
Jan 15-17 at Tucson AZ
Build a base for a successful season in shotput, discus, hammer and javelin. Staffed by current & former U. of Arizona athletes.
Web Site - email








DyeStat uses Hy-Tek
for meet results

The Harrier
by Marc Bloom