Meet Calendar
Send us missing information. We have a lot of meets with no dates or incorrect dates. We want information now for the entire 2004-2005 school year.
NOTE: Hamdheld times will not be considered for US#1 at 400 meters and below. Marks missing wind readings may also be ignored.
BOYS
100 - J-Mee Samuels NC 10.25
200 - Xavier Carter FL 20.49
400 - Lashawn Merritt VA 45.25
800 - Jacob Hernandez TX 1:48.48
1500 - Victor Gras MA 3:45.19
1600 - Mike Booth PA 4:07.77
Mile - Galen Rupp OR 4:01.8
3000 - Galen Rupp OR 8:03.67 USR
3200 - Brian Sullivan TX 8:52.92
2 Mile - Shadrack Kiptoo NM 8:45.44
110H - Jason Richardson TX 13.38
300H - Kevin Craddock CA 35.93
400H - Jason Richardson TX 49.79
HJ - Scott Sellers TX 7-5
LJ - Robert Rands NE 25-1.25
TJ - Ken Hall LA 54-10.25
PV - Adam Sarafian NJ 17-4.5
SP - Zach Lloyd NV 66-7.25
DT - Zach Lloyd NV 211-5
JT - Chad Brown LA 218-6
HT - Nate Rolfe WA 237-1
4x100 - Lancaster TX 40.28
4x200 - Glenville OH 1:23.78
4x400 - Dorsey CA 3:11.45
4x800 - Saline MI 7:40.68
SMR - Iowa City IA 3:27.18
DMR - Saline MI 10:03.15

GIRLS
100 - Ashley Owens CO 11.13
200 - Shalonda Solomon CA 22.82
400 - Natasha Hastings NY 52.04
800 - Sarah Bowman VA 2:04.94
1500 - Sarah Bowman VA 4:23.36
1600 - Elizabeth Yetzer MN 4:46.14
Mile - Nicole Blood NY 4:42.40
3000 - Nicole Blood NY 9:24.03
3200 - Caitlin Chock CA 9:58.51
2 Mile - Nicole Blood NY 10:10.73
100H - Shantia Moss FL 13.39
300H - Ebony Collins CA 40.81
400H - Katya Kostetskaya AR 56.49.
HJ - Viktoria Andonova FL 6-1
LJ - Brittany Daniels CA, Gayle Hunter CA and Shana Woods CA 20-7.75
TJ - Brittany Daniels CA 44-11.75 USR
PV - Tiffany Maskulinski NY 13-5
SP - Sarah Stevens CO 50-4.5
DT - Missy Faubus CA 170-1.
JT - Rachel Yurkovich OR 161-11.
HT - Erin Donnelly RI 165-7
4x100 - Poly Long Beach CA 44.50 USR
4x200 - Poly Long Beach CA 1:33.87 USR
4x400 - Poly Long Beach CA 3:35.49 USR
4x800 - Bay Shore NY 8:57.48
SMR - West Catholic PA 3:52.22 USR
DMR - Bay Shore NY 11:33.42 USR
ShopDyeStat


unique items
for the HS athlete
--Camp Directory
--Parents Guide

--Training G
uide
--Training Profiles
--Pace Calculator
--the Harrier
--HS Track 2004
J-Mee Samuels 10.30 and 20.58
in AAU Junior Olympics semis.
Foot Locker and
Nike Team Nationals
by John Dye
The high school cross country championship picture is coming into focus with talks between Nike and Foot Locker this summer. The two major corporate sponsors of high school cross country are near agreement for continuation of the Nike sponsorship of the Foot Locker Cross Country Championships. An official announcement is expected soon.
Nike and Foot Locker are also discussing resolution of the conflict that arises from NTN and the Foot Locker West regional being held on the same day (December 4), potentially forcing some Western runners to choose between running with their team at NTN or trying to qualify for Foot Locker nationals by being one of the top eight at the West regional.
Meanwhile, preparations continue for the inaugural NTN in Portland. DyeStat has named regional editors to coordinate news from each of the eight NTN regions. These editors, along with Marc Bloom and John Dye, will also form the NTN rankings committee, which will issue the NTN Regional Rankings each week during the season. Rankings will be released in an email newsletter, on the official NTN web site, and on DyeStat. The top two teams in each region will be invited to the nationals. Four more teams will be selected at large from the teams placing third and fourth in the NTN Regional Rankings, making a total of 20 boys teams and 20 girls teams in the championship races. Invitations will be announced throughout November as each region's season concludes with the last state meet. Travel expenses of eight runners and an adult escort will be paid by Nike. A full weekend of activities is planned Dec 2-5 in Portland, which is also hosting the USATF club championships the same weekend at Portland Meadows race course (NTN races are Saturday morning and club championships Saturday afternoon.).
NTN officials have also been reviewing sanctioning and eligibility rules of the various state athletic associations. Nike youth running director Josh Rowe stressed that the meet will operate within the rules of state associations. All teams invited will be expected to adhere to any applicable state association rules, even if it means they cannot accept the NTN invitation.
USATF is sanctioning NTN, and teams will run as registered USATF clubs.
The NTN regional editors are:
| | |
| --- | --- |
| NORTHEAST - Don Rich | SOUTHEAST - Ricky Quintana |
| SOUTH - John Sullivan | MIDWEST - Scott Bush |
| HEARTLAND - Steve Underwood | SOUTHWEST - Adam Kedge |
| NORTHWEST - Julian Aguirre | CALIFORNIA - Rich Gonzalez and Mike Kennedy |
AAU Junior Olympics
July 31 - Aug 7, 2004
Drake Stadium, DesMoines IA
Fri Aug 6


4x800 finals, 4x100 semi, 400m semi, field events.
Thurs Aug 5
J-Mee Samuels blazes through semis in 10.30 and 20.58 US#3 (He is already US#1 in the 100 at 10.25). April Williams 13.55 US#5. NC frosh Kamorean Hayes 48-5.75 SP. Victoria Jordan sweeps YG sprint semis.
YM: J-Mee Samuels NC 10.30 +0.7 100m semi and 20.58 +1.1 200m semi. Julius Jiles MO 13.86 +0.6 110H, Track Phi Elite 3:13.71 4x400 prelim. YW: Jenny Soceka WI 12-6 PV. St. Louis Blues 3:46.50 4x400 prelim. Hillary Werth IL 13.78 +0.3 100H, Gyaisha Hall TX 11.76 +0.7 100m prelim, Ciara Jones MO 23.83 +3.1 200m prelim. IG: Kamorean Hayes NC 48-5.75 SP, April Williams TX 13.55 +0.5 100H, Chishanda Antoine GA 11.89 +0.5 100m prelim, Scottesha Miller FL 24.13 +0.4 200m prelim. YG: Victoria Jordan 12.00 +1.2 100m prelim and 24.45 +1.0 200m prelim.
USATF Jr Olympics


July 27 - Aug 1, 2004 at Eugene OR
on-site with Doug Speck & Mike Kennedy
INDEX

- YM/YW, Intermediate, Youth results - 206 DyeStat Elite performances
DyeStatCal highlights - Mike Kennedy's event summaries
triple gold Alexandria Anderson (23.45, 52.87 and 19-2.75) and double gold Ken Hall (56-2.5w and 25-6.75w) are named athletes of the meet
Friday - 7th grader Jordan Hasay's 4:34.02 1500m in prelim is Youth Girls national record. Local favorite Emilee Strot doubles in throws. Hot prelims by Kenny O'Neal 10.40, Jasmine Baldwin 11.59 , Sa'de Williams 55.05, Ebony Collins 55.82.
Event notes - Pix: Album 1 - Album 2 - Album 3
Thursday


Ken Hall smashes TJ record
with 54-10.25 +1.7 and 56-2.5 +4.6
| | |
| --- | --- |
| | Louisiana state champ Ken Hall, who just finished his junior year at Tara HS in Baton Rouge, exploded to the best triple jumping ever by a US High School Prep - old Prep National Best was 53-11.5 wind-aided or otherwise with a wind legal jump by Greg Yeldell of North Carolina from 1998. Hall this day went past 54, 55, and out to 56 feet, with a best of 56-02.5w (wind +4.6 mps) and wind legal mark of 54-10.25 (+1.7 mps wind). Mike Kennedy of Track and Field News (in attendance in Eugene) called it the best prep field event performance since Michael Carter's 81-03.5 Shot Put from way back in 1979, with Jack Shepard (Boys Editor T&F News), by phone, indicating it was prep history's #2 Field Event performance ever behind Carter's. |
Doug Speck was there and was stunned
from DyeStatCal story of Hall's record day
"All who observed (Hall's jumps) left the stadium with a bit more reverence for this great sport of ours after observing Ken Hall's efforts this day. Just when you seem to put some limits on what is excellence in an activity, someone comes along and bashes down the door leaving you shaking your head. Sometimes you go years before there is such an effort, but the human capacity is truly amazing. Here in a championship setting with unquestioned measured results, Ken Hall's spirit and effort was just so much bigger than life it left all who observed it quite stunned. Keep going to track meets and you will sometimes see the same--we have a saying, 'the kids never let you down on the track and in the field.' This was one of those days with the possibility of more in the future having us travel all over the place (set a record with 13 hour drive to Eugene from home this particular week - as we left today I said, 'yep, that made the whole drive worthwhile and there's three days to go!')."
[Editor's Note: Doug Speck is one of the most knowledgeable observors of high school track anywhere. He is an editor of DyeStatCal.]
Some of the best high school athletes in the country are competing at Eugene, as evidenced by 164 DyeStat elite performances in the regional qualifying meets. With 5,657 athletes entered, it is the largest meet ever held at historic Hayward Field in track-crazy Eugene. DyeStat will have live reports from Eugene by Doug Speck and Mike Kennedy.
NLI period ends for Class of 2004 -
1,700 College Choices by track and field athletes listed
The NCAA national letter of intent signing period for this year's seniors ended August 1. DyeStat has received 1,700 college choices by the class of 2004. If we missed you, send the information to John Dye.
Galen Rupp runs 13:37.91 5000m
to pass Lindgren, Ritz and Pre !!!
by John Dye
Galen Rupp ran 13:37.91 for 5000 meters in Belgium Saturday (7/31) in the B race at the KBC Night of Athletics at Heusden-Zolder, Belgium. The recent Central Catholic Portland OR graduate thus took more than 6 seconds off the US high school national record of 13:44.0 set by Gerry Lindgren in 1964. Dathan Ritzenhein just missed the record in 2001 with a time of 13:44.70, and Steve Prefontaine ran 13:52.8 in 1969. Rupp had the next two best times in Jack Shepard's High School Track annual with 13:52.85 and 13:55.32 efforts earlier this year. Performances through the end of the major summer meets count as part of the school year for record purposes. Rupp's run is also a US national junior record (under 20), surpassing Franklyn Sanchez 13:38.39 of Georgetown in 2001.
Former marathon great Alberto Salazar, who coaches Rupp, said he was expecting Rupp to run in the low 13:40s. Salazar was a little worried when Rupp went out with the leaders in a fast first lap of 61 seconds and ran in lane 2 for the first few laps. But Rupp settled into steady 65-66 second laps the rest of the way, going through 1600 meters in 4:17.8; 3000 meters in 8:09.5; and 3200 meters in 8:41.8. Rupp's lap splits: 61.0, 65.8, 65.6, 65.8, 66.7, 65.4, 65.8, 66.1, 65.2, 65.3, 66.2, 66.5, and 32.9 (200 meters).
Salazar said Rupp has one or two race opportunities left in Europe and may seek another HS record before calling it a season. Depending on circumstances, Rupp could challenge the 10000 meter record (28:32.7 by Rudy Chapa in 1976) or try to improve on his own 3000m record set earlier this year (8:03.67). After that, Salazar said, Rupp will enjoy "a very big break" before resuming training for next year.
Salazar said the groundwork for Rupp's achievements started in August 2003 when Rupp started an 80-mile a week regimen (60 outside and 20 in the pool) supplemented by exercises and drills of former George Mason coach John Cook. (Alan Webb also uses these drills as his coach, Scott Raczko, is a former Cook assistant.)
| | | | | |
| --- | --- | --- | --- | --- |
| | KIMELI ERNEST | KEN | | |
| | KOMEN DANIEL | KEN | | SB |
| | DINKESA ABEBE | ETH | | PB |
| | COOLSAET REID | CAN | | PB |
| | JANSSENS HANS | BEL | | PB |
| | OMORI TERUKAZU | JAP | | |
| | MAY MICHAEL | GER | | PB |
| | SJOQVIST ERIK | SWE | | |
| | AL DAWOOD ALI | QAT | | SB |
| | OSHIMA KENTA | JAP | | PB |
| | RUPP GALEN | USA | | PB |
| | BERCHMANS-NDAYISENGA JEAN | BDI | | PB |
| | HENWOOD JOHN | NZL | | |
| | SANDSTAD HENRIK | NOR | | PB |
| | TORRES EDWARDO | USA | | |
Alan Webb runs 3:50.73 PR in London
Alan Webb ran fourth in the Norwich Union IAAF Super Grand Prix mile in London Friday (7/30), less than a second behind the winner, Paul Korir.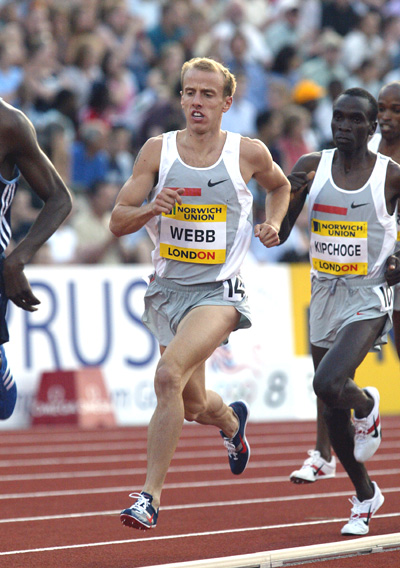 photo by PhotoRun

Alan Webb talks about his breakthrough season as a pro and his preparation for the Olympic Games; he races in London today.
Northern Virginia track writer Pearl Watts, who has covered Alan Webb since he was a freshman at South Lakes HS in Reston VA 7 years ago, interviews America's best miler as he prepares for the Olympic Games in Athens next month.
"I already consider this a successful season," Webb told Watts. "Anything that happens in Athens will be gravy."
And Webb explains that primal scream after winning the US Olympic Trials. "it wasn't planned. Considering where I was at this time last year, it just seemed like everything had come full circle. So much stress seemed to have been lifted off. That whoop was just me telling myself that I knew that I could do it." More . . .
Junior Olympics nationals on tap
The Junior Olympics age group national championships, final meets of the outdoor season, are ready to go -- USATF in Eugene OR and AAU in DesMoines IA. These are the last meets that count for DyeStat Elite national rankings for the 2004 outdoor season. The USATF meet starts Tuesday and runs through Sunday. The AAU meet starts Saturday July 31 and runs through the following Saturday August 7.
Cross Country Calendar
We have our first calendar of meets for the 2004 cross country season. First big meet is the Iolani Invitational Sept. 18 in Hawaii, which is growing to 30 out of state teams this year. At the end of the season, the new Nike Team Nationals in Portland Dec. 4 will share the national championship stage with the Foot Locker individual championships in San Diego Dec. 11. MEET DIRECTORS: Send missing information to John Dye.

2004 Outdoor

National Rankings update
DyeStat
Camp Directory

"If your goal is to reach high school runners, there is no better place to advertise than DyeStat.com. Advertising with DyeStat.com not only gave us a broader audience, it noticeably boosted our camp attendance."
Drew Ryun, director
Jim Ryun Running Camps

DyeStat Camp Directory

DyeStat Sponsors
and Advertisers
Use them - they keep DyeStat going.
The Harrier
by Marc Bloom
XC Pre-season issue in August. Free Yearbook to new subscribers

DyeStat uses Hy-Tek
for meet results