Meet Calendar
Send us missing information. We have a lot of meets with no dates or incorrect dates. We want information now for the entire 2004-2005 school year.
NOTE: Hamdheld times will not be considered for US#1 at 400 meters and below. Marks missing wind readings may also be ignored.
BOYS
100 - J-Mee Samuels NC 10.25
200 - Xavier Carter FL 20.49
400 - Lashawn Merritt VA 45.25
800 - Jacob Hernandez TX 1:48.48
1500 - Victor Gras MA 3:45.19
1600 - Mike Booth PA 4:07.77
Mile - Galen Rupp OR 4:01.8
3000 - Galen Rupp OR 8:03.67 USR
3200 - Brian Sullivan TX 8:52.92
2 Mile - Shadrack Kiptoo NM 8:45.44
110H - Jason Richardson TX 13.38
300H - Kevin Craddock CA 35.93
400H - Jason Richardson TX 49.79
HJ - Scott Sellers TX 7-5
LJ - Robert Rands NE 25-1.25
TJ - Ken Hall LA 54-10.25
PV - Adam Sarafian NJ 17-4.5
SP - Zach Lloyd NV 66-7.25
DT - Zach Lloyd NV 211-5
JT - Chad Brown LA 218-6
HT - Nate Rolfe WA 237-1
4x100 - Lancaster TX 40.28
4x200 - Glenville OH 1:23.78
4x400 - Dorsey CA 3:11.45
4x800 - Saline MI 7:40.68
SMR - Iowa City IA 3:27.18
DMR - Saline MI 10:03.15

GIRLS
100 - Ashley Owens CO 11.13
200 - Shalonda Solomon CA 22.82
400 - Natasha Hastings NY 52.04
800 - Sarah Bowman VA 2:04.94
1500 - Sarah Bowman VA 4:23.36
1600 - Elizabeth Yetzer MN 4:46.14
Mile - Nicole Blood NY 4:42.40
3000 - Nicole Blood NY 9:24.03
3200 - Caitlin Chock CA 9:58.51
2 Mile - Nicole Blood NY 10:10.73
100H - Shantia Moss FL 13.39
300H - Ebony Collins CA 40.81
400H - Katya Kostetskaya AR 56.49.
HJ - Viktoria Andonova FL 6-1
LJ - Brittany Daniels CA, Gayle Hunter CA and Shana Woods CA 20-7.75
TJ - Brittany Daniels CA 44-11.75 USR
PV - Tiffany Maskulinski NY 13-5
SP - Sarah Stevens CO 50-4.5
DT - Missy Faubus CA 170-1.
JT - Rachel Yurkovich OR 161-11.
HT - Erin Donnelly RI 165-7
4x100 - Poly Long Beach CA 44.50 USR
4x200 - Poly Long Beach CA 1:33.87 USR
4x400 - Poly Long Beach CA 3:35.49 USR
4x800 - Bay Shore NY 8:57.48
SMR - West Catholic PA 3:52.22 USR
DMR - Bay Shore NY 11:33.42 USR
ShopDyeStat


unique items
for the HS athlete
--Camp Directory
--Parents Guide

--Training G
uide
--Training Profiles
--Pace Calculator
--the Harrier
--HS Track 2004
The real Olympics for us -- track and field -- are starting. We will have action photos by Vic Sailer's PhotoRun crew, starting with the opening ceremonies.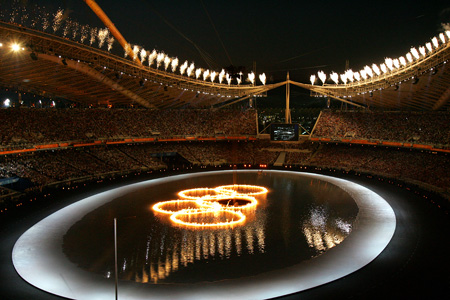 Cross Country's Coming --- and we are getting ready with all the preview information you need.
Vic's Pix
photo albums by the PhotoRun crew of Vic Sailer, the Olympian T&F photographer
We can't be in Athens, but we can tell you how to find everything on the Internet and on television. We will be following the Games that way, with a special eye on the young athletes who were recently high schoolers celebrated on DyeStat -- Alan Webb, Sanya Richards, Laura Gerraughty, Lashinda Demus, Allyson Felix, Chaunte Howard, Monique Henderson, Shalane Flanagan, Dathan Ritzenhein, Lauryn Williams, Lashauntea Moore, Jeremy Wariner, Jonathan Johnson, Sheena Johnson et al. We will have photos by Vic Sailer, the Olympian T&F photographer, and words of the New York Armory's Jack Pfeifer.
Where did they go to high school? - Jim Spier answers that question for Team USA. Thirteen states are represented by three or more athletes, headed by -- surprise! -- California with 20 and Texas with 11. Three high schools can claim two grads at Athens: SW Dekalb, Decatur GA (Terrence Trammell and Angelo Taylor), J.W. North Riverside CA (Chaunte Howard and Joanna Hayes) and St. Thomas Aquinas, Fort Lauderdale FL (Sanya Richards and Seilala Sue). Westbury HS in Houston TX has two hurdlers in the Olympics -- Bennie Brazell on the US team and Bayano Kamani on the Panama team. Kamani has tri-citizenship in Barbados, Panama, and USA.
caribtrack.com - Jack Pfeifer of the New York Armory is in Athens with his sons Zeke and Ira and will tell us what they see, including the exploits of former HS stars of the Armory's big indoor track scene.
Walt Murphy - Walt Murphy of New York City, one of the leading T&F statisticians in the world and the publisher of Eastern Track and XC Express, is in Athens (his 9th Olympics) in his usual role of supporting the television broadcasts. He writes from Athens when he has time.
NLI period ends for Class of 2004 -
1,700 College Choices by track and field athletes listed
The NCAA national letter of intent signing period for this year's seniors ended August 1. DyeStat has received 1,700 college choices by the class of 2004. If we missed you, send the information to John Dye.

2004 Outdoor

National Rankings
DyeStat
Camp Directory

"If your goal is to reach high school runners, there is no better place to advertise than DyeStat.com. Advertising with DyeStat.com not only gave us a broader audience, it noticeably boosted our camp attendance."
Drew Ryun, director
Jim Ryun Running Camps

DyeStat Camp Directory

DyeStat Sponsors
and Advertisers
Use them - they keep DyeStat going.

The Harrier
by Marc Bloom
XC Pre-season issue in August. Free Yearbook to new subscribers

DyeStat uses Hy-Tek
for meet results