Galen Rupp runs 13:37.91 5000m
to pass Lindgren, Ritz and Pre !!!
by John Dye
Galen Rupp ran 13:37.91 for 5000 meters in Belgium Saturday (7/31) in the B race at the KBC Night of Athletics at Heusden-Zolder, Belgium. The recent Central Catholic Portland OR graduate thus took more than 6 seconds off the US high school national record of 13:44.0 set by Gerry Lindgren in 1964. Dathan Ritzenhein just missed the record in 2001 with a time of 13:44.70, and Steve Prefontaine ran 13:52.8 in 1969. Rupp had the next two best times in Jack Shepard's High School Track annual with 13:52.85 and 13:55.32 efforts earlier this year. Performances through the end of the major summer meets count as part of the school year for record purposes. Rupp's run is also a US national junior record (under 20), surpassing Franklyn Sanchez 13:38.39 of Georgetown in 2001.
Former marathon great Alberto Salazar, who coaches Rupp, said he was expecting Rupp to run in the low 13:40s. Salazar was a little worried when Rupp went out with the leaders in a fast first lap of 61 seconds and ran in lane 2 for the first few laps. But Rupp settled into steady 65-66 second laps the rest of the way, going through 1600 meters in 4:17.8; 3000 meters in 8:09.5; and 3200 meters in 8:41.8. Rupp's lap splits: 61.0, 65.8, 65.6, 65.8, 66.7, 65.4, 65.8, 66.1, 65.2, 65.3, 66.2, 66.5, and 32.9 (200 meters).
Salazar said Rupp has one or two race opportunities left in Europe and may seek another HS record before calling it a season. Depending on circumstances, Rupp could challenge the 10000 meter record (28:32.7 by Rudy Chapa in 1976) or try to improve on his own 3000m record set earlier this year (8:03.67). After that, Salazar said, Rupp will enjoy "a very big break" before resuming training for next year.
Salazar said the groundwork for Rupp's achievements started in August 2003 when Rupp started an 80-mile a week regimen (60 outside and 20 in the pool) supplemented by exercises and drills of former George Mason coach John Cook. (Alan Webb also uses these drills as his coach, Scott Raczko, is a former Cook assistant.)
| | | | | |
| --- | --- | --- | --- | --- |
| | KIMELI ERNEST | KEN | | |
| | KOMEN DANIEL | KEN | | SB |
| | DINKESA ABEBE | ETH | | PB |
| | COOLSAET REID | CAN | | PB |
| | JANSSENS HANS | BEL | | PB |
| | OMORI TERUKAZU | JAP | | |
| | MAY MICHAEL | GER | | PB |
| | SJOQVIST ERIK | SWE | | |
| | AL DAWOOD ALI | QAT | | SB |
| | OSHIMA KENTA | JAP | | PB |
| | RUPP GALEN | USA | | PB |
| | BERCHMANS-NDAYISENGA JEAN | BDI | | PB |
| | HENWOOD JOHN | NZL | | |
| | SANDSTAD HENRIK | NOR | | PB |
| | TORRES EDWARDO | USA | | |
USATF Jr Olympics


July 27 - Aug 1, 2004 at Eugene OR
on-site with Doug Speck & Mike Kennedy
INDEX

- YM/YW, Intermediate, Youth results - 206 DyeStat Elite performances
DyeStatCal highlights - Mike Kennedy's event summaries
triple gold Alexandria Anderson (23.45, 52.87 and 19-2.75) and double gold Ken Hall (56-2.5w and 25-6.75w) are named athletes of the meet
Friday - 7th grader Jordan Hasay's 4:34.02 1500m in prelim is Youth Girls national record. Local favorite Emilee Strot doubles in throws. Hot prelims by Kenny O'Neal 10.40, Jasmine Baldwin 11.59 , Sa'de Williams 55.05, Ebony Collins 55.82.
Event notes - Pix: Album 1 - Album 2 - Album 3
Thursday


Ken Hall smashes TJ record
with 54-10.25 +1.7 and 56-2.5 +4.6
| | |
| --- | --- |
| | Louisiana state champ Ken Hall, who just finished his junior year at Tara HS in Baton Rouge, exploded to the best triple jumping ever by a US High School Prep - old Prep National Best was 53-11.5 wind-aided or otherwise with a wind legal jump by Greg Yeldell of North Carolina from 1998. Hall this day went past 54, 55, and out to 56 feet, with a best of 56-02.5w (wind +4.6 mps) and wind legal mark of 54-10.25 (+1.7 mps wind). Mike Kennedy of Track and Field News (in attendance in Eugene) called it the best prep field event performance since Michael Carter's 81-03.5 Shot Put from way back in 1979, with Jack Shepard (Boys Editor T&F News), by phone, indicating it was prep history's #2 Field Event performance ever behind Carter's. |
Doug Speck was there and was stunned
from DyeStatCal story of Hall's record day
"All who observed (Hall's jumps) left the stadium with a bit more reverence for this great sport of ours after observing Ken Hall's efforts this day. Just when you seem to put some limits on what is excellence in an activity, someone comes along and bashes down the door leaving you shaking your head. Sometimes you go years before there is such an effort, but the human capacity is truly amazing. Here in a championship setting with unquestioned measured results, Ken Hall's spirit and effort was just so much bigger than life it left all who observed it quite stunned. Keep going to track meets and you will sometimes see the same--we have a saying, 'the kids never let you down on the track and in the field.' This was one of those days with the possibility of more in the future having us travel all over the place (set a record with 13 hour drive to Eugene from home this particular week - as we left today I said, 'yep, that made the whole drive worthwhile and there's three days to go!')."
[Editor's Note: Doug Speck is one of the most knowledgeable observors of high school track anywhere. He is an editor of DyeStatCal.]
Some of the best high school athletes in the country are competing at Eugene, as evidenced by 164 DyeStat elite performances in the regional qualifying meets. With 5,657 athletes entered, it is the largest meet ever held at historic Hayward Field in track-crazy Eugene. DyeStat will have live reports from Eugene by Doug Speck and Mike Kennedy.
Alan Webb runs 3:50.73 PR in London
Alan Webb ran fourth in the Norwich Union IAAF Super Grand Prix mile in London Friday (7/30), less than a second behind the winner, Paul Korir.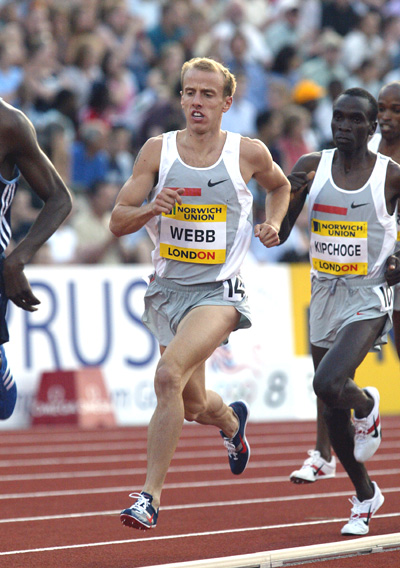 photo by PhotoRun

Alan Webb talks about his breakthrough season as a pro and his preparation for the Olympic Games; he races in London today.
Northern Virginia track writer Pearl Watts, who has covered Alan Webb since he was a freshman at South Lakes HS in Reston VA 7 years ago, interviews America's best miler as he prepares for the Olympic Games in Athens next month.
"I already consider this a successful season," Webb told Watts. "Anything that happens in Athens will be gravy."
And Webb explains that primal scream after winning the US Olympic Trials. "it wasn't planned. Considering where I was at this time last year, it just seemed like everything had come full circle. So much stress seemed to have been lifted off. That whoop was just me telling myself that I knew that I could do it." More . . .