Natalie Picchetti moves to California - A 2002 Foot Locker finalist while running for Reagan San Antonio TX, Picchetti is now at Rancho Cucamonga HS in California, DyeStatCal reports.
Cross Country Week
Early results and rankings thru Sept 6 - we're not ready for this, but the runners are.
Smoky Hill CO's Mighty Mites open with course records

Ryan Deak (left), who moved from Florida during the summer, won the Pat Patten Invitational at Boulder in 15:48 5k. Katelyn (Kater-Tot) Kaltenbach (right), taking over team leadership from 4-year star Megan Kaltenbach (now at U. of North Carolina), led the US#4 Smoky Hill girls to a 20-point score with an 18:22 time, which broke sister Megan's course record.

Both Deak and Kaltenbach were Foot Locker finalists in 2002.
CO Harrison Inv 5k - US#13 Denver West was an easy winner, 63 to 125, over Fort Collins, with Mohamed Ige 15:20 leading the way. Thornton sr Bradley Harkrader 15:49 was second.
GA Georgia Rankings 9/2 - Marist girls take over #1 in All-Class and Collins Hill girls in 5A. Brookwood girls move up to #2 in 5A after upsetting Lakeside, which falls to #3.
KS Pre-Season Coaches Poll - Shawnee Mission Northwest boys and Blue Valley North girls top big school 6A list. Blue Valley North hosts five of the top 10 class 6A girls teams in its own invitational Thursday. Many other top teams will be in the big Manhattan Invitational Saturday.
MI Benzie Inv - Heralded freshman Rachel Wittum's debut for Rockford was a great success as she finished second in 18:07 3.1m between Rockford sr Nikki Bohnsack 18:02 and Kelloggsville sr Nicole Bush 18:08. Rockford swept the team titles, the boys winning 27-59 over Traverse City Central and the girls winning by 57 points with 31 points. Bush ran 23 seconds faster than her winning time last year.
NC Jungle Run - Jason Williams 15:58 leads South #5 South View boys 24 to 82-point margin; Jordan Durham sr Kate Merrill 18:58 wins girls race but Cary wins team title, 63-67.
OH Avon Lake Earlybird 5k - US#6 Hilliard Davidson OH girls finished third behind Bowling Green and and St. Joseph Cleveland. Beaumont Cleveland Heights sr Maggie Infeld won in course record time of 18:20. Padua 82 won the boys team title with Hilliard Davidson 97 second.
OH Greenville Inv - US#21 LaSalle Cincinnati boys 36 won their second straight invitational by 105 points over Fairmont. LaSalle's 7 scorers were all in the top 20 with a 67 second spread, led by Kyle Dragan 16:06 in second place.
OH Lakota Classic 5k - Caroline Rauen 18:12 leads Turpin girls in Cincinnati, Sharp-Beuerlein lead Moeller boys.
PA Erie McDowell Inv - Harbor Creek PA sr Brian Soder won in 15:27.
.

| | |
| --- | --- |
| PA PA Week 9/3 by Don Rich - Steve Hallinan (right) splits 2 miles in 9:50 en route to course record 15:39 5k. Defending AAA girls champ Hatboro-Horsham restocks with super frosh Kerry Swayne and Brittany Sullivan. | |

.
UT Grass Relays - Mountain View sweeps 2-mile race (team scoring is sum of best five runners' times). Heidi Magill 11:57 leads US#7 girls 1:04.28 and Steve Strickland 10:15 leads US#3 boys 53:39.
150 Foot Locker Favorites
The 64 elite runners who will toe the line in San Diego December 13 will come from four regionals. The top 8 boys and top 8 girls from each region qualify for the national finals. DyeStat has reviewed the contenders and developed lists of Foot Locker Favorites in each region. Initially, we have 150 FLF's based on 2002 regional results, 2003 outdoor mile and 2-mile times, and our own judgment. These are the runners we believe have the best chance of getting to San Diego based on their performances to date. We will update the lists periodically based on performances during the cross country season.
| Midwest | Northeast | South | West |
Harrier tabs Los Alamos NM girls, The Woodlands TX boys #1 in pre-season rankings
Los Alamos NM girls leapfrog Saratoga NY to US#1 starting the season in Marc Bloom's 2003 pre-season lists in The Harrier magazine. Los Alamos came to national consciousness late last year when they scored a perfect 15 in their state meet. Then their top two girls, Heather Wood and Kristen Hemphill, ran 6th and 12th in the Foot Locker West regional at Mt. SAC. Everyone is back as they try to deny Saratoga its 8th US#1 ranking in 11 years.

On the boys side, The Woodlands TX is pre-season #1 as they were last year before Mountain View Orem UT toppled them in the DQ-tainted Great American.

We're Number One!
Great American entries
High School team entries for the Great American Cross Country Festival at Cary NC September 27 have been announced. As usual the Nike Race of Champions features many of the top ranked national teams. The ROC has 20 teams ranked in The Harrier's pre-season Super 25 national team rankings:
Boys -- 1 The Woodlands TX, 3 Mountain View UT, 6 Shenendehowa NY, 12 Kingwood TX, 13 Denver West CO, 14 Christian Brothers NJ, 16 Middletown OH, 19 Webb Knoxville TN, 20 Henderson West Chester PA, 21 LaSalle Cincinnati OH, and 22 Bishop Kenny Jacksonville FL.
Girls -- 2 Saratoga Springs NY, 6 Davidson Hilliard OH, 7 Mountain View UT, 11 Flagstaff AZ, 14 Cedar Park TX, 18 Bay Shore NY, 19 Kingwood TX, 20 Spanish River Boca Raton FL, and 21 Wyomissing PA.
High school track is getting bigger and better,
and the Internet is a big reason -- Jeff Hollobaugh on espn.com.


Nike ID shoes - purchases help support DyeStat


Hawaii September 20, 2003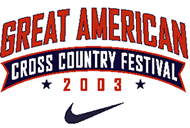 Sep 26-27 Cary NC
the Harrier
Cross Country Report
Award winning track writer Marc Bloom's unrivalled coverage of high school cross country and distance running.
8 issues for $32
SUBSCRIBE NOW
and get big
Pre-Season issue in late August

click here to shop at Eastbay;
purchases help support DyeStat