2003 Cross Country - less than 2 months away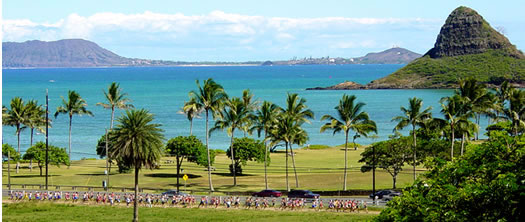 5th Iolani Big Aloha Invitational will be held September 20 at Kualoa Ranch in Hawaii. This is a photo of one of last year's races. After the races, runners ran across the road to cool down in the ocean. Thirty mainland high schools are expected to run in this year's Iolani, twice as many as last year. Last year's winners were Ruth Graham, Carl Moe, Montgomery CA girls, and Eisenhower WA boys. The University of Hawaii Big Wave Invitational for college teams will run in conjunction with the high school meet. a DyeStat on-site meet
High school track is getting bigger and better,
and the Internet is a big reason -- Jeff Hollobaugh on espn.com.
Josh Fryman
Kentuckian sweeps indoor and outdoor shot put titles,
and doubles in discus at AOC Raleigh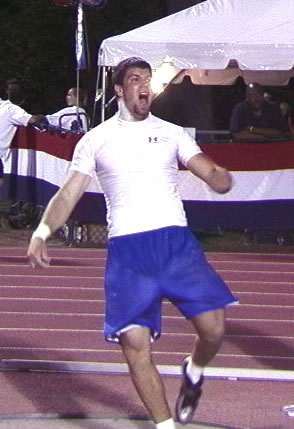 Post-Season Pix Pages - with the rush of big meets and great performances, we piled up a huge backlog of action photos to process from Golden West, AOC Raleigh, Golden South., and USA Nationals. Here are the latest pix pages uploaded:
AOC throws: Maysville KY senior Josh Fryman, who crashed into the national spotlight with his last-throw win of the Nike Indoor shotput in March, swept both shot and discus at the adidas Outdoor Championships.
AOC - Ted Ginn: Brightest of the new stars at AOC Raleigh was Glenville OH jr Theodore Ginn, anchoring a national record 800 SMR and "upsetting" US#1 and US#2 in the 110m hurdles.
Allyson Felix's world junior record may not be ratified - When Allyson Felix won the Mexico City Grand Prix 200m in May in 22.11, it was reported all over the world as a new world junior record (under 20). Now, it appears that her brilliant performance may not count as an IAAF world record because there was no drug testing at the meet. Doug Speck reports on DyeStatCal.
Maine Distance Festival

Dan Wilson 3:59.83 (56) was the only sub-4 miler. Here, he leads high schooler Sam Vazquez , who finished sixth in 4:05.69.

photos by Victah Sailer,
PhotoRun

Russell Brown and Ben True broke meet records in the HS 800 and mile.

Russell Brown


Ben True


Florida 3A 1600m and AOC Raleigh mile champion Sam Vazquez made a post-season tour of New England against elite runners in the CanAm High Performance Distance Circuit, with three top times in 8 days.
June 28 - Boston High Performance Series #5 - 3:46.47 1500m
Running more then 3 seconds faster than his runner-up time at the USA Junior Nationals last week, Vazquez finishes third at Bentley College. Details
July 1 - Boston High Performance Series #6 - 1:49.61 800m
Vazquez wins Section 2 of the Men's Elite 800m in 1:49.61, the third fastest high school 800m in the US this year. Details
July 5 - Maine Distance Festival at Bowdoin College, Brunswick ME - 4:05.69 mile
Sam Vazquez was 6th in the fast section of the men's mile in 4:05.69. Other top high school runners: Russell Brown 1:52.79 MR in HS boys 800m. Mia Swenson 4:58.63 first in HS girls mile. Ben True 4:15.24 MR in HS boys mile.



USATF Youth Athletics Championships
July 2-6 at U. of Buffalo, Amherst NY

| Home Page | Team Scores |
Day 5 - Sunday
Georgia sprinters star to close out Youth championships
Michael Grant, Courtney Champion complete sprint triples - West Valley Eagles 3:38.83 - Natasha Hastings 53.98 - Cedric Goodman 46.81 - Ebony Collins 54.43 (YG) - Jason Richardson doubles 13.89 -3.7 and 50.72 - Ronetta Alexander 13.60 - Brandi Cross 54.49 - Andrew Rademacher 16-0.75 - Gayle Hunter 20-0.25 - Lazaris Evans 48-2.75 - Domenique Manning 14.01 - Nicole Leach 1:00.18 - Galen Rupp 3:53.57
Allyson Felix 3rd in Paris Golden League
meet as Kelli White keeps winning
Los Angeles high school star Allyson Felix ran third in Paris on the Fourth of July in the Saint-Denis Gaz de France, the second of six IAAF Golden League meets this summer. US champion Kelli White won and was also second in the 100m to Chandra Stirrup, 11.01 to 11.09 -0.4. A crowd of 55,000 fans watched in the same stadium that will host the World Championships in August. Allyson Felix touchée par la grâce (story on the meet's web site). Felix had the slowest reaction time in the entire field.
Results:
Athlete, nation, time, reaction (wind was +0.7)
1 WHITE, Kelli USA 22.43 0.205
2 HURTIS, Muriel FRA SB 22.62 0.216
3 FELIX, Allyson USA 22.66 0.304
4 JENKINS, Latasha USA 22.67 0.193
5 KAPACHINSKAYA, Anastasiya RUS 22.81 0.289
6 GEVAERT, Kim BEL 22.98 0.182
7 FELIX, Sylviane FRA 24.04 0.256
CAMPBELL, Juliet JAM n.p.
Post Season Best Marks - There have been hundreds of performances in the post season meets that qualify for DyeStat Elite top 100 national rankings. Age group meets will be reported separately.
Vin Lananna leaves Stanford - Stanford University track and cross country coach Vin Lananna, who has recruited so many high school distance runners to Palo Alto, is leaving Stanford after 11 years to become athletic director and professor of physical education at Oberlin College in Ohio. Oberlin College announcement - Stanford University announcement
Donna on the Side at AOC Raleigh
130 pix of the sideline scenes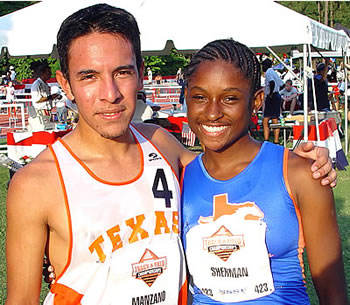 from Texas: Leonel Manzano and Alandra Sherman


Nike ID shoes - purchases help support DyeStat
WANTED!
2003 Cross Country meet information for our calendar page. Send specifics - name of meet, date, place, contact information, and any other significant information by email to John Dye at [email protected]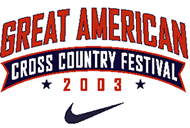 Sep 26-27 Cary NC
SteveU
reviews
sub-4:00
"The most important thing I have to say is this: BUY THIS BOOK. If you love track and field, do it on principle alone. Not only will you be in for a very enjoyable ride, but in a very real sense, you'll also be contributing to the sport."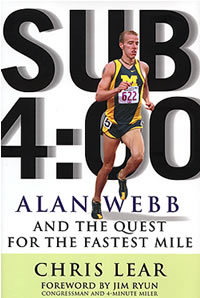 click here to shop at Eastbay;
purchases help support DyeStat



DyeStat uses Hy-Tek
for meet results
California news
DyeStatCal
complete coverage of the Golden State by Rich Gonzalez and Doug Speck