11th Pan Am Juniors
Barbados July 18-20

| Home Page |

Day 1 Friday

Finals in 100/110 hurdles, W-100, W-3000, M-5000, M-Jav, M-SP, W-HJ, M-LJ, M-PV, W-DT. Semis in 800m, 400m. Prelim in M-100. Decathlon day 1.

Pan Am news on the Web

Team USA named - The roster of the US team for the Pan Am Juniors is announced by USATF. Notable omissions are top distance stars Molly Huddle, Ari Lambie, Bill Nelson, and Megan Kaltenbach, who apparently opted to get ready for college cross country seasons.

Durham NC
Russell Blunt East Coast Invitational - Friday thru Sunday July 18-20
Top NC triple jumpers Ryan McCoy, Andre Tillman, and Terry Wood are entered. Other top entries include Yvette Lewis VA, Deborah Hawkins SC, Brittni Spruill VA, Shantia Moss FL, Devon Williams MD, Derrick Robbins VA, Calvin Rhodes NJ, Janean Morris NJ, Adian Sanderson NJ, Faraign Giles VA, J-Mee Samuels NC, and Francena McCorory VA.

California sprint queen Allyson Felix and Ohio basketball king LeBron James were named Gatorade high school athletes of the year at a lavish luncheon in Hollywood Wednesday (7/16). Afterward, they got the red carpet treatment at the ESPY Awards at the Kodak Theater.

DyeStatCal covers the luncheon in Hollywood.

photo by Kirby Lee
Ryan Deak to Colorado -- Florida distance star has moved to Colorado for his senior season and will run for Smoky Hill Aurora HS, home of the Kaltenbach sisters and Brent Vaughn. Deak was a Foot Locker cross country national finalist last year, finishing 12th at San Diego, and is the fifth ranking returnee for 2004.
High school track is getting bigger and better,
and the Internet is a big reason -- Jeff Hollobaugh on espn.com.
2003 Cross Country - less than 2 months away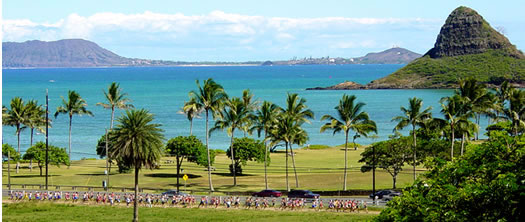 5th Iolani Big Aloha Invitational will be held September 20 at Kualoa Ranch in Hawaii. This is a photo of one of last year's races. After the races, runners ran across the road to cool down in the ocean. Thirty mainland high schools are expected to run in this year's Iolani, twice as many as last year. Last year's winners were Ruth Graham, Carl Moe, Montgomery CA girls, and Eisenhower WA boys. The University of Hawaii Big Wave Invitational for college teams will run in conjunction with the high school meet. a DyeStat on-site meet
Day 5 - Sunday
US women 2:03.87 crush medley relay field by more than 3 seconds.
ThunderBolt strikes in the rain! - Usain Bolt JAM 20.40 -1.1 (Michael Grant GA 21.04).
US men 1:52.03 beat Poland 1:53.08
USATF story Team USA wins medal count for second straight time
IAAF story Championships close in a blaze of glory
Surgery for Alan Webb - His appendix burst Wednesday (7/9), requiring immediate surgery. Webb's agent, Ray Flynn said he had cancelled Webb's entry in some low-key races in Europe this summer. "He's O.K.," Flynn said. "He's looking forward to healing up and doing some cross country in the fall." [Walt Murphy's News and Results Service]


Nike ID shoes - purchases help support DyeStat
Post-Season Pix Pages - with the rush of big meets and great performances, we piled up a huge backlog of action photos to process from Golden West, AOC Raleigh, Golden South., and USA Nationals. Here are the latest pix pages uploaded:
AOC throws: Maysville KY senior Josh Fryman, who crashed into the national spotlight with his last-throw win of the Nike Indoor shotput in March, swept both shot and discus at the adidas Outdoor Championships.
AOC - Ted Ginn: Brightest of the new stars at AOC Raleigh was Glenville OH jr Theodore Ginn, anchoring a national record 800 SMR and "upsetting" US#1 and US#2 in the 110m hurdles.
Allyson Felix's world junior record may not be ratified - When Allyson Felix won the Mexico City Grand Prix 200m in May in 22.11, it was reported all over the world as a new world junior record (under 20). Now, it appears that her brilliant performance may not count as an IAAF world record because there was no drug testing at the meet. Doug Speck reports on DyeStatCal
Post Season Best Marks - There have been hundreds of performances in the post season meets that qualify for DyeStat Elite top 100 national rankings. Age group meets will be reported separately.
Vin Lananna leaves Stanford - Stanford University track and cross country coach Vin Lananna, who has recruited so many high school distance runners to Palo Alto, is leaving Stanford after 11 years to become athletic director and professor of physical education at Oberlin College in Ohio. Oberlin College announcement - Stanford University announcement
Coaches -
Get the Parent's Guide to High School Track and Cross Country for all your team's parents. Bulk discounts available. Write John Dye, [email protected], for rates.
WANTED!
2003 Cross Country meet information for our calendar page. Send specifics - name of meet, date, place, contact information, and any other significant information by email to John Dye at [email protected]

click here to shop at Eastbay;
purchases help support DyeStat
California news
DyeStatCal
complete coverage of the Golden State by Rich Gonzalez and Doug Speck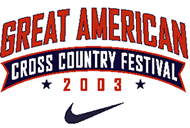 Sep 26-27 Cary NC
SteveU
reviews
sub-4:00
"The most important thing I have to say is this: BUY THIS BOOK. If you love track and field, do it on principle alone. Not only will you be in for a very enjoyable ride, but in a very real sense, you'll also be contributing to the sport."