ATTENTION
prep track fans!
High School Track 2004
46th Edition of
Jack Shepard's "indispensable reference guide" is now available. 2003 performance lists - 50 deep outdoors, 20 deep indoors. All time lists - All time records - Records by age and class.
John Dye says:
"I never leave
home without it!"
The Harrier
Saratoga NY girls, The Woodlands TX boys are #1 for 2003 - The final 2003 lists by The Harrier make the Saratoga NY girls and The Woodlands TX boys the #1 cross country teams in the US. The boys top 10 was unchanged from the Nov. 26 lists, and there were minor shifts in the girls top 10 due to late state meets and Foot Locker results.
DyeStat Elite
List Number 14 of 2003 cross country season has 4,041 performances from across the nation, including the California state meet and all Foot Locker regionals and finals. We still have a handful of state meets and emails to process before the final season lists are posted.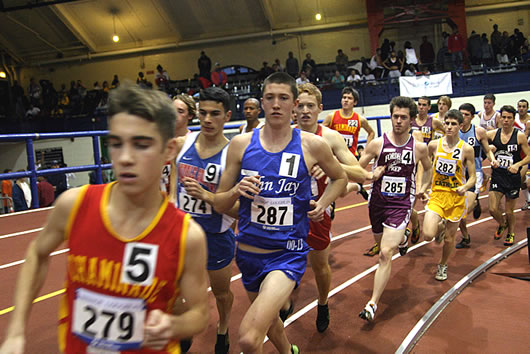 photo by John Dye
Boys 2 Mile
- 287
Hakon Devries
920.78, John Jay NY senior, won going away by 6 seconds over Mike Tilger, Archbishop Carroll. Devries said he planned to run an even first mile and kick late, but when Tilger moved out with 1000 meters to go Devries had to respond. He did with a vengeance and won decisively with a 65-second last lap. Devries will next aim for the New Balance mile January 24 to try for the automatic qualifier for the Millrose Games high school mile.
Millrose Mile Selection Procedures - The high school boys mile has been run at the Millrose Games since 1974 and the girls mile since 1984. Because of new ownership, there have been some changes in the selection procedures for these two races at the 2004 meet on February 6 at Madison Square Garden, it was announced by selection chairs Larry Byrne (boys) and Jim Spier (girls). The biggest change is that the winners of the mile run at two New York Armory meets -- the Hispanic Games January 10 and the New Balance Games January 24 -- will win automatic entry into the Millrose Mile. The Bishop Loughlin Games Saturday (Dec 20) is the first of several meets that will be "monitored" for selection purposes.
Boys Foot Locker final Photo Album by PhotoRun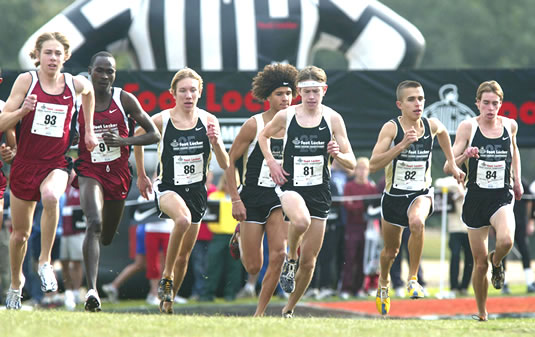 the flow of the finals
Photo sequences, stories and notes tell how the races were run. We have photos of every finisher.
BOYS - Galen Rupp of Oregon went out hard, contrary to instructions from coach Alberto Salazar to wait for a late move, and duelled favorite Shadrack Kiptoo of New Mexico throughout, beating him by 1 second. However, Illinois and Midwest region champ Matt Withrow passed them both with a rush in the last 300 meters to win the title.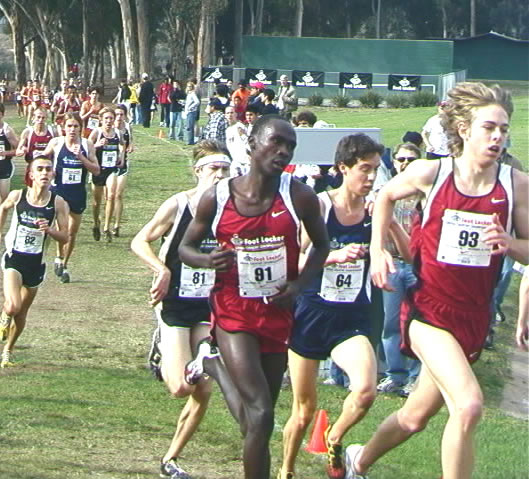 The final top four were set at the 2-mile mark: 93 Galen Rupp, 64 Josh McDougal, 91 Shadrack Kiptoo, and 81 Matt Withrow.
GIRLS - The race was as close and wide open as expected until freshman Marie Lawrence of Nevada opened a 10-meter lead coming down The Hill in the third mile. Then Katelyn Kaltenbach of Colorado unleashed her killer kick to win the title.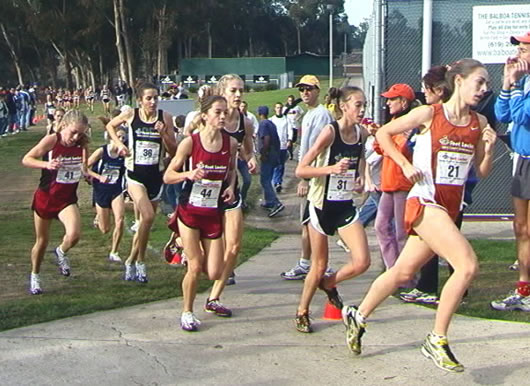 After 2 miles in 11:12, the leaders are finally starting to string out, with the ultimate top 3 (21 Barringer, 31 Kaltenbach, 44 M. Lawrence) primed for the final push.
Foot Locker Finals brings the high school cross country season to a close,
just as the setting sun brings a day on the beach at San Diego to a close.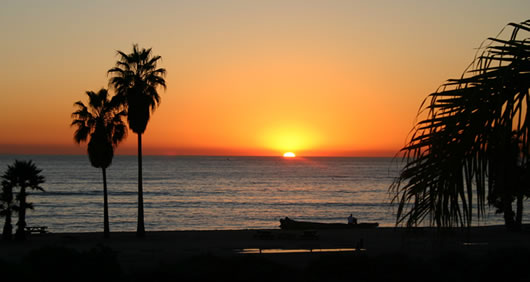 This is our annual postcard to our loyal readers who aren't lucky enough to see the Foot Locker finals. We will keep you completely posted, and we DO wish you were here.
National Cross Country Team Championship?
Nike is exploring the possibility of a national high school team championship meet in cross country, which would be the first national team championship in any sport for high schools. The biggest unanswered question is how the meet would relate to the present Foot Locker championship for individuals, now in its 25th year. Nike and Foot Locker are negotiating the possibility of evolving the present Foot Locker individual championship into a combined team and individual championship meet. Nike's 3-year contract to sponsor the present Foot Locker meet ends this year. Before that, adidas was the Foot Locker title sponsor.
Structure of the possible team championship is still being planned, but Nike's initial concept would involve wider participation, with 8 regions instead of 4, and about 400 runners at nationals instead of 64. Advancement to national finals would be similar to the NCAA championship, with two teams from each region plus four at large teams qualifying for nationals, along with individuals placing high in the regionals. Regional meets would also have an array of "regional championship" races by school size and age groups in addition to the seeded races.
Sanction options are being explored with both the National Federation of State High School Associations and USATF. Neither Nike nor Foot Locker has made any official announcement, but talks are ongoing and some announcement is expected soon. [John Dye]


Nike ID shoes - purchases help support DyeStat

click here to shop at Eastbay;
purchases help support DyeStat
State XC Leaders
Pick a state and submit. If you think we missed a performance, see
How to Get Ranked.
Data updated weekly.
the Harrier
Cross Country Report
Award winning track writer Marc Bloom's unrivalled coverage of high school cross country and distance running.
8 issues for $32
SUBSCRIBE NOW
and get all fall issues including Pre-Season issue