the flow of the Foot Locker finals
Photo sequences, stories and notes tell how the races were run. We have photos of every finisher.
BOYS - Galen Rupp of Oregon went out hard, contrary to instructions from coach Alberto Salazar to wait for a late move, and duelled favorite Shadrack Kiptoo of New Mexico throughout, beating him by 1 second. Unfortunately, Illinois and Midwest region champ Matt Withrow passed them both with a rush in the last 300 meters to win the title.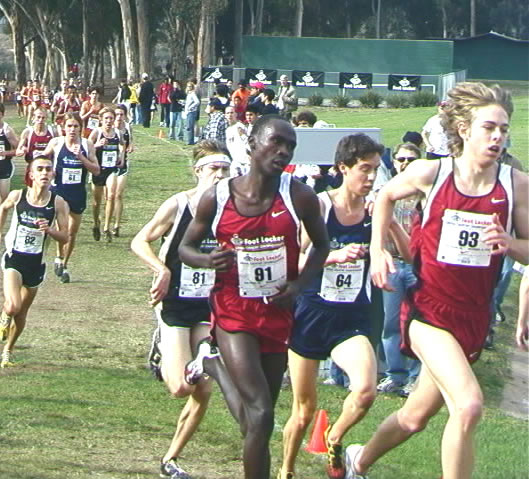 The final top four were set at the 2-mile mark: 93 Galen Rupp, 64 Josh McDougal, 91 Shadrack Kiptoo, and 81 Matt Withrow.
GIRLS - The race was as close and wide open as expected until freshman Marie Lawrence of Nevada opened a 10-meter lead coming down The Hill in the third mile. Then Katelyn Kaltenbach of Colorado unleashed her killer kick to win the title.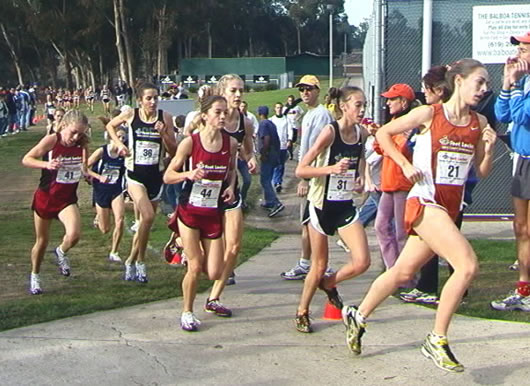 After 2 miles in 11:12, the leaders are finally starting to string out, with the ultimate top 3 (21 Barringer, 31 Kaltenbach, 44 M. Lawrence) primed for the final push.
Foot Locker stories, pix and analysis
National Finals
Dec 13 at Balboa Park, San Diego
Girls 9:15 am, Boys 10 am
on-site coverage
by DyeStat and DyeStatCal
Foot Locker National Champions

Matt Withrow IL


Katelyn Kaltenbach CO

Killer Kat and Cowboy Matt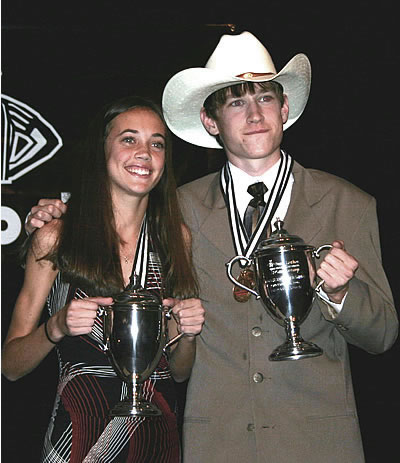 Donna on the Side at the Awards Banquet - national champs Katelyn Kaltenbach and Matt Withrow after they showered and dressed up to collect their hardware
Killer Katelyn Kaltenbach beats another little sister, Marie Lawrence of Reno NV. Freshman Marie, who had refused to pass senior sister Collier previously, pounded the second crossing of The Hill in the third mile to take the lead. But Smoky Hill CO junior Kaltenbach maintained contact and bided her time until the last 400 meters, when she unleashed her killer kick and had the lead at 125 meters (below). Katelyn said she got an inspiring email Friday night from her older sister Megan, now a freshman at U. of North Carolina who never won in three finals appearances. "I was thinking of her at the end, and I was so happy to win it for Megan," Katelyn said.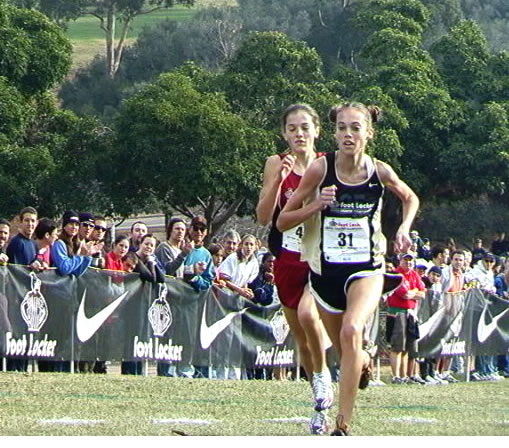 photo by John Dye

Bill Leung's collage of the girls race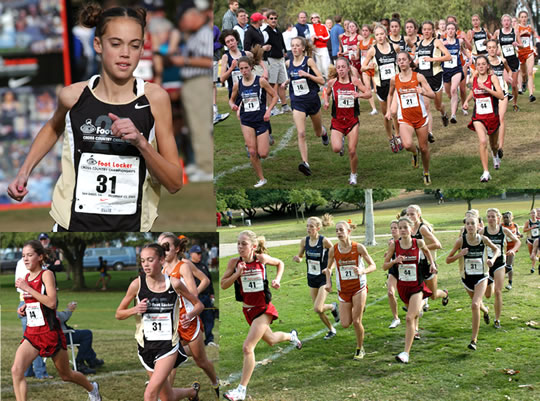 Cowboy Matt Withrow gets another big W - Midwest champion's mid-race surge failed this time as Shadrack Kiptoo NM sailed down The Hill in the third mile to take the lead. But Withrow 14:55 regained the lead from Kiptoo 14:58 with 125 meters to go (below). Galen Rupp OR 14:57 (behind Kiptoo's right shoulder), who led much of the race, rallied for second in the last strides of a see saw race. Kiptoo was bothered by a sore knee. Withrow was the sixth straight Midwest runner to win the national championship. He wore a big cowboy hat to collect his trophy at the awards banquet.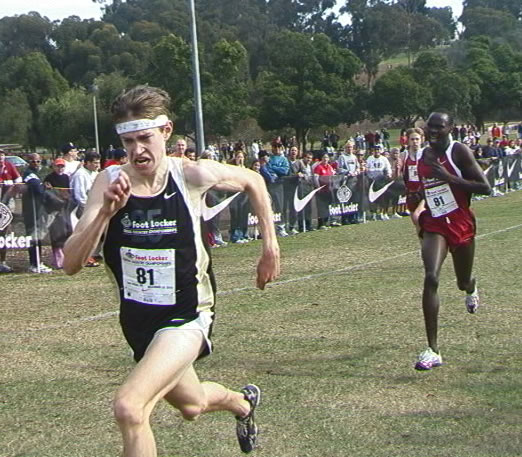 photo by John Dye
Bill Leung's collage of the boys race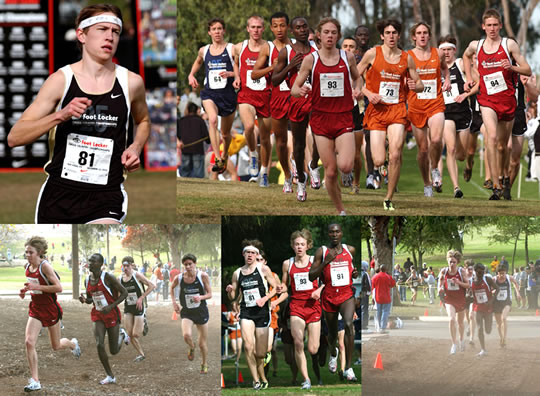 Both were races decided in last 200 meters with come from behind kicks. The first 12 boys finishers were seniors, while the girls race was dominated by underclassmen (6 of top 8 could return next year). The Midwest region swept the team titles.
DyeStat and DyeStatCal are on-site for the last races of the season - the Foot Locker national finals. The 25th running of this elite competition (32 boys and 32 girls) has created a special aura. The first-ever gathering of the four US high school sub-4 minute milersr and the first two inductees into the Foot Locker Hall of Fame: Suzy Favor-Hamilton and Bob Kennedy. And today, the finals, with the prospect of the closest races in Foot Locker history. Weather Forecast is perfect: - sunny, high of 65 degrees after low of 47. Race time temps will be somewhere in between.
Fab Four Sub-Four at Foot Locker Finals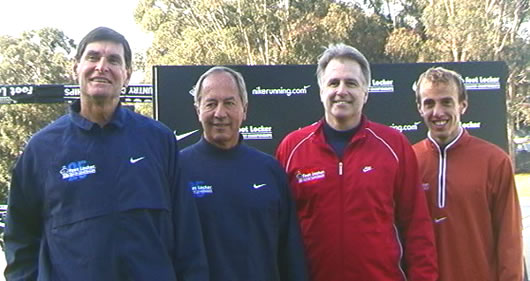 The four US high school runners who have broken 4 minutes in the mile got together for the first time Friday morning at Balboa Park, San Diego, site of the 25th Foot Locker Cross Country Championship national finals on Saturday. (from left) Jim Ryun, Tim Danielson, Marty Liquori, and Alan Webb gave interviews as the 64 finalists did a course walk through and light runs. The four famous runners were scheduled for a panel discussion with the athletes Friday evening at meet headquarters, the luxurious Hotel del Coronado. [photo by John Dye] DyeStatCal's conversation with the Fab Four.
Balboa Park Walk Through - Foot Locker finalists walked the course Friday morning in perfect weather conditions which should be matched Saturday morning. At 10 am, after the girls race would be finished and the boys race would start, it was about 55-60 degrees that felt a bit warmer because of the cloudless sunny skies.
Foot Locker previews


a crowd of contenders and The Hill - John Dye's preview of Foot Locker finals - could be the closest and deepest finishes ever, unless Shadrack Kiptoo runs back to his Kenyan form - The Hill, which is repeated at one mile and 2.5 miles, will be critical.


the view from SteveU

- Stephen Underwood 's opinionated preview from the Upper Peninsula of Michigan. Read this column for steveu's top 13 in order, with reasons. A clue: the winners names begin with K.
BOYS
1. Midwest 36 (1 6 7 10 12 18 24 27)
2. West 39 (2 3 8 11 15 22 25 26)
3. Northeast 55 (4 5 9 17 20 21 29 32)
4. South 85 (13 14 16 19 23 28 30 31)

1 Matthew Withrow (12) Midwest VJ Andrew H.S. Tinley Park IL 14:55
2 Galen Rupp (12) West Central Catholic H.S. Portland OR 14:57
3 Shadrack Kiptoo (12) West La Cueva H.S. Albuquerque NM 14:58
4 Joshua McDougal (12) Northeast Home School Peru NY 15:01
5 Benjamin True (12) Northeast Greely H.S. North Yarmouth ME 15:02
6 Ryan Deak (12) Midwest Smoky Hill H.S. Aurora CO 15:13
7 Christian Wagner (12) Midwest Columbus North H.S. Columbus IN 15:14
8 Stuart Eagon (12) West Beaverton H.S. Portland OR 15:19
9 Victor Gras (12) Northeast Belmont H.S. Belmont MA 15:21
10 Garrett Heath (12) Midwest Winona Senior H.S. Winona MN 15:22
11 Mohamed Trafeh (12) West Duarte H.S. Duarte CA 15:24
12 Bradley Harkrader (12) Midwest Thornton H.S. Westminster CO 15:24
13 Andrew Bumbalough (11) South Brentwood Academy Brentwood TN 15:30
14 Scott MacPherson (11) South Plano Senior H.S. Plano TX 15:30
15 Evan Garber (12) West Mead H.S. Spokane WA 15:31
16 James Strang (12) South Baylor H.S. Signal Mountain TN 15:31
17 Cory Thorne (11) Northeast Portsmouth H.S. Portsmouth NH 15:32
18 Ryan Gasper (11) Midwest Fort Atkinson H.S. Fort Atkinson WI 15:34
19 Nicholas Hutchins (12) South Millbrook H.S. Raleigh NC 15:35
20 Lopez Lamong (12) Northeast Tully H.S. Marietta NY 15:36
21 Ahmed Haji (12) Northeast Conard H.S. West Hartford CT 15:39
22 Mark Matusak (11) West Loyola H.S. Torrance CA 15:41
23 Eric Mack (12) South North Forsyth H.S. Winston-Salem NC 15:43
24 Neal Naughton (12) Midwest Walled Lake Western H.S. Walled Lake MI 15:45
25 Alex Dunn (12) West San Lorenzo Valley H.S. Santa Cruz CA 15:51
26 Tom Wyatt (12) West Charles Wright H.S. Tacoma WA 15:53
27 Justin Switzer (11) Midwest Waterford Kettering H.S. Waterford MI 15:59
28 Erik Stanley (12) South Klein H.S. Spring TX 16:07
29 Jonathan Anderson (12) Northeast Cinnaminson H.S. Cinnaminson NJ 16:07
30 Brian Sullivan (12) South The Woodlands H.S. The Woodlands TX 16:24
31 Kyle Miller (12) South Cinco Ranch H.S. Katy TX 16:59
32 Gavin Coombs (12) Northeast Griswold H.S. Griswold

GIRLS
1. Midwest 26 (1 4 5 6 10 11 20 23)
2. West 57 (2 8 14 15 18 19 24 29)
3. Northeast 65 (7 9 12 16 21 22 26 30)
4. South 85 (3 13 17 25 27 28 31 32)

1 Katelyn Kaltenbach (11) Midwest Smoky Hill H.S. Aurora CO 17:24
2 Marie Lawrence (9) West Reno H.S. Reno NV 17:25
3 Jennifer Barringer (11) South Oviedo H.S. Oviedo FL 17:35
4 Katie Harrington (12) Midwest Carmel H.S. Carmel IN 17:39
5 Sunni Olding (12) Midwest Minster H.S. Minster OH 17:42
6 Ramsey Kavan (11) Midwest Yankton H.S. Yankton SD 17:47
7 Nicole Blood (10) Northeast Saratoga H.S. Ganesvoort NY 17:48
8 Zoe Nelson (11) West Flathead H.S. Kalispell MT 17:49
9 Frances Koons (12) Northeast Allentown Central Catholic H.SAllentown PA 17:52
10 Racheal Marchand (12) Midwest Valparaiso H.S. Valparaiso IN 17:53
11 Morgan Schulz (11) Midwest Smoky Hill H.S. Centennial CO 17:56
12 Aislinn Ryan (10) Northeast Warwick Valley H.S. Bellvale NY 18:01
13 Rachael Forish (12) South Lamar H.S. Arlington TX 18:03
14 Claire Rethmeier (12) West San Pasqual H.S. Escondido CA 18:05
15 Melissa Grelli (12) West Presentation H.S. Cupertino CA 18:08
16 Lindsay Donaldson (12) Northeast Lincoln-Sudbury Regional H.S. Lincoln MA 18:10
17 Kate Niehaus (10) South Spring Valley H.S. Columbia SC 18:11
18 Rachel Bryan (12) West Laguna Creek H.S. Elk Grove CA 18:13
19 Collier Lawrence (12) West Reno H.S. Reno NV 18:18
20 Alissa McKaig (12) Midwest Concordia Lutheran H.S. New Haven IN 18:25
21 Jennifer Clausen (10) Northeast Jackson Memorial H.S. Jackson NJ 18:27
22 Allison Kieffer (11) Northeast West Islip H.S. West Islip NY 18:32
23 Amber Warren (11) Midwest Lutheran H.S. St. Charles MO 18:32
24 Lindsay Flacks (12) West Harvard Westlake H.S. Calabasas CA 18:36
25 Erin Bedell (11) South Plano West Senior H.S. Plano TX 18:38
26 Lindsey Ferguson (10) Northeast Saratoga H.S. Greenfield Center NY 18:39
27 Beth Fahey (12) South Forest Park H.S. Dumfries VA 18:39
28 Maddie Schueler (12) South Sacred Heart Academy Louisville KY 19:00
29 Liz Pasciuto (12) West Murrieta H.S. Murrieta CA 19:09
30 Brittany Sedberry (10) Northeast Ocean City H.S. Beesley's Point NJ 19:23
31 Laura Bowerman (12) South King H.S. Tampa FL 19:28
32 Angelina Blackmon (12) South Northwestern H.S. Rock Hill
Friday at Finals
photo album of course walk, jogs in Balboa Park, and Fab Four Sub-4 interviews.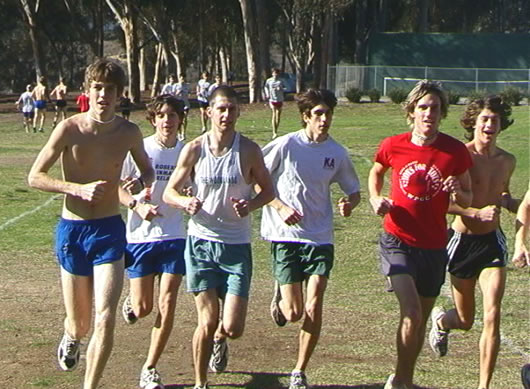 More Celebrity Runners -
In addition to the Fab Four Sub-Four being on hand, Nike athletes will again serve as regional team captains. This year's captains are:
BOYS - Midwest, Adam Goucher; Northeast, Steve Slattery; South, Alan Webb; and West, Abdi Abdirahman.
GIRLS - Midwest, Kara Goucher; Northeast, Suzy Hamilton; South, Sarah Schwald; West, Lauren Fleshman.
Foot Locker qualifiers -
The top eight runners from four regions -- 32 boys and 32 girls -- make up the elite national finals fields. Here they are, listed by regional times. Beware of comparisons -- it is impossible to literally compare regional times without adjustments for course difficulty and weather. Even then there is no substitute for face to face competition, which is exactly what we have at Balboa Park December 13.
25 years of Foot Locker -- Doug Speck was there at the beginning and every year since, and now the announcer-coach-athletic director-webmaster-statistician chronicles on DyeStatCal, the Internet home of California track, the history of the only national championship competition for high school athletes.
1979-1983 -

The first girls champion, Ellen Lyons of Idaho, was too fast for the pace cart on the downhills, and she did NOT oblige the camera man's strange request for the lead runners to stay together so it would look better on TV!. In 1983, Janet Smith and Matt Guisto had dramatic victories as the finals moved to the Morley Field Balboa Park course that has been the home for the majority of national finals.

1984-1988 -

Quick Times - Great Competition - Local Stars - super deep 1985 fields stock all-time Balboa Park record list.

1989-1991

- Dominating and History Making Winners - Bryan Dameworth - Melody Fairchild - Louie Quintana - Liz Mueller, a mighty mite who later was a boxer!
Foot Locker Finals brings the high school cross country season to a close,
just as the setting sun brings a day on the beach at San Diego to a close.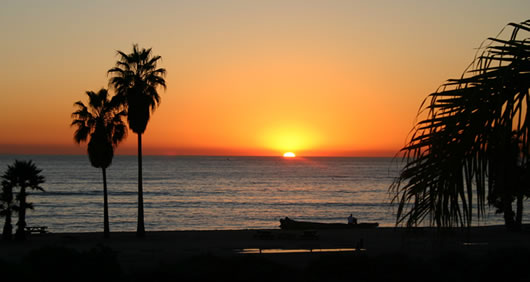 This is our annual postcard to our loyal readers who aren't lucky enough to see the Foot Locker finals. We will keep you completely posted, and we DO wish you were here.
National Cross Country Team Championship?
Nike is exploring the possibility of a national high school team championship meet in cross country, which would be the first national team championship in any sport for high schools. The biggest unanswered question is how the meet would relate to the present Foot Locker championship for individuals, now in its 25th year. Nike and Foot Locker have had talks on the possibility of evolving the present Foot Locker individual championship into a combined team and individual championship meet. Nike's 3-year contract to sponsor the present Foot Locker meet ends this year. Before that, adidas was the Foot Locker title sponsor.
Structure of the possible team championship is still being planned, but Nike's initial concept would involve wider participation, with 8 regions instead of 4, and about 400 runners at nationals instead of 64. Advancement to national finals would be similar to the NCAA championship, with two teams from each region plus four at large teams qualifying for nationals, along with individuals placing high in the regionals. Regional meets would also have an array of "regional championship" races by school size and age groups in addition to the seeded races.
Sanction options are being explored with both the National Federation of State High School Associations and USATF. Neither Nike nor Foot Locker has made any official announcement, but talks are ongoing and some announcement is expected soon.
DyeStat Elite
List Number 13 of 2003 cross country season has 3,986 performances from across the nation, based on information posted as of Dec 6. National leaders are: Christian Wagner IN 14:35 5k, Matt Withrow IL 14:14 3m, Nicole Blood NY 16:53 5k, and Liza Pasciuto CA 16:38 3m.
The Harrier
National Team Rankings list #5 - Saratoga NY girls and The Woodlands TX boys still #1. Strong state meet showings put four new teams in top 10: Mainland NJ boys, Don Lugo Chino CA boys, Snohomish WA girls and Sultana Hesperia CA girls.
.


Nike ID shoes - purchases help support DyeStat

click here to shop at Eastbay;
purchases help support DyeStat
State XC Leaders
Pick a state and submit. If you think we missed a performance, see
How to Get Ranked.
Data updated weekly.
the Harrier
Cross Country Report
Award winning track writer Marc Bloom's unrivalled coverage of high school cross country and distance running.
8 issues for $32
SUBSCRIBE NOW
and get all fall issues including Pre-Season issue