Today in San Diego
Foot Locker Finals !!!
Live ChatCast from San Diego - DyeStat is chatcasting live from San Diego in the Chat Room Saturday morning for the girls and boys Foot Locker national finals races, with Derek Dye and Olympian Pascal Dobert sending reports from the course starting at 9 am Pacific time. You need to be registered on TrackTalk, the DyeStat message board, to enter the Chat Room.
National Finals
Dec 13 at Balboa Park, San Diego
Girls 9:15 am, Boys 10 am
on-site coverage
by DyeStat and DyeStatCal
DyeStat and DyeStatCal are on-site for the last races of the season - the Foot Locker Cross Country Championships. The 25th running of this elite competition (32 boys and 32 girls) has created a special aura. The first-ever gathering of the four US high school sub-4 minute milersr and the first two inductees into the Foot Locker Hall of Fame: Suzy Favor-Hamilton and Bob Kennedy. And today, the finals, with the prospect of the closest races in Foot Locker history.
Fab Four Sub-Four at Foot Locker Finals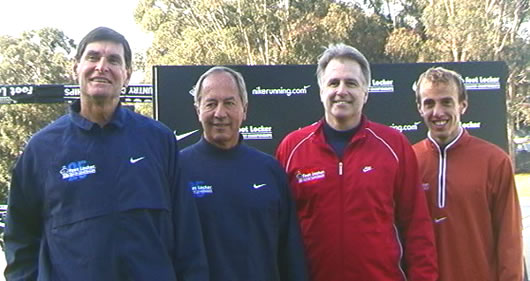 The four US high school runners who have broken 4 minutes in the mile got together for the first time Friday morning at Balboa Park, San Diego, site of the 25th Foot Locker Cross Country Championship national finals on Saturday. (from left) Jim Ryun, Tim Danielson, Marty Liquori, and Alan Webb gave interviews as the 64 finalists did a course walk through and light runs. The four famous runners were scheduled for a panel discussion with the athletes Friday evening at meet headquarters, the luxurious Hotel del Coronado. [photo by John Dye]
Balboa Park Walk Through - Foot Locker finalists walked the course Friday morning in perfect weather conditions which should be matched Saturday morning. At 10 am, after the girls race would be finished and the boys race would start, it was about 55-60 degrees that felt a bit warmer because of the cloudless sunny skies.
Foot Locker previews


a crowd of contenders and The Hill - John Dye's preview of Foot Locker finals - could be the closest and deepest finishes ever, unless Shadrack Kiptoo runs back to his Kenyan form - The Hill, which is repeated at one mile and 2.5 miles, will be critical.


the view from SteveU

- Stephen Underwood 's opinionated preview from the Upper Peninsula of Michigan. Read this column for steveu's top 13 in order, with reasons. A clue: the winners names begin with K.
More Celebrity Runners -
In addition to the Fab Four Sub-Four being on hand, Nike athletes will again serve as regional team captains. This year's captains are:
BOYS - Midwest, Adam Goucher; Northeast, Steve Slattery; South, Alan Webb; and West, Abdi Abdirahman.
GIRLS - Midwest, Kara Goucher; Northeast, Suzy Hamilton; South, Sarah Schwald; West, Lauren Fleshman.
Foot Locker qualifiers -
The top eight runners from four regions -- 32 boys and 32 girls -- make up the elite national finals fields. Here they are, listed by regional times. Beware of comparisons -- it is impossible to literally compare regional times without adjustments for course difficulty and weather. Even then there is no substitute for face to face competition, which is exactly what we have at Balboa Park December 13.
25 years of Foot Locker -- Doug Speck was there at the beginning and every year since, and now the announcer-coach-athletic director-webmaster-statistician chronicles on DyeStatCal, the Internet home of California track, the history of the only national championship competition for high school athletes.
1979-1983 -

The first girls champion, Ellen Lyons of Idaho, was too fast for the pace cart on the downhills, and she did NOT oblige the camera man's strange request for the lead runners to stay together so it would look better on TV!. In 1983, Janet Smith and Matt Guisto had dramatic victories as the finals moved to the Morley Field Balboa Park course that has been the home for the majority of national finals.

1984-1988 -

Quick Times - Great Competition - Local Stars - super deep 1985 fields stock all-time Balboa Park record list.

1989-1991

- Dominating and History Making Winners - Bryan Dameworth - Melody Fairchild - Louie Quintana - Liz Mueller, a mighty mite who later was a boxer!
Foot Locker Finals brings the high school cross country season to a close,
just as the setting sun brings a day on the beach at San Diego to a close.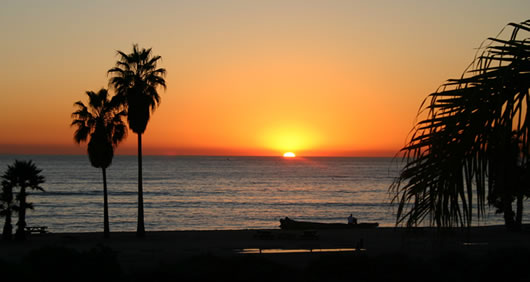 This is our annual postcard to our loyal readers who aren't lucky enough to see the Foot Locker finals. We will keep you completely posted, and we DO wish you were here.
National Cross Country Team Championship?
Nike is exploring the possibility of a national high school team championship meet in cross country, which would be the first national team championship in any sport for high schools. The biggest unanswered question is how the meet would relate to the present Foot Locker championship for individuals, now in its 25th year. Nike and Foot Locker have had talks on the possibility of evolving the present Foot Locker individual championship into a combined team and individual championship meet. Nike's 3-year contract to sponsor the present Foot Locker meet ends this year. Before that, adidas was the Foot Locker title sponsor.
Structure of the possible team championship is still being planned, but Nike's initial concept would involve wider participation, with 8 regions instead of 4, and about 400 runners at nationals instead of 64. Advancement to national finals would be similar to the NCAA championship, with two teams from each region plus four at large teams qualifying for nationals, along with individuals placing high in the regionals. Regional meets would also have an array of "regional championship" races by school size and age groups in addition to the seeded races.
Sanction options are being explored with both the National Federation of State High School Associations and USATF. Neither Nike nor Foot Locker has made any official announcement, but talks are ongoing and some announcement is expected soon.
Defending national champion Zoe Nelson (1) led most of the way but had to kick in the last 300 meters to hold off 17 Lindsay Flacks, Claire Rethmeier, and Reno sisters Collier and Marie Lawrence. [photo by Doug Speck ]


After multiple lead changes, Kenyan/New Mexican Shadrack Kiptoo (#11, far left) pulled away in the last 400 meters from 2 Mohamed Trafeh, 1 Galen Rupp, 12 Mark Matusak, and Stuart Eagon. [photo by Bill Leung ]

Foot Locker stories, pix and analysis
On-site West region coverage on both DyeStat and DyeStatCal, with hundreds of photos.

the West

- results, analysis, photo sequence

Boys - From regionals chess game to nationals checkmate?

Kiptoo...much too smooth.
Mo'.... did not 'go'.
Rupp... did not step up.
'Tuz... chose to cruise.

Girls - Drama Queens - Zoe endures stiff challenge, sibling courtesies test Lawrence sisters, and Californians fall at start and finish, but all are among the eight to advance!

Complete West Results: Seeded Boys - Seeded Girls - All races
Regional Honor Roll - 300 runners in the four regions who qualified for DyeStat Elite national ranking.
West Region Photo Albums
Foot Locker home page has links to all regional and national coverage
WEST BOYS QUALIFIERS

Shadrack Kiptoo took the lead for good in the last 400 meters of a see saw race that saw the top four runners all leading at one point or another. After a pedestrian 4:45 first mile with no separation, the first eight runners started to break away in the second mile and traded the lead from there to the finish. It was an unusual double for Kiptoo's coach Eddie Hellebuyck, a leading US marathoner who won the Coach/Parent/Supporter race early in the day in 15:51.

1. Shadrack Kiptoo NM 15:32
2. Mohamed Trafeh CA 15:35
3. Galen Rupp OR 15:37
4. Stuart Eagon OR 15:38
5. Evan Garber WA 15:42
6. Mark Matusak CA 15:44
7. Alex Dunn CA 15:45
8. Tom Wyatt WA 15:46
9. Steve Strickland UT 15:49
10. Charles Hampton AZ 15:56


WEST GIRLS QUALIFIERS

Zoe Nelson led most of the way but didn't shake the field. Entering the stadium, she was in a fight with surprising Lindsay Flacks. Nelson then outkicked Flacks in the last 300 meters on the track. California sent five girls to national finals in San Diego next Saturday, along with three boys.

1. Zoe Nelson MT 18:07
2. Lindsay Flacks CA 18:09
3. Collier Lawrence NV 18:18
4. Marie Lawrence NV 18:19
5. Melissa Grellii CA 18:19
6. Liza Pasciuto CA 18:24
7. Clair Rethmeier CA 18:27
8. Rachel Bryan CA 18:29
9. Lindsay Allen CA 18:36
10. Heidi Magill UT 18:38

Shadrack Kiptoo


photos by John Dye

Zoe Nelson

West Region Qualifiers
for national finals in San Diego next Saturday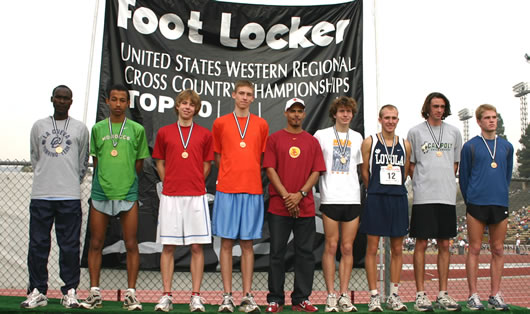 World champion 400m hurdler Felix Sanchez presented the awards.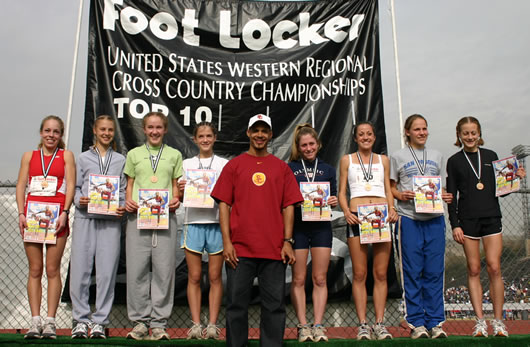 photos by John Dye
DyeStat Elite
List Number 13 of 2003 cross country season has 3,986 performances from across the nation, based on information posted as of Dec 6. National leaders are: Christian Wagner IN 14:35 5k, Matt Withrow IL 14:14 3m, Nicole Blood NY 16:53 5k, and Liza Pasciuto CA 16:38 3m.
The Harrier
National Team Rankings list #5 - Saratoga NY girls and The Woodlands TX boys still #1. Strong state meet showings put four new teams in top 10: Mainland NJ boys, Don Lugo Chino CA boys, Snohomish WA girls and Sultana Hesperia CA girls.
This Week in cross country
Results and rankings posted thru Dec 3
alphabetical by state
.


Nike ID shoes - purchases help support DyeStat

click here to shop at Eastbay;
purchases help support DyeStat
State XC Leaders
Pick a state and submit. If you think we missed a performance, see
How to Get Ranked.
Data updated weekly.
the Harrier
Cross Country Report
Award winning track writer Marc Bloom's unrivalled coverage of high school cross country and distance running.
8 issues for $32
SUBSCRIBE NOW
and get all fall issues including Pre-Season issue