Allyson Felix is considering turning pro, Long Beach newspaper reports.
2003 Cross Country featured meets
2003-2004 Meet Calendar - It's early, but we need meet information now on all major meets for cross country, indoor and outdoor. Send specifics - name of meet, date, place, contact information, and any other significant information by email to John Dye at [email protected]
LAST CHANCE to send DyeStat Elite qualifying performances for 2003 outdoor season. We are close to cutting off input and posting final rankings. Performances received after Friday Aug 15 may be overlooked. See How to Get Ranked.
2003 World Championships
in Athletics
Aug 23-31, Paris France
| Home Page | TV schedule |

Team USA - Los Angeles prep Allyson Felix is on roster announced by USATF
Solinsky, Grayson are Wisconsin Athletes of the Year
Stevens Point sr Chris Solinsky and Catholic Memorial sr Brittany Grayson were named 2003 Wisconsin athletes of the year by wisconsintrackandfield.com. Solinsky was the Foot Locker cross country national champion and US#1 at 3200 meters. Grayson was Wisconsin Div 1 hurdle champion at 100 and 300 meters.
Allyson Felix wins bronze medal in 200 meters.
1. Roxana Diaz, Cuba, 22.69; 2. Cydonie Mothersille, Cayman Islands, 22.86; 3. Allison Felix, USA (Santa Clarita, Calif.), 22.93
College Choices 2003 - National letter of intent signing period ended August 1. We have 1,386 college choices by the class of 2003.
About Us - the story of DyeStat, 1995 to 2004
National rankings
DyeStat Elite - July 23 lists have 4,253 performances from 605 meets ranked.
Gourley's list - Hammer Throw rankings updated July 27.
Jim Spier's Top 5 - Jim's June 11 update.
Roth's Race Walk -- updated July 3
High school track is getting bigger and better,
and the Internet is a big reason -- Jeff Hollobaugh on espn.com.


Nike ID shoes - purchases help support DyeStat
the Harrier
Cross Country Report
Award winning track writer Marc Bloom's unrivalled coverage of high school cross country and distance running.
8 issues for $32
SUBSCRIBE NOW
and get big
Pre-Season issue in late August


Hawaii September 20, 2003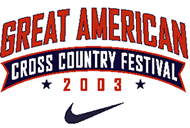 Sep 26-27 Cary NC

click here to shop at Eastbay;
purchases help support DyeStat