Apr 24-26, Philadelphia

April 24-26, 2003 at Philadelphia PA - a DyeStat on-site meet - live on NBC 4:30-6p Saturday
biggest meet of them all: 334 events, 100,000 attendance, 10,000+ athletes
| DyeStat Penn Relays page | HS Entries | Schedule | Walt Murphy's preview |
Friday at Penn -- Penn Relays live results site
Boys DMR, mile, and 3000.
Boys relay trials in 4x100 and 4x800.
Girls relay finals: 4x100, 4x800, and 4x400.

Thursday at Penn - Ari Lambie is US#8 all time miler

photo by Errol Anderson

G-Mile: Ari Lambie 4:42.21 US#8 all time. The Stanford-bound Massachusetts star needs a new goal after smashing her season target (4:45) as well as the Penn Relays and Franklin Field records. The race made Lambie the 8th fastest US miler ever, just behind Mary Decker's 4:42.0 in 1973. Lambie took control with a big surge near the end of lap 2 and won decisively over Nike Indoor champion Sarah Bowman of Virginia 4:48.89. Lambie said she will set her sights on faster times in the June post season meets (AOC Raleigh and the USA Junior Nationals at Stanford). Bowman, who has rarely been headed in a sparkling sophomore season, led until Lambie took over and rallied for second after slipping briefly behind Meaghan Owen of Connecticut, who was third in 4:50.58.
Splits (from Jim Spier): Sarah Bowman 70.0, Lambie 2:25.7, Lambie 3:35.2, and Lambie 4:42.21. Lambie negative split 2:25.7 and 2:16.5, with last two quarters run in 67 and 69.5.

Poly Long Beach CA girls are fastest qualifier
in 4x100 and 4x800, 2nd fastest in 4x400
G-4x800 heats: Poly Long Beach CA 9:09.00, winning their heat in the fastest time of the day. Other heat winners were Boys & Girls NY 9:14.23, Edwin Allen JAM 9:17.87, and Gwynnedd Mercy PA 9:20.48. Final is at 12:25 pm Friday.
G-4x100 heats: Poly Long Beach CA 46.23, William Penn PA 46.88, Holmwood Tech JAM 47.03, Bethel VA 47.06, Edwin Allen JAM 47.25, St. Jago JAM 47.35, Upper Darby PA 47.62, Eastern Regional NJ 47.89. Final is at 2:15 pm Friday.
G-4x400 heats: Later, Poly 3:43.52 was second fastest qualifier here, just behind Holmwood Tech JAM 3:42.40. The rest of the qualifiers for the 5:50 pm Friday final are: Eleanor Roosevelt MD 3:45.67, Vere Tech JAM 3:46.33, William Penn PA 3:47.21, Willingboro NJ 3:47.30, Edwin Allen JAM 3:47.52, and West Catholic PA 3:48.32. Fastest split of day was by Shana Cox NY in 52.3. This was the second fastest of all races to Lashinda Demus (South Carolina) 51.6.

G-DMR: Red Bank NJ 11:46.59. The Trotter twins were bookends on Red Bank's runaway win. Amanda Trotter opened in 3:34.5 on the 1200 meter leg. Katy Trotter started the 1600 meter anchor leg trailing Bronxville's Catha Mullen, but Katy took command midway of a 4:49.8 split and won by 10 seconds. Nicole Blood's big 4:50.6 carry got Saratoga Springs NY second in 11:56.39, less than a second ahead of Bronxville. Red Bank's time was US#6 all time, just 5 seconds off the national record (11:41.28 by San Lorenzo Valley CA at Penn 3 years ago), and Amanda said afterward that Red Bank would be gunning for the record at Raleigh in June at the adidas Outdoor Championships.
G-400H: Jamaica 1st, Philadelphia 2-3-4. 1. Sheryl Morgan JAM 58.15, 2. Nicole Leach, West Catholic PA 59.00, 3. Tiffany Abney, Merion Mercy PA 59.18, 4. Christina Smith, William Penn PA 59.89.
G-3000: Victoria Webster 9:33.97 of St. Alban's England made her long trip a success with an 11-second PR, beating defending champion Liz Maloy of New York 9:45.45. Webster, a senior in secondary school, said she plans to train for a year and then assess her running future. "Coming over here (for college) is definitely an option," she said.
G-Jav: Puerto Rico's Leida Feliciano 153-3. (Ruby Radocaj PA 147-8).
G-HJ: Peaches Roach JAM 5-9.75 (Shaunette Davidson JAM 5-9.75 and Toni Aliko MD 5-9.75).
G-TJ: Yvette Lewis VA 41-5.75
G-SP: Kelly Fazekas NJ 44-8.75.
College Women's Championship Pole Vault: Arkansas' April Steiner 14-0 set a new Penn Relays record. Second was Laura Olson, Buffalo 13-1.5 and third was Natalie Dye, Maryland 12-9.5.

Memories of Penn - legendary figures of the sport share their favorite memories of the Penn Relays: Walt Murphy - Marc Bloom - Deena Drossin - Jon Drummond - Ed Grant - John Gregorek - Lance Harter - Bob Hersh - Bev Kearney - Marty Liquori - Craig Masback - John McDonnell - Renaldo Nehemiah - Jack Shepard - "Uncle" Marty Stern - Kevin Sullivan - Lesley Walters - Don Webster - Dan Wilson
Mike Morrison out - Willingboro NJ high jumper, busy with three college visits and three out of state meets in the past 2 months, missed some homework deadlines and is ineligible to compete until he catches up. The nation's leading high jumper, Morrison would have been heavily favored to add the Penn Relays title to his Arcadia, Nike Indoor, and NSIC championships. [Reuben Frank]

and at the same time . . .
Drake Relays - Apr 24-26 at DesMoines IA. Web Site

National rankings
Jim Spier's Top 5 - our first outdoor rankings of the season. DyeStat Elite top 100 lists are almost ready to go.




This Week
major meets around the country and highlights from the states
alphabetical by state

Arkansas
AR week by ArkansasTrackStats.com
Week 4 - Week 3 - Week 2 - Stephanie Irwin 12-4 PV. Katya Kostetskaya 43.84 300H. Shonda Martin 43-4 SP. Aaron Puckett 15-0 PV.

California
DyeStatCal
saturation coverage of the Golden State by Doug Speck and Rich Gonzalez

Mt. SAC Relays
National records for Allyson Felix and Wilson Long Beach girls; Donovan Kilmartin 17-4.5. Mt. SAC Relays page

Allyson Felix 22.51 !!!
trounces pros
and Marion Jones'
200m record
- wind legal +1.3
"It wasn't even close," said an observer, after Los Angeles Baptist high school star roared off the turn at Mt. SAC and never let elites like Angela Williams and Inger Miller in the race. Olympic champion Marion Jones set the old high school record in 1992 while running for Thousand Oaks CA HS.

photo by Bill Leung

Donovan Kilmartin
17-4.5
Eagle ID senior
wins University/Open
pole vault at Mt. SAC

photo by Bill Leung


Mt. SAC HS results & dozens of pix on DyeStatCal - 123 DyeStat Elite performances -
USR stands in 1600 Sprint Medley after 5-hour DQ tug of war
Wilson Long Beach CA girls 3:53.28 break national record, lose it to jewelry DQ, win it back on Games Committee ruling. Ashley Freeman's 2:09.2 800m anchor keys the time, with Wilson winning by 25 seconds. William Penn PA's 1997 team held the old 3record of 3:54.39.
Allyson Felix 11.24 +2.7 100m - Kira Costa 13-1.75 PV - Poly Long Beach girls 45.36 4x100 and 9:06 4x800 (Wilson Long Beach 9:13.77) - Poly Long Beach boys 7:52.19 4x800 and 41.99 4x100 (anchor Derrick Jones comes from third over Taft and University City). Mohammed Trafeh doubles 3:53.78 1500m and 8:32.55 3000m. Claire Rethmeier 4:34.96 1500m. Jasmine Lee 53.98. Mario Cobian 1:54.30. Kelly McCann 2:12.51. Sparkling double for Sparkle Anderson 19-0.5 -2.1 and 40-4.5 +2.9.

Connecticut
Brainerd Invitational
Apr 19, Trinity College, Hartford CT
details on MySportsResults


Meaghan Owen (left) doubles 4:49.78 1600m and 2:15.63 800m.

Kenneth Walker doubles 10.65 and 22.01.

photo by Mike Boucher

Georgia
GA Honor Roll
Andrew Hudson's April 23 lists.

Indiana
Midwest Prep Invitational Apr 19 at Lawrence Central HS
Carmel girls, Lawrence North boys. Mark Jelks 10.67. Nef Araia 9:13.92 3200m. Brandys Green doubles 14.49 110H and 38.11 300H. Lawrence Central boys 3:18.40 4x400. Mumford Detroit boys 7:54.95 4x800. Clay Helvie 6-9 HJ (Jason Williams 6-8). Cory Martin doubles 58-6.75 SP and 177-7.5 DT. Cassie Hunt doubles 5:04.18 1600m and 11:28.37 3200m. .

Drew Morano

Kansas
Kansas Relays
Apr 18-19 at KU, Lawrence KS
with Tony Bozarth's report

Drew Morano 10.61 and 46.81.
Leonel Manzano 1:51.54 MR. Melanie Uher 156-3 DT.
Trisa Nickoley 2:12.53 800m.
Brianna McLeod 10:48.41 3200.
Ashleigh Keats152-10 JT
Katya Kostetskaya 2:07.23 US#1 800m (College women)

photos by Errol Anderson

Leonel Manzano

Kentucky
Bulldog Classic
Arthur Davis, Evanston IL girls, Bobby Curtis, Chip Heuser, Andy Fryman.
Boys - Arthur Davis 46.46 400m MR (Ricardo Chamber 46.77). Bobby Curtis 1:52.89 800m. Jason Craig 21.54 200m. Chip Heuser 16-6. Andy Fryman 62-1.5.
Girls - Ashley Davis 14.33 100H. Evanston IL triples, all meet records: 1:38.10 4x200 , 47.37 4x100, and 3:54.39. Leah Kincaid 44.41 300H MR.

Montana
Great Falls Optimist
Zoe Nelson doubles 4:56.59 and 10:40.1 1600/3200. Carlee Clark triples 12.55, 25.78, and 56.30 100/200/400.

North Carolina
NC Honor Roll #7
Gene Cherry's lists as of April 23

Ohio
Wesley Smith out for season
Hudson OH senior, second at the Foot Locker Cross Country national finals in December and 3-time Ohio champion, has a stress fracture and will be sidelined the rest of the season. Smith will attend North Carolina State in the fall.


Pennsylvania
PA Week 4/19 by Don Rich

Christina Smith 62.20 400H
William Penn girls 3:52.72 4x400 (left)
Brad Zimmerman 217-10 JT
Gwynedd-Mercy girls 12:08.8 DMR

South Dakota
Ashley Nord 12-3
Stevens Rapid City senior is first South Dakota girl to pole vault above 12 feet. She did it at the Track-O-Rama in Rapid City Apr 17.

Tennessee
41st Volunteer Classic
Apr 18-19 at Knoxville TN - Performance Lists - Preview - Results
1,200 athletes from 10 states
Boys - Beaufort SC Aulton Kohn doubles 10.64 +0.4 100m and 21.83 +0.6 200m. West Knoxville sr Dusty Miller 4:11.53 1600m. Reynolds NC jr Cade Liverman 14.21 -1.3 (Derek Boykin 14.31). Carrollton GA 1:27.67 4x200. Houston TN sr Mike Hogue 15-0 PV.
Girls - Northampton West sr Cyntheia Rooks doubles 12.22 -0.4 and 23.94 +1.0 (Courtney Champion 23.95). Collins Hill GA doubles 47.55 4x100 and 1:07.18 shuttle hurdle. Thornwell SC sr Sara Young 12-0 PV. Brentwood GA sr Lauren Stewart 39-10.75 -0.7. Brentwood's Beth Maher 42-0 SP.

Texas
TX District Meets
267 DyeStat Elite performances in Classes 5A, 4A, and 3A ranked.

Washington
Pasco Invitational
Boys - Auburn 10:21.13 DMR, with 4:11 anchor by Carl Moe. (Mead 10:24.23). Carl Moe 1:54.03 800m. D.J. Brown 15-3 PV. Craig Kent 58-1.5 SP. Skyler McDonald 190-0 JT.
Girls - Megan O'Reilly 5:00.43 1600m. Becca Noble 55.78 400m. Amanda Faire 43-0.5 SP. Sarah Burns 18-9 LJ. Kara Patterson 157-6 MR JT. Emily Enders 12-0 MR PV.

ACC Women's Pole Vault
We took the weekend off from high school track meets to attend the Atlantic Coast Conference outdoor championships at North Carolina State University in Raleigh NC. Our daughter Natalie, a senior at the University of Maryland, finished second to NCAA indoor champion Lacy Janson of Florida State.

NLI signing period starts
The NCAA national letter of intent late signing period starts April 16 and runs until August 1. Athletes who did not sign in the fall period can sign now. Send your college choices to [email protected]. More than 300 early signing choices are listed in Choices 2003.

DyeStat Elite
2003 Outdoor Cutoff Table
What will it take to be ranked in the DyeStat Elite top 100 national rankings in the 2003 outdoor season? What did it take to be US#1 in 2002? US#50? What did it take to win the major meets last year? What did it take last year to be All-American (6th at the adidas Outdoor Championships)? What will it take to get in AOC or Junior Nationals this year? The answers are in the DyeStat Elite cutoff table. Send qualifying performances to John Dye with date, location, meet name, event, position, performance, wind, handheld or FAT, and a way to verify (preferably a web site).
First outdoor rankings will be posted April 23.

National Indoor Rankings
DyeStat Elite lists 3,200 performances
DyeStat Elite -- 3,200 performances from 436 meets meeting DyeStat Elite cutoffs for top 100 national ranking with data received by March 12.. There are 10 new national leaders among 400 new marks since the last update. March 12 update
Indoor rankings will be updated one final time.
Jim Spier's Top 5 - separate lists for banked and oversized ovals - March 20 update
Roth's Race Walk 2003 indoor race walk national rankings - March 22 final indoor - Roth's Race Walk All Americans
Gourley's List 2003 indoor weight throw national rankings - March 30 update

June 13-14 Raleigh NC

Sept 26-27, 2003 Cary NC

NSSF announces

details

for 2003 Great American Cross Country Festival.




High Performance Academy


click here to shop at Eastbay;
purchases help support DyeStat

shipping now
Parents Guide
to HS Track & Field
and Cross Country
First of 3 books being published in 2003 by DyeStat / Harrier Books, a collaboration of DyeStat and Harrier publisher Marc Bloom.
ORDER NOW!
Parents Guide $12.95
Book Club (all 3 books) $30

Shop DyeStat
Purchases help support this site.
WHAT'S THERE?




Jim Ryun Running Camp

Ryun finishes with 51-point last lap

in 1972 Olympic Trials 1500m

June 15-20 Gettysburg PA
July 27 - Aug 1 Fort Collins CO

Loucks Games
May 9-10 White Plains NY
Pentathlon added!
Pentathlon info |
Web Site

DyeStat uses Hy-Tek
for meet results

27th Golden South Classic


May 31 Orlando FL
a DyeStat featured meet

28th Great Southwest Classic
May 22-24 Albuquerque NM
David Kimani, 4-time NCAA champion distance runner, collapsed Wednesday April 16 in his University of Alabama dining hall and died. Ricky Quintana remembers Kimani.

photo by Mike Leary at the SEC cross country championships
In Memory Of David "Kim" Kimani
April 16, 2003
by Ricky Quintana
It is with great sadness that I read of David Kimani's death today. I watched him run over the past few years and last year, I had the opportunity to watch him in person as he decimated a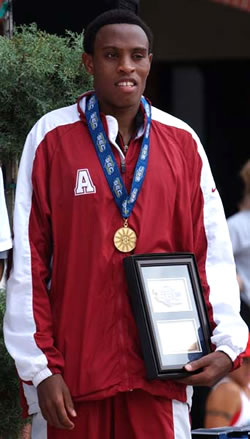 great field to win the NCAA 5k Outdoor Championships in Baton Rouge.
It was a win that I had predicted to my friend, Bruce Kritzler, and I celebrated as he finished with a 58 second last 400m slowing in the last 15 meters to a mere jog. It was truly an awesome performance. Through my friendship with his coach Joe Walker, Jr., I was granted an interview prior to the SEC XC Championships with David. He was cordial and kind. He was forthcoming and honest. His demeanor overshadowed the intense competitor I watched compete that June evening.
At the SEC XC Champs, he again showed what he was capable of when he was on. Walker had said that he was in awesome shape. He pulled away from eventual NCAA runner-up, Alistair Cragg as though he were standing still. He did it with so much ease. One could see he was on top of his game and knew it. Something that was just pure beauty to watch. Afterwards, he was gracious and wore his typical wide grin. It is a memory that will live with me forever; the ferocious competitor and the gracious winner. A few weeks later, I watched as David finished out of the running at the NCAA XC Championships. Coach Walker was in disbelief. I later learned from Joe that David had suffered a stress fracture and had run on it. The last time I saw David run was at the Gator Invitational. Joe had said that David was coming back from his injury and was debating whether he would run him or wait until the following week at Iowa State. As I sat in the announcer's perch high above in the O'Connell Center in Gainesville, I could see David with his teammates. He was not entered in any individual events, only the DMR. He took the baton and with great anticipation, I announced his name over the PA. All the achievements I could remember came bellowing out. Using his shuffling effortless style he began to rattle out 30 second 200's. It was something to behold. He kept going, but one could see that he was not the same. He began to slow. Unable to maintain and far ahead of his nearest competitor, David came home with a victory, but his time was a sub standard 4:11 for him. He tried once more at Iowa State the following week, but he again finished in an unDavid like time. It was sad because that ended his season indoors and his college career. The anticipated rematch with Alistair Cragg and Daniel Lincoln at the SEC's was gone as was the another NCAA Championship run. Life is very simple to me. I enjoy watching people compete and enjoy this sport which has brought so much excitement to me. David's performances made my life just a little bit better and I thank him for that. Words can not express how much I will miss seeing this great runner compete. I am in disbelief that he is gone forever. My condolences go out to his family, wife and all that knew him. My deepest sympathies go out to Joe Walker, who I'm sure is reeling from the news. Walker brought "Kim" to the United States when he was at the University of South Alabama. They shared a strong bond that was apparent to anyone who saw them together. "Kim" trusted Joe and spoke very highly of him. When Joe spoke of "Kim," a wide grin would appear on his face. "Kim" died with a wonderful string of achievements and admirers everywhere. He lived life to his fullest and I can only wish that he died painlessly and is in a better place now.......................................... He has to
be. -ricky

photo by Mike Leary at the SEC championships
Crowded post-season schedule
Eight days in June present high school athletes a crowded schedule of post-season meets.
Those we know of are:
13-14 adidas Outdoor Championships
14 New England Championships
14 Midwest Meet of Champions (MI, OH, WV, IN)
14 Iowa Senior Spotlight (IL, WI, NE, IA)
15 Golden West Invitational
16 Holmdel Invitational
17-18 Connecticut Multi-Events
19-21 USA Outdoor (Junior Nationals)
major meets around the country and highlights from the states
alphabetical by state
highlights
Paul Cross 1:49.27 800m in U. of Miami Gatorade Classic.
Steve Magness 4:01.58 1600m in Texas district meet.
Reggie Witherspoon 47.11 at Taco Bell in South Carolina.
Sam Bair loses, out with stress fracture in Pennsylvania.
Zoe Nelson 10:32.67 3200m at Missoula MT Invitational.
Ari Lambie opened her outdoor campaign with 10:38.5 2-mile in MA dual.
Nate Englin takes US lead in shotput at Pony Relays in Minnesota
Tiandra Ponteen double in Maryland
Jim Arquilla, a coach of the powerful Wilson Long Beach CA team, has incurable cancer and has been told he has one month to live. He attended Wednesday's Moore League matchup with Poly Long Beach in a wheel chair. DyeStatCal photos - Kirby Lee story.
Donovan Kilmartin
misses record attempt
Eagle ID sr Donovan Kilmartin's planned attempt for a new decathlon record was aborted due to illness (stomach flu) Wednesday. Kilmartin had been entered in the Mt. SAC Relays multi-events Wednesday and Thursday at Azusa Pacific College..The versatile athlete already owns the US junior record of 7440 points. He would have tried for the record with international implements (7359 Craig Brigham, South Eugene OR 1972), one of the oldest records in Jack Shepard's HIGH SCHOOL TRACK annual. Kilmartin may stay in California to compete in the open high jump and/or pole vault at Mt. SAC. His only other shot at the decathlon record could be the USA Jr Nationals in June.
36th Arcadia Invitational
Arcadia CA April 11-12

When the Lights Go On, the Stars Come Out!
19 US records, 79 Olympians in first 35 years
277 performances qualifying for DyeStat Elite top 100 national ranking
| Home Page | Winners (all 3 sessions) plus pix and quotes : Boys - Girls |
| Friday results and quotes | Saturday Open results | DyeStatCal coverage |
Saturday night Invitational complete results
DyeStat on-site coverage by John Dye and Ricky Quintana
Saturday night - Invitational Division
This is where the nation's elite accept California's challenge. Some leave on Sunday chanting, "We came, we saw, we conquered." Others go back home vanquished by the throng of talented Golden State athletes. We have the whole story of Arcadia, in words and images.
Some of what happened when the stars came out Saturday night:
the Rocket blasts again, Chris Solinsky dominates perhaps the best 3200 ever.. the X-man, Xavier Carter wins first 100-200-400 triple in 37 years of Arcadia. Allyson Felix, older and faster. Poly Long Beach relays rack up wins in all three sessions, with the girls 4x100 the 2nd fastest team and 3rd fastest time ever. Megan Kaltenbach threepeats. Trotter twins mete out slow death in 4x1600 and 1600. Ashlee Brown rules the hurdles. - Magic Man Mike Morrison doubles 7-3 and 24-3.5. Amy Menlove wins LJ on last jump. PowerZinger Steve Huntzinger wins SP on last throw. Mountain View UT Heidi's go 1-3 in 800. Billie Jo Grant 178-8, discus record must wait another meet. Super soph Brittany Daniels 42-0 TJ. another Arrhenius in discus (206-6).. . . and much, much more. Complete Invitational Results - Winner's Table and Pix: Boys - Girls |
that Arcadia 3200
Ricky's Ramblings on the best 3200 ever - Solinsky was king, but everyone was a winner - lap by lap recap - what they said after - former champs Jeff Nelson and Thom Hunt were there.
Friday Night Relays
2 national records! 800m sprint medley and shuttle hurdle marks are
shattered by Poly Long Beach and J.W. North, Riverside
Good Things Happen to Those That Stay With the Program
-- the story of Utah's Amy Menlove, Arcadia long jump champion
by Van Phillips
images of Arcadia
Winners table, pix and quotes: Boys - Girls

Florida
Gatorade Classic
Apr 12 at U. of Miami FL
Paul Cross saves money and finds competition right at home, instead of travelling to California or Arkansas meets. Cross outkicked college runners including Christian Smith of Kansas State to win in 1:49.27, second fastest ever for a Florida prep.
Kansas
KS week by Anthony Bozarth
Morgan Bonds and Trisa Nickoley trade wins at Woodman Classic.
Maryland
Morgan State Invitational
Apr 12 at Morgan State U., Baltimore MD
Tiandra Ponteen double, fast 400H times
Boys - Anthony Wiseman 10.53 100m (Robert Woodard 10.55). Robert Woodard 21.21 200m. Randy Lee 48.16 400m. Adam Durham 53.62 400H. Michael Whitehead 48-6.
Girls - Kandis Worthington 11.71 100m. Tiandra Ponteen 23.59 200m (Juanita Broaddus 23.97) and 55.49. Nicole Leach 59.15 400H (Christina Smith 59.33). West Catholic PA 3:52.41 4x400. Toni Aluko 5-9 HJ.
Massachusetts
Ayer dual
Bromfield sr Ari Lambie opened her outdoor season with a 10:38.5 2-mile, splitting 5:38 and 5:00 and winning by 1:44.
Minnesota
Pony Relays
Apr 12 at Stillwater MN
Mounds View MN jr Nate Englin won the shot put with a throw of 65-6, a Minnesota state record and US#1 this season.
Montana
Missoula Invitational
Zoe Nelson won the 3200 in 10:32.7, splitting 1:13, 1:20, 1:22, 1:20. 1:20, 1:20, 1:19, 1:18
North Carolina
NC Honor Roll Apr 16
Gene Cherry's comprehensive lists.
Pennsylvania
Sam Bair loses, out with stress fracture
After a surprising loss in the 800 meters at the Butler Invitational, Shaler PA star miler Sam Bair found that he ran the race on a stress fracture in his right foot. PA Week by Don Rich.
South Carolina
Taco Bell Invitational
Apr 11-12 at Spring Valley HS, Columbia SC
Reggie Witherspoon 47.11. Sara Young 12-7. Aries Merritt 13.91. Chase Shealy 16-8. Doubles by Rachel Wilson and soph Mackenzie Pierce.
Boys - Carrollton 60. Carrollton sr Stan Rowe 10.61 +1.3 100m. Stephenson GA jr Michael Grant 21.23 +2.9 200m. Wheeler Marietta GA sr Reggie Witherspoon 47.11 MR 400m. Wheeler Marietta GA sr Aries Merritt 13.91 +3.5. Stephenson GA sr Jeremy Burton 52.01 400H MR. Westlake GA 41.84 4x100 MR. Carrollton GA 3:17.34 4x400 MR. Brookland-Cayce SC sr Chase Shealy 16-8 PV MR.
Girls - Collins Hill 49. Collins Hill jr Courtney Champion 11.73 +0.3 100m. Holy Trinity NY sr Shana Cox doubles 23.63 +1.8 200m MR (Courtney Champion 24.06) and 54.99 400m. Forsyth County soph Mackenzie Pierce doubles 4:59.01 mile MR and 2:13.70 800m MR. Bay Shore NY soph Laura Cummings 10:58.60 3200m. Groves Savannah GA sr Rachel Wilson doubles 13.94 +2.5 100H and 1:01.38 400H MR (Lauren Tillman 1:01.74). Collins Hill GA 47.83 4x100. Bay Shore NY 9:17.00 4x800. Thornwell SC sr Sara Young 12-7 PV MR. Lower Richland SC sr Deborah Hawkins 18-7.5 LJ and 39-3.5 TJ.
Texas
District Championships
The pressure is on in Texas. District meets, first of three rounds of the state championships, are underway. Only the top 2 in each event advance to the four regionals, where in turn the top 2 advance to the state meet in Austin next month. There are five classes, each having 32 districts and four regions.
5A-15 The top 2 rule always sidelines top athletes in talent-rich districts and regions. For example, the class 5A 1600 meter race in District 15 had three sub-4:10 runners: The Woodlands jr Brian Sullivan, Klein jr Eric Stanley, and Klein Oak sr Steve Magness Only two could advance to the regionals. Steve Magness won in a stunning Texas state record 4:01.58, with Stanley second in an unofficial 4:03.77, also better than the old state record, and Sullivan third in 4:11.14.
Virginia
Allen Johnson Invitational
Apr 12 at Lake Braddock HS
Hurdlers double: Craig Gallimore 14.15 and 37.75. Afua Amponsah 14.32 and 45.75, adding a 12.48 100m for a triple
College choices
Sara Young - Thornwell SC pole vaulter (12-7) has chosen Clemson.
Cole Herron - Sanger CA high jumper (7-0) has accepted an appointment to the US Naval Academy.
Distance runners Pete Hess of Toms River North NJ and Patrick Bailey, four-time Maryland state champ, will run for the University of Maryland.
Darren Woods - Tacoma WA sprinter has committed to UC-Berkeley.
Chase Shealy - South Carolina pole vaulter (17-0) will attend Arkansas State to be close to Earl Bell's pole vault camp.
Briene Simmons - Georgia 800 meter champion (2:08) will sign with Penn State.
Meghan Braffet - Illinois distance star has chosen the University of Maryland.
Mullen twins - Bronxville NY distance stars Caroline and Catha Mullen will go to Princeton.
Amy Seward - Virginia state LJ/TJ champ will fly south to the University of Miami FL.
Steve Hassen and Ryder Leary Florida distance standouts will stay in state to run for the University of Florida (from Ricky Quintana on RunFlorida.com)
Jennifer Boyd - Hickory VA distance star (4:56.34 mile, 10:53.40 2 mile indoors) chooses North Carolina State.
Laura Meyers - CA Div 4 cross country champion, will travel across the continent to New York City to run for Columbia University.
Janice Davis - of Natchez MS, will give Stanford a sprinter (11.33, 23.38, and 52.92) to go with their mighty distance corps.
Chaime Breaux - Killeen TX sprinter (6.73 US#1) and triple jumper (48-7.75 US#3) has chosen Texas Christian.
Bobby Mack - North Forsyth Winston Salem NC miler (4:12.11 US#4 this season) will attend North Carolina State.
Rachel Umberger - Concord NH, 2:09.67 800m national champion at Raleigh last June, has chosen Duke.
Amy Menlove - Alta UT sprint and long jump champion will attend Brigham Young
Deyon Williams - Suitland MD sprint, hurdle, and high jump champ has signed with Virginia.
Kelly Reynolds - Toll Gate RI hammer/weight thrower (Golden West champion) has committed to Duke.
See 300 college choices by the class of 2003 listed by state and college. Signing Pix too

Announcing
RacePacer
a handheld computer driven, wireless, programmable training aid invented by the coach of the national record setting United Stars of Philadelphia.
Read about it and buy online
---
Hail to the Cross Country Parents
A special edition of Donna on the Side - Donna Dye's survey of cross country moms and dads tells their emotions, dreams, and fears as they watch from the sidelines.
Hail to the Parents
SCHOLAR-ATHLETE Donna Dye's guide to the college recruiting game: eligibility rules, recruiting rules, experiences, organizations, helpful web sites, scholarships & loans, and careers & majors.
---