THIS WEEK - results, rankings, and other current news
(alphabetical by state)

AL 4th Jesse Owens Invitational - St. Paul's AL soph Tara Lenn 18:15 5k is fifth straight victory in fastest time in Alabama this season. South #6 Hoover AL boys dominate with first four runners and 16 point score. Houston TN wins girls title. Meet draws 2,200 runners. Joey Warner's report.

AZ Doug Conley Inv - Marana Mtn View AZ sr Emily McGregor 18:03 5k. Rio Rico sr Eric Chavez 15:21. Cataline Foothills boys and Mountain Pointe girls win.

California on DyeStatCal

Mohamed Trafeh

Clovis preview - big meet on state meet course Woodward Park, Fresno, this weekend (10/12) will feature Mohamed Trafeh, Tim Nelson, and Rachel Bryan.

33rd Yucaipa Inv - Big showdown between Duarte jr Mohamed Trafeh and Etiwanda sr Mike Poe ends when Poe takes good spill just before mile - another big win for Trafeh in 15:03 3m, #2 time ever on the hilly course behind Ryan Hall's CR 14:52! DyeStatCal on-site coverage.

Central Park Inv, Huntington Beach - Chapparal NV jr Patrick Swick 15:31 3m.
Kenny Staub Inv - Canyon Country sr Ryan Morgan 15:30 5k, Alhambra jr Lindsay Flacks 18:42.


DyeStatCal Athlete of the Week
Girls: Granite Bay jr Caitlin Chock. Boys: Duarte jr Mohamed Trafeh.
DyeStatCal Coach of the Week
Girls: Chris Walsh, Campolindo Moraga. Boys: Kevin Smith, Oak Park.

CO Pat Amato Classic - US#5 Smoky Hill CO girls continue hot with soph Katelyn Kaltenbach (left) winning with a 9-second PR in 18:00 5k at Northglenn. Older sister Megan Kaltenbach sat out the race as she is recovering from illness. Smoky Hill is undefeated this season, winning a local meet last week without either Kaltenbach while the sisters were at the Great American. Smoky Hill's Brent Vaughn broke a 10-year-old meet record in 15:32, beating Alex Clayton by 41 seconds, but the team title went to the Fort Collins boys.

HI Kamehameha Inv - Woodbridge CA jr Michael Hadden 15:23 3m. Thousand Oaks CA sweeps team titles, with their Whitney McDonald 18:25 winning girls race.

IL Illinois Week by IllinoisRunner.com - Edwardsville sr Stephen Pifer, Normal West sr Meghan Braffet, and US#16 Sandburg girls impress.
IL 32nd Patrick Savage Inv - Carmel IN jr Katie Harrington 17:31 3m for a course record. Brother Rice IL sr Brent Cunningham 15:11 won the top boys race.

FL Gator Invitational - Cocoa Beach sr Elly Kabboord, Footlocker South's 2nd fastest returnee from last year, is defeated by Tampa King jr Laura Bowerman, (left) who sets a PR of 18:15. Kabboord 18:17. Miami Our Lady of Lourdes wins team title over South #7 Holy Trinity, 130 to 175 in matchup of state's best. Soph Jeff Masterson 15:35 leads Mitchell boys 138. Bowerman photo by Ricky Quintana
GA Alexander Invitational Marist girls upset Southeast #6 Lakeside-Dekalb, 83-84, led by Christy Brewer's 30-second win (right) in 18:43 5k. South #7 Brookwood boys win. Wesleyan sr Cristan Duval 15:34 beats Georgia top rated Ashenafi Arega by 3 seconds.




IN Indiana Week
by IndianaRunner.com

US#13

Columbus North

wins big

Manchester Inv

with 45 points, Indiana #2

Northrop Fort Wayne

61. North's

Christian Wagner

15:01 5k (

left

) is second fastest ever at Manchester. . Wawasee IN soph

Rachel Stichter

13:40 4k (

right

) edges Lake Central IN sr

Tiffany Redlarczyk

by 3 seconds. This was the 34th Manchester Inv and the meet director announced after the meet that it was the last. Lawrence North IN sr

Nef Araia

15:12 5k set a meet record in the

Marion County Championships

, continuing undefeated in 7 races this season and leading his team to victory. Araia also visited Notre Dame this week and will visit Indiana and Stanford before making a college choice.

Cathedral

swept team titles in the

Indianapolis City Championships.

KS Kansas week by Anthony Bozarth - Shawnee Mission South jr Connie Abbott 11:32 at Bishop Miege Inv. Blue Valley North girls 27 over Shawnee Mission NW 41 at USATF Inv; Shawnee Mission NW boys 31. Kansas #8 Olathe East boys 59, Kansas #5 Free State 67 at Haskell Nation Sweepstakes; Free State girls win.

MA McIntyre Inv - The class of Massachusetts girls was divided between Division 1 and Division 2 and the two won't meet head to head until the Foot Locker Northeast regional. Oliver Ames sr Sara Powell won Div 1 in 18:26.0, and Bromfield sr Ari Lambie won Div 2 in 18:25.2.

MD Harford Invitational - C. Milton Wright sweeps team and individual honors: Boys 35, Girls 73, sr Pat Bailey 15:23, soph Kelli Buck 18:26. Course records for both Bailey and Buck.

ME Festival of Champions - Ellsworth boys 83. Cumberland RI girls 55. Fastest individuals are Brewer sr Heather Clark 19:33 5k and Belfast ME soph Levi Miller 16:25.

MI 43rd Oakland County Championships - US#14 Milford MI boys 31 points, the lowest score in this meet since 1962 and 76 points ahead of runnerup Novi.
MI O.K. Silver Jamboree - Allendale jr Jamie Watson 17:40 5k, 24 seconds ahead of Kelloggsville sr Nicole Bush.

MO Missouri Runners Nation week - West Plains sweeps Horton meet in Memphis, US#3 boys 19 and girls 24. Sr Josh Harper 15:14 3m and soph Jennifer Harper 18:16 lead the way. Blue Springs boys get a perfect 15 at Parkway West Inv in St. Louis.

MT Helena Preview - Flathead soph Zoe Nelson 16:46 3m at 4400 feet, breaking her own course record by 43 seconds and continuing undefeated season with a course record in all five meets.

NC Wendy's Inv - Spring Valley SC freshman Kate Niehaus 18:08 5k wins a big invitational. North Forsyth NC sr Bobby Mack 15:39 wins boys invitational division. Team champs are Watauga NC girls 79 and Dorman boys 89.
NC Hagan Stone Classic - South View boys repeat led by Jason Williams 16:04.

NH Great Bay 5K road race - Home schooled New Hampshire soph Chantelle Dron finished 8th in 17:39, third fastest woman overall.
NH Hillcat Inv - Hillsboro-Deering sr Zach Emerson 15:35 5k took 42 seconds off his own course record.

NJ Shore Coaches Inv - Hawthorne Christian sr Lindsay Van Alstine 18:29 5k is fastest of meet on hot day at Holmdel Park, winning by nearly 2 minutes. Trotter twins are 1-2 in a different race, Amanda and Katy finishing together in 18:46. Oskar Nordenbring 16:11 was fastest boy of the day, with 38 boys breaking 17 minutes. Boys team title went to Mainland with a 16:52 average time, followed by Christian Brothers Academy 16:57.
NJ Northern Hills Conference - Passaic Valley sr Jesse Mizzone 18:13 5k, taking 8 seconds off her own course record at Lewis Morris Park, Morristown NJ.

NM Gallup Bengal Inv - US#6 Albuquerque Academy boys 39, US#7 Los Alamos girls 24 show their muscle

NY New York week on armorytrack.com - John Jay's Hakon DeVries outduels Syosset's Marc Alizzi in season-leading 16:18.9 over State Meet course at Sunken Meadows.

OH League Meets - Davidson Hilliard girls scored a perfect 15, led by Melissa Hornor 18:22 5k. Davidson's boys were almost as good, with 26 points, but Reynoldsburg jr John Ealy 15:12 got in ahead of Davidson's big 4 for the individual win.
OH Greater Catholic League of Cincinnati - LaSalle 33 repeats, led by Eric Mayhaus 15:20 5k, seventh fastest ever at Rapid Run Park.

OK Cowboy Jamboree - Stillwater sr Andrew Tower 15:48 5k, third fastest prep time ever on the Oklahoma State U. course, beating Edmond's Tyler Schmiedeberg by 10 seconds. Union's Sarah Saffa 10:56 3200m beat Brianna McLeod 11:11 and Rachel Barber 11:17.

TN Knoxville City Championships - Knoxville West sr Dusty Miller 14:47 3m. Farragut girls 35 and Webb boys 31 win team titles.

UT Orem Kiwanis Inv - Davis HS sweeps team titles, with the US#5 boys winning 51-59 over US#16 Campbell County WY. The Davis girls also beat Campbell County, 35-62. Fastest individuals were Murray soph Nichole Torgersen 19:24 and Campbell County's Andrew Jones 16:26. The 5K course was wet and slow.

VT Woods Trail Run, Thetford Academy - Killingly CT sr Meghan Owen 18:33 5k (Catherine Bryson 18:43, Jessica Flinn 18:57). Essex VT sr David Shenk 16:27.

WA Sunfair Inv - West #9 Mead boys and Mt. Spokane girls win team titles. Fastest individuals are Auburn Riverside WA sr Carl Moe 15:24 and Colbert WA freshman Megan O'Reilly 18:04.

List #4
DyeStat Elite
National cross country list grows to 950 performances beating our cutoffs for 5k and 3 miles.
List Number 4 | How to Get Ranked with NEW online input form.

The Harrier rankings #2
9/23/02 -- Marc Bloom's second Super 25 of the season keeps The Woodlands TX boys and Saratoga Springs NY girls as national leaders, but there was a lot of movement below. Six new teams cracked the top 10: Albuquerque Academy NM boys, Grant Portland OR boys, Liberty MO boys, Smoky Hill Aurora CO girls, Los Alamos NM girls, and Desert Vista Phoenix AZ girls. The Harrier top 10 national and top 5 regional teams

DyeStat on-site
The first weekend in October brings the 5th annual Portage Invitational, featuring many of Michigan's top teams. It is almost a pre-state meet, as 70 teams that qualified for the Michigan state finals last year are entered. Rockford's Nikki Bohnsack, a Foot Locker Favorite, missed the meet with a hip injury.

COMPLETE RESULTS and ACTION PIX - 3700 runners - On a perfect Midwest autumn day -- fluffy white clouds against a bright blue sky and refreshingly cool 50s temps -- Rockford MI sweeps team titles. Canada's junior champion Amy Kohlmeier (left) gets a PR 17:33 5k, just 2 seconds off Sharon Van Tuyl's course record, in her first big race since a stress fracture on the eve of the World Cross Country championships in Dublin last March. Dustin Voss 15:41 (right) is fastest boy of day.
Donna on the Side -
100 pictures of the sideline scenes

Great American 2003
NSSF plans "pomp and pageantry"
Date moves to first weekend in October - venue still not announced.
Marc Bloom story on NSSF plans for 5th Great American

the future of Great American
early thoughts by NSSF
9/30/02 -- NSSF launches 30-day evaluation, but makes these commitments:

There WILL be a 2003 meet
Nike partnership will continue
Entry standards will not be tightened; meet will grow
Permanent site will be sought
Social experiences will be continued
Meet management issues will be given a high priority

Great American is sold to NSSF
CHARLOTTE 9/26/02 -- Founder Rick Hill announces sale on eve of 4th Great American Cross Country Festival. NSSF, which already operates the Nike Indoor Classic and the adidas Outdoor Championships, acquires the premier meet for high school cross country teams. Story by Marc Bloom

How to Get Ranked
Use online input form to send performances to DyeStat's national database.

Lauren Jespersen
Amber Harper
plus 42 honorable mentions

Week 4 Chris Solinsky
Nicole Blood

plus 37 honorable mentions

Ivy League going D3?
NOT
An Internet hoax said that the New York Times reported the Ivy League was considering pulling out of Division 1 athletics and dropping to D3. This report found its way into Track and Field News. Brett Hoover, assistant director of the Ivy League, said that T&FN willl print a retraction in its next issue because "That report NEVER ran in the New York Times and it is 100 percent UNTRUE." T&FN editor Garry Hill said that letters of apology have gone out to all schools concerned.

DyeStat uses Hy-Tek
for meet results

More cross country news

In addition to our own pages, DyeStat makes available the writing of two of the nation's foremost experts.




DyeStat hears . . .
Princeton University drops high school portion of their indoor meet, citing facility and financial constraints. [Walt Murphy's News and Results Service]





Last Week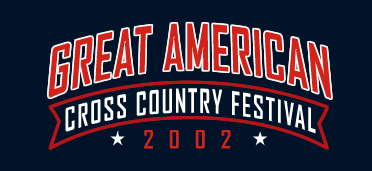 September 27-28 at Charlotte NC Great American home page
Complete Results - 100+ pix in Donna on the Side
AR Week 4 roundup by Arkansas TrackStats - Russellville boys and West Plains MO win big.
California on DyeStatCal
Stanford Invitational
Lauren Jespersen, Tim Nelson push each other to another course record
135 runners meet DyeStat Elite cutoffs
Stanford Highlights
Boys Div I - Record time as Lauren Jespersen (Klamath) nips Tim Nelson (Liberty Christian, Redding) both under CR with 14:54 runs!!! (cf Ian Dobson 15:05 in 2000). - Mead (Washington) takes Team - Results
Boys Div II - Babey Wagnew (Helix, La Mesa) 15:03 winner - Jesuit (Sacramento) takes Team Title - Results (Yong-Sung Leal was entered, but did not run; reportedly still injured.)
Boys Div III - Alex Dunn (San Lorenzo Valley, Felton) outleans soph Jake Schmitt (Redwood, Larkspur) for win at 15:20 - Oakmont (Roseville) takes Team Title - Results
Boys Div IV - Mohamed Trafeh (Duarte) runs off an hides during 14:58 win - Fillmore Team Titlest - Results
Boys Div V - Nick Neely (Crystal Springs Upland) winner 16:07 - College Prep (Oakland) Team Winners - Results
Girls Div I - Phyllis Blanchard (Rancho Cotate, Rohnert Park) 18:01 winner - St. Mary's (Portland) takes Team win!! - Results
Girls Div II - Caitlin Chock (Granite Bay) great 17:25 win!!! - Sultana (Hesperia) team titlests!! - Results
Girls Div III - Ciara Viehweg (St. Ignatius) winner 18:07 - San Lorenzo Valley nips Oak Park 124-126 - Results
Girls Div IV - Gabi Rios-Sotello (St. Mary's, Berkeley) 18:58 winner - Piedmont stunning 24 points team!! - Results
Girls Div V - Heather Iatauro (Tri-Valley, Grahamsville, NY) 18:07 solo run - Tri Valley takes Team win!! - Results
Other California Action
Dana Hills Inv - Mar Vista jr Troy Swier 14:24 3m wins by 68 seconds and takes down Division 3 junior meet record held by former San Diego runner Meb Keflezighi (14:37 in 1992). Woodbridge jr Michael Haddan 14:29 breaks Div 2 junior meet record.
29th Bell-Jeff Inv - Loyola CA's Mark Matusak 14:20 3m, fourth fastest ever at this meet. Maranatha CA sr Laura Meyers 17:12 3m, sixth fastest.

DyeStatCal Athletes of the Week
Woodbridge jr Michael Hadden and Gunn Palo Alto sr Ruth Graham
DyeStatCal Coaches of the Week
Girls -John Mahr of Sultan-Hesperia. Boys - George Wright of Poly Long Beach
KS Weekly Roundup by Anthony Bozarth - Kansas #1 Lawrence sweeps both boys divisions at Topeka Seaman Inv. Trisa Nickoley 12:04 over Ashley Chapman 12:15 at Royal Valley.
MI Harbor Beach Inv - North Huron MI sr Katie Kelly won by 54 seconds in 18:24 5k.
MN Roy Griak Inv - Hopkins MN jr Shannon Bergstedt 18:28 5k leads US#6 ranked girls team to victory with 109 poinhts. Central St. Paul MN sr Forrest Tahdooahnippah 15:38 (David Van Orsdel 15:39) and and Roosevelt DesMoines IA 43 win boys race.
MO Weekly Report by Missouri Runners Nation - Liberty MO sr Adam Perkins won a battle of Foot Locker favorites over Edwardsville IL sr Stephen Pifer, 15:41 5k to 15:55, in the Hancock Inv at St. Louis. Pifer pressed the pace for much of the race, but Perkins pulled away in the last 1000 meters. Perkins' US#10 Liberty team won easily with 28 points, placing all 7 runners in the top 14. In KC Metro Championships, Blue Valley West claimed both individual titles: Paul Hefferon 16:05 and Elle Pishny 19:03.
MT Mountain West Inv - Flathead MT soph Zoe Nelson 17:02 3m in wire to wire victory by 71 seconds over Mead WA's Jamie Geissler and 18 seconds better than the course record at Missoula. It was Zoe's 5th straight course record win this season. Flathead boys and girls swept the team titles. Richie Nelson, Shadle Park WA, was the boys individual winner in 15:16.
NH 28th Manchester Inv - Fastest of day were Greely ME jr Ben True 15:48 5k, breaking Tony Truax's 2001 course record by 1 second, and Hanover NH sr Catherine Bryson 18:42 on a hilly, windy course.
NM 24th Albuquerque Academy Inv - Albuquerque Academy NM jr Leslie Luna (L) 18:53 3.02m is first girl to break 19 minutes on this hilly dirt course. US#6 Albuquerque Academy NM boys, US#7 Los Alamos NM girls win easily, each with 26 points. Josh Rogers, La Cueva 16:01 wins boys race.
NY 38th McQuaid Inv - Northeast #5 Honeoye Falls-Lima girls win AA for 5th straight year. Fastest of day are Lakewood OH sr Michelle Sikes 17:13 3m and Stephane Hetherington, of St. Michael's, Ontario Canada, 14:35.
NY Weekly Summary by George Febles, armorytrack.com
NY E.J. Hermann Inv - Holy Names NY sr Liz Maloy wins big in 17:34. Colonie girls and Sauquoit Valley boys win easily.
NY Tully Inv - Phoenix NY jr Ashley Hughes 18:40 3.1m.
OR Northwest Classic - Central Catholic OR jr Galen Rupp made a successful season debut with a 15:31 5k, winning by 36 seconds. A mid-race surge took South Eugene soph Erin Gray 18:28 to victory over defending state champ Christy Paul, Hood River Valley senior, who finished in 18:54
Pennsylvania Week - by Don Rich, PennTrackXC
Red Lion jr Kate Papenberg and Cumberland Valley jr Brian Fuller win at Carlisle. Eric Soder and Jesi Christiansen win at Sharpsville.
TX Aldine Invitational - Cinco Ranch Katy TX jr Kyle Miller 14:41 3m (Steve Magness 14:46) in Div 1 was fastest boy of meet. Fastest girl of the day was Langham Creek TX sr Brittany Brockman 11:15 2m in Div 2.
UT Wahsatch Rendezvous - Lone Peak UT soph Katie Bowen 17:10 2.91m. Ogden UT sr Todd Gilbert 15:23. Bingham sweeps combined scoring by seven races, runners 1 through 7.
WA Bellevue Invitational - fastest of day are Issaquah WA jr John Harding 15:28 3.1m and Bellevue WA sr Marie Foushee 18:13.Eisenhower WA sweeps team titles.
WV Chick-Fil-A Inv - Hudson OH sr Wesley Smith 15:17 5k won AAA division by 58 seconds over rolling hills. Oak Glen WV twins Justin and Josh Simpson ran 1-2 in A-AA in 15:20 and 15:23.

---
DyeStat Foot Locker Favorites - Start with the top returning runners from last year's meet, add the best mile and 2-Mile times last spring, and mix with care. You have the DyeStat Foot Locker Favorites, our picks of the top 20 contenders per region for the coveted 8 tickets to San Diego for the Foot Locker Cross Country Championships national finals.
---
2002
Nike Athletes of the Year
presented by DyeStat
the dominant high school track and field athletes of 2001-2002 - the 2002 Nike Athletes of the Year
---
DyeStat Featured Meets
Meets that will be covered in depth by DyeStat in 2002-2003
* = DyeStat on-site meet
CROSS COUNTRY 2002
* Sep 7 - Midwest Meet of Champions, Hilliard OH
* Sep 21 - Iolani Invitational, Kualoa HI
* Sep 27-28 - Great American Cross Country Festival, Charlotte NC
* Oct 5 - Portage Invitational - Portage MI
* Oct 12 - Manhattan Invitational, Van Cortlandt Park, NYC
* Oct 25-26 - Mt. SAC Invitational, Walnut CA
* Nov 17 - OR-WA BorderClash, Nike World Headquarters, Beaverton OR
INDOOR 2003
* Dec 21 - Bishop Loughlin Games - New York Armory
* Dec 27 - Holiday Classic - New York Armory
* Jan 11 - Hispanic Games - New York Armory
* Jan 25 - New Balance Games - New York Armory
* Feb 7 - Millrose Games - Madison Square Garden NYC
* Feb 8 - Colgate Women's Games - Madison Square Garden NYC
* Feb 13-15 - Simplot Games - Pocatello ID
* Mar 15-16 - Nike Indoor Classic - Landover MD
OUTDOOR 2003
* Mar 28-29 - Sugar Bowl Classic - New Orleans LA
* Apr 4-5 - Mobile Challenge of Champions - Mobile AL
* Apr 11-12 - Arcadia Invitational - Arcadia CA
* Apr 24-26 - Penn Relays - Philadelphia PA
* June 13-14 - adidas Outdoor Championships - Raleigh NC
* June 19-22 - USATF Nationals - Palo Alto CA
June 28-29 - 1st National Decathlon/Heptathlon Ch. - Albuquerque NM
July - USATF Junior Olympics
August - AAU Junior Olympics