DyeStat Elite update
now 2,476 performances on national lists
The 2002 cross country performance list now has 2,476 performances (800 added since October 25 update) from 534 meets based on data received through November 8. Lists include 3 mile and 5k times meeting cutoffs. List Number 7 | How to Get Ranked with online input form.

New England Championships
Maine hosts meet but its own teams can't run
A ruling by the Maine Principals Association will keep teams from Maine out of Saturday's New England Championship. "They are the best of the best in the state of Maine as a team, yet when the New England Regional meet comes to Portland on Saturday, the teams won't be running.," says the Lewiston Sun Journal.

THIS WEEK - results, rankings, and other current news
(alphabetical by state)
Complete state meet results are being posted.

American Forces in Europe - Thomas Hanson, a senior at Kaiserslautern American HS in Germany, is the European finals champion of American schools in Europe. He was undefeated in 2 years of Division 1 competition (large schools) with a personal best of 15:44 5k.

AR Final Coaches Poll - Season long leader Bryant girls and Rusellville boys hold top spots going into the state meet.
AR State Meet Preview by ArkansasTrackStats.com - Beth Madson of Lake Hamilton and Ashley Williams of Little Rock Mount St. Mary's could be one of best matchups in years. Chase Feltner of Russellville is the class act of the boys races. Bryant girls and Russellville boys are favored in 5A big school class, but Rogers boys will attack Russellville's vulnerable depth after their big 3 of the Feltner brothers and Brian Garner.

California on DyeStatCal
Results - rankings - previews -
Bunches of league meets - Arroyo sr Yong-Sung Leal, sidelined by injury since last spring, wins his third straight league meet in 15:25 3m on a cold, windy, rainy day in the Hayward Area League - US#23 Poly Long Beach boys sweep top 7 spots in Moore League
Foot Locker West rankings - Mike Kennedy's latest update 10/31 has Zoe Nelson and Lauren Jespersen in favorite's roles.
California Baker's Dozen - XC-Analyzer tabs top individuals in state
California Individuals by Division - XC-Analyzer picks top 10 individuals by division
School Enrollment Classifications - final figures
DyeStatCal Athlete of the Week
Girls: Sacred Heart sr Michelle Gallagher Boys: Canyon sr Troy Werner
DyeStatCal Coaches of the Week
Billy York, Woodcrest Christian, Riverside| George Ramos, Chadwick Palos Verdes

| | | |
| --- | --- | --- |
| Ahmed Haji | CT Open Championships - Girls: Killingly sr Meghan Owen 15:12 won by 39 seconds. The next two runners were freshmen: Jillian Sullivan, Bristol Central 15:51 and Kerri Lyons, Wilton 16:00. It was Owen's third straight state championship. Guilford 121 was team champion. Boys: Conard jr Ahmed Haji 15:54 5k (Gavin Coombs 15:59, Chase Pizzonia 16:03); Haji came from dead last after tripping and falling in first 200 meters. Ledyard 94. Complete Results and photos | Meghan Owen |

GA Coaches Rankings - South #5 Brookwood boys and South #9 Lakeside-Dekalb girls top charts. Top individuals are Walton sr Kristin Heffelfinger and Wesleyan sr Cristan Duvall.

| | |
| --- | --- |
| | FL Seminole Conference - Oviedo soph Jennifer Barringer 17:59 is first Florida girl under 18 minutes this season. Interview on RunFlorida.com |

IA STATE MEET - Featured three nationally ranked teams: #10 Roosevelt Des Moines boys and #7 Iowa City West girls. and US#11 Iowa City girls. In the girls race, Iowa City beat their cross town rivals, but Iowa City West sr Robdu Adam 14:07 ran the fastest time of the year as Iowa girls went to the 4K distance this year. The Roosevelt boys lived up to their ranking by winning their second straight state title with 51 points, placing 3 runners in the top 7. Mason City's Ryan McCurnin won the boys race in 15:21, fifth best ever at an Iowa state meet. Complete Results

ID STATE MEET - Highland sr Matt Knoff 15:59 5k was unchallenged in 5A. In the touted 4A girls race, Ali Brosh, Sandpoint blew away a gang of top ranked girls (including two former champions) by 31 seconds to win in 18:33 and lead her team to an upset victory.

IL Sectional report by Scott Bush - US#18 Lyons Twp boys edge York, 38-44. Lake Zurich sr Sam Romanoski was sick during the week but rallied late to beat Stevenson sr Micky Cobrin 14:54 to 15:00 3m. Andrew jr Matt Withrow 14:25 2.9m kept winning. Also winning easily were state meet favorites Edwardsville sr Stephen Pifer and Normal West sr Meghan Braffet. US#18 Sandburg girls will be favored in next week's state meet, while Lyons and York will renew their battle for the boys title.

IN STATE MEET - Lawrence North sr Nef Araia 15:08 5k, breaking the IU course record for high schoolers and becoming the 10th Indiana runner to win back-to-back state titles. Araia also won the Mental Attitude Award, which is given to top senior each year who has best demonstrated excellence in mental attitude, scholarship, leadership and athletic ability in the four years of high school. Araia said he is looking at Stanford, Indiana, and Notre Dame for college next year. Columbus North jr Christian Wagner second in 15:20. Wagner led US#6 Columbus North 79 (2-8-20-23-26) to the team title. In the girls race, Carmel jr Katie Harrington 14:13 4k outkicked Lake Central sr Tiffany Redlarczyk. US#9 Valparaiso 121 won the girls team title by 6 points over Northridge. The boys race was marred by scoring disputes with many runners protesting the official order in the chip-timed race. Upon "further review," the IHSAA announced official boys results on Tuesday. Summaries and Complete Results

KS STATE MEET -
6A: Kansas #2 Shawnee Mission Northwest boys win showdown with Kansas #1 Lawrence boys 92-99 at Rimrock Farm. Blue Valley North sr Grady Sullivan ran a controlled race for a 16:01 5k victory over defending state champ Ryan Wilson of Wichita Heights. Blue Valley North girls 49 upend defending state champ Shawnee Mission Northwest 64 for their first team title. Shawnee Mission South jr Connie Abbott 11:31 2m was the girls champion.
5A: Wichita Carroll boys 57 dominate with six runners in top 20. Shawnee Hts Topeka jr Trisha Nickoley 12:07 wins third straight title.
4A: Baldwin sweeps.
3A: Kansas City Christian (boys) and Sabetha (girls) win
2A/1A: Hutchinson Trinity sweeps.

KY STATE MEET - Bobby Curtis rested in the regionals for his Kentucky cross country farewell. Curtis is defending champion and state record holder; the only question is can he beat his own state record of 15:06 at the tough Horse Park course (soft footing, 180 degree turns). "Curtis wants to send a message to the rest of the nation that he's race-ready," says Charlie Zimmerman's preview. Weather forecast is 60 and sunny -- a perfect day for thoroughbreds at the Horse Park in Lexington.
KY Regional Meets -
AAA Region 2 - so Melissa Massey 19:11 5k and Dupont Manual girls 26. St. Xavier boys 38 without Bobby Curtis (coach's decision), Butler sr Jacob Buckman 15:25.
AAA Region 3 - jr Maddie Scheuler 17:57 leads Sacred Heart girls 24, jr Ondre Puskar 15:39 and South Oldham boys 21 win as well.

MA MSTCA Coaches Inv - Franklin Park, Boston. Fastest of day were Keith Gill, Brockton 16:12 and Arlington Catholic sr Stephanie Nugent 19:12.

MD State Meet Preview - Who will do best on the brutal hills of Hereford?
MD Regional Meets -
3A West - Defending 3A champ Northwest boys look good to repeat title with 50 points here. Urbana jr Kurt Keuhne is top individual in 16:35 5k. Walter Johnson girls 30, led by defending 3A champ jr Ashley St. Denis 19:54, look towards states for 5th title in last 7 years.
4A West - Damascus boys 50, Magruder sr Awit Yohannes 16:26 5k. Wootton jr Michelle Levy 20:24 nips sr Beth Bower for the win, but Bower's Quince Orchard team wins with 68.
Results are on MDrunning

ME STATE MEET - Greely jr Ben True gets first in Class B individual race with 15:42 2.9mi
but Greely has to settle for second behind Falmouth boys 47 in team race. In Class B Fryeburg Academy girls upset Leavitt as both teams total 96 points and Fryeburg's sixth runner comes in first. Class A's Andrea Giddings of South Portland fastest girl in 19:06.

MI Lower Peninsula Championships - Rockford sweeps Div 1. Jr Nikki Bohnsack 17:44 5k leads US#20 girls over US#10 Clarkston, 57-110, with Rockford going 1-6-10-11-29. Two straight state titles for Bohnsack, looking fully recovered from the hairline hip fracture suffered in August in a swimming accident. And a record 5 straight state championships for the Rockford girls. The unranked Rockford boys 133 (5-18-19-35-56) shaded US#7 Milford by 2 points (20-24-27-31-33) despite Milford's amazing 14-second spread on its five scorers. Grand Blanc sr Christopher Catton 15:19 was the fastest boy of the day. In Div 2, Allen Park sr Jackie Gaydos made up for last season's injury, winning in 17:59. 97 DyeStat Elite marks

MN STATE MEET - Girls AA - Big Lake fr Brenna Carey upsets Hopkins jr Shannon Bergstedt
14:57 to 15:15 4k, but Bergstedt still leads US#6 Hopkins girls 80 to repeat title.

MO Final Coaches Poll - Liberty boys and West Plains girls top 4A big school class.
MO Sectionals - West Plains and the Harpers sweep at Bethel Park with US#3 boys 23 points led by sr Josh Harper 15:19 and girls 24 points led by soph Jennifer Harper 18:16. Liberty sr Adam Perkins 15:36 leads US#5 Liberty boys 40 (Blue Springs 61). Sectional report by Brandon Daniels

NC STATE MEET - Chapel Hill beats out South View on sixth-man tiebreaker, both teams totalling 80 points. Mount Tabor sr Matt Debole repeats in 15:34, rival North Forsyth sr Bobby Mack second in 15:46. Jordan jr Katherine Merrill wins girls' race in 19:10, Mount Tabor girls repeat with 64. Complete Results

ND STATE MEET - US#13 Dickinson girls placed sophomores Allison Pritchard, Ariel Smith, and Miranda Wagner 4-5-6 to lead a 40-85 win over Grand Forks Central.

NH Meet of Champions

With his 19:08 5k win, Hanover sr

Russell Brown

's state meet medals range from 55 meters to 5k. Hanover sr

Catherine Bryson

18:38 won the girls race. Team titles went to

Londonderry boys

85 and

Concord girls

107.

NJ New Jersey week - Red Bank's Trotter twins finish together again in 18:19 in the Shore Conference at tough Holmdel Park, with Katy given the victory this time and Amanda second. Team honors went to Northeast #3 Toms River East. In same meet, Toms River North sr Peter Hess ran an impressive 15:37, winning by 30 seconds, but his team was edged by US#22 Christian Brothers Academy, 84 to 85. Garden State's stellar freshman girls have another big weekend: Jen Croghan winning Essex County title in record time, Carolyn Calhoun the Mercer County title in record-tying time, and Jean Ennis the Morris County race. Big finish in the Bergen County Meet of Champions had 1. Don Bosco sr Peter Gerboth 15:36 5k, 2. Ridgewood jr Ari Zamir 15:37, and 3. Don Bosco sr Sean Swift 15:38.

NV Regional Meets
Southern Nevada - Fastest of day: Cimarron sr Natasha Wicks 18:45 and Chapparal jr Patrick Swick 16:09 5k (Centennial soph Blake Schlotzhauer 16:13).
Northern Nevada - Fastest of day: Reno jr Collier Lawrence 18:57 5k course record and Reno jr Jonathan Cardenas 16:39.

right, Natasha Wicks and mom
photo by NVtrackstats


NV Southern Nevada Top 10 Coaches Poll on NVtrackstats.com -

NY NEW YORK REPORT by George Febles, armorytrack.com - Section Championships -
Section 11, Sunken Meadow - US#24 Northport boys (Kevin Tschirhart 16:09 5k on tough Sunken Meadows course) dominate. Bayshore soph Laura Cummings' blistering 18:15 5k leads Bayshore girls. to the winner's circle.
Section 2, Saratoga State Park - Saratoga fr Nicole Blood rips a 16:51 3.05m to lead US#1 Saratoga to top honors. US#16 Shenendehowa boys tune up for States with 2-5-7-8-9 performance and all seven runners under 16:00. Saratoga sr Michael Foley 15:24 won the boys race. Blood's time was the third-fastest girls' time in course history behind Saratoga alums Erin Davis (16:44 in 1994) and Cheri Goddard (16:48 in 1988). Saratoga girls won their 13th sectional title in 16 years.
Section 1, Bowdoin Park - Pearl River sr Brendan Fennell 16:04 5k and John Jay EF jr Hakon DeVries 16:05 tear up Federation course.

NY New York City poll - Fordham Prep rises to #1.
NY NYSPHSAA State Meet - Team qualifiers for meet at Sunken Meadow State Park 11/9.

OK 5A-4A STATE MEET - Brianna McLeod wins her third state title (she was injured last year and finished 2nd) and leads US#2 Jenks to team championship. Edmond Memorial boys win team title, with Mustang's Aaron Snyder winning individual honors. Complete Results

PA STATE MEET

- US#11

Henderson

wins AAA title by 12 over Council Rock-North as normal #2 man Greg Williams crawls across the finish in 50th (

below

) after sharing the led through 2.5 miles before getting sick. US#14

Wyomissing

girls tally just 37 points, 84 better than 2nd place behind 4th and 5th place finishhes of Debbie and Amy Huss.

PennTrackXC coverage by Don Rich

.

Greg Williams told

PennTrackXC

: "I realized I wasn't going to be able to walk across. I knew I had to at least give the team a chance by getting to the finish line, so I just crawled across."

PA Philadelphia Catholic League Southern division - St. Joseph's Prep jr Tim O'Neill 16:07 5k is only 3 seconds off course record at super tough Belmont Plateau. O'Hara sweeps team titles.

RI STATE MEET - Northeast #8 Bishop Hendricken boys win 10th title. East Greenwich sr Nicole Millett 18:25 5k dominates girls race.

SC Regional Meets - Dreher fr Sarah Bindley 19:10 5k for new course record in Lower State championships. In Upper State, two fastest boys are jrs Jeff Crane 16:46 and Joel Hamner 16:53, who led Wade Hampton to the 3A title.

SD State Meet

Rapid City Stevens boys win 8th straight title and girls win 9th in 10 years.

TN STATE MEET - AAA winners produce fastest times of the day: McMinn County's Laura Koob 18:13 and Knoxville West's Dusty Miller 14:58. Houston girls 56 and McMinn
County boys 72 take titles; it was the third straight year for Houston. Complete Results

TX Regional Meets
5A Region 2: US#1 The Woodlands put all 7 runners in the top 20 to win with 45 points to Klein's 81. Klein Oak sr Steve Magness 14:42 3m (Brian Sullivan 14:45) was the individual winner. US#17 Cedar Park girls 78 and Langham Creek sr Britany Brockman 11:24 won the girls race.
5A Reg 3: Cinco Ranch Katy jr Kyle Miller 16:16 won the race and then came US#9 Kingwood 28 (2-3-4-8-10).
5A Reg 1: Rachael Forish, Arlington Lamar 11:10.4 beats Mackenzie Edwards 11:10.7 and Monique Ortega 11:39.7
TX STATE MEET - 11/9 at Old Settlers Park, Round Rock TX. Participants

VA Regional Meets - US#12 Thomas Jefferson Alexandria boys heavily favored. Girls race up for grabs.

VT STATE MEET - Division 1 produces fastest of meet: Essex sr David Schenk 16:39 3.15mi leads Essex boys to 6 point win in Division 1 and overall, defeating Champlain Valley boys 43-49 D1 and 56-62 overall. Middlebury jr Amanda Bodette wins in 19:02, while Burlington girls win with 61 points in Division 1 and 78 overall. Champlain Valley second again. Complete Results

WA Districts - Carl Moe goes sub-15. Running all alone, the Auburn Riverside senior won the West Central District 4A meet at Spanaway Golf Course (site of 2000 National Cross Country
Championships) by 30 seconds in 14:53 5k. In another district, Eisenhower beat US#13 Mead, 77 to 82, overcoming Mead's 2-3-4 front pack. Fastest girl is Mead sr Jamie Geissler 18:00. 83 DyeStat Elite marks in Districts

WI STATE MEET - Stevens Point sr Chris Solinsky, 14:54 5k won his third straight Wisconsin Division 1 Cross Country Title by 57 seconds to break his own state record by 13 seconds at The Ridges 5K course in Wisconsin Rapids under sunny skies in 40 degree temp

WV STATE MEET - Oak Glen's 1-2 of Justin and Joshua Simpson couldn't stop titleist
Ravenswood 75 (Oak Glen 77). Complete Results

WY BorderWar - Wyoming sweeps honors at 1st BorderWar meet between Wyoming and Montana. Snow at the Powder Horn Golf Course forced the meet to move to the VA Hospital grounds, where crews cleared a 3-mile course. Led by Natrona County WY soph Sarah Balfour 18:07 3m and Rocky Mountain freshman Emily Higgins 18:12, the Wyoming girls took the first four spots en route to an easy win. Scoring was by total team time, with Wyoming 7 hours, 49:30 and Montana 8 hours, 7:23. Campbell County WY sr Andrew Jones 15:11 3m won the Wy-MT BorderWar by 29 seconds. The meet took a hit when Flathead MT decided against the 600-mile drive to Sheridan, thwarting the anticipated battle of unbeaten sophs between Balfour and Flathead's Zoe Nelson. Stories and Photos

The Harrier rankings #4
Davidson Hilliard OH leads four double-ranked schools
11/4/02 -- Marc Bloom's fourth Harrier magazine rankings of the season feature four schools who can lay claim as the best overall cross country programs in the country, having both boys and girls teams ranked in the national Super 25 teams. Best record is Davidson Hilliard OH. After a sweep of the Ohio state meet, Davidson is ranked US#4 for boys and US#12 for girls. The other three doubled-ranked schools are Mountain View UT (boys #2 and girls #24), Kingwood TX (boys #9 and girls #19), and Davis UT (boys #15 and girls #21). The Woodlands TX boys and Saratoga Springs NY girls retain the US#1 slots they have held in all four rankings this season. . The Harrier top 10 national and top 5 regional teams [next rankings due Nov 25]

Foot Locker Favorites list updated
Start with the top returning runners from last year's meet, add the best mile and 2-Mile times last spring, and mix with care. You have a list of the DyeStat Foot Locker Favorites for 2002. We have massaged and pruned the lists based on actual performances. The result is 100 runners that we believe are the strongest candidates to be the 64 finalists at San Diego December 14. DyeStat Foot Locker Favorites

Oregon State Meet lives up to the hype!
Galen Rupp wins battle of unbeatens over Lauren Jespersen by a split second. Jesuit's pack running beats the stars. Erin Gray in a breeze.
"It is not often in life that results equal our expectations but on a balmy day in November followers of Oregon high school cross country had that rare sight." - Leo Collins story

Rupp and Jespersen at the finish

OR STATE MEET
Galen Rupp goes wire to wire and holds off fast closing Lauren Jespersen in 14:56 5k, both beating the old record. Rupp led all the way through a mile in 4:45 and 2 miles in 9:40, but Jespersen nearly made up a 40-meter gap in the last 400 meters. Next were Alec Wall 15:26, Patrick Werhane 15:36, and Joaquin Chapa 15:47. Jesuit beat Grant for the team title on the 6th man tie breaker after the first five for each team totalled 115. Jesuit shook off Grant's 2-3-7 lead with a 29-second gap from 1 to 7; their 6th man was 38 to Grant's 95. Erin Gray won the girls race easily in 18:14. Erin Gray as a soph is more confident, more challenging, and better, reports Leo Collins.


Nov 17, 2002
Nike World Headquarters, Beaverton OR
Alan Webb will attend
Nike elite athletes on hand for the 4th Washington-Oregon BorderClash Nov 17 include high school mile all-time record holder Alan Webb, newly signed to a professional contract this year. Webb will join veteran Nike runners Bob Kennedy and Suzy Favor-Hamilton in mixing with the high school runners. BorderClash details

College Choices 2003

Early Signing
Period Looms
With the early signing period just a few days away (Nov 13-20), some athletes of the class of 2003 are already announcing their college choices.

Jacquelyn Johnson, Yuma AZ heptathlete (national JO champion), will go to Arizona State for track and basketball. The Arizona Republic said Johnson will red shirt basketball her freshman year to concentrate on the heptathlon to try to make the US Olympic Trials in 2004.

Fatmata Fofanah, Bronx Science NY hurdler, will go to Pittsburgh.

Reggie Witherspoon, 46.08 400m sprinter from Wheeler GA, has decided to run for Baylor next year. Reggie was a two-time Youth Athletics National champion.

The Portland Oregonian reports these choices by Oregon track and cross country stars:
Alec Wall, Grant -- going to the University of Oregon
Joaquin Chapa, Grant -- Stanford
Mike McGrath, Lincoln -- Oregon
Lauren Jespersen, Klamath Falls -- Stanford

Also heading to Stanford according to local newspapers are Red Bank NJ distance twins Amanda and Katy Trotter.

Send information on choices to

John Dye

, giving your name, your relationship to the athlete, and a way of verifying the information.

How to Get Ranked
Use online input form to send performances to DyeStat's national database.

DyeStat uses Hy-Tek
for meet results

NEW
SCHOLAR-ATHLETE Donna's guide to the college recruiting game: eligibility rules, recruiting rules, experiences, organizations, helpful web sites, scholarships & loans, and careers & majors.
Last Week
Mt. SAC
DyeStat on-site coverage of biggest meet of the season
Results, pix, quotes, analysis - scores of photos from all over the course.
Tim Nelson 14:33 | Rachel Bryan 17:08 | Sultana girls | Poly boys | San Lorenzo Valley
California on DyeStatCal
Results - rankings - previews -
Foot Locker West rankings - Mike Kennedy's latest update 10/31 has Zoe Nelson and Lauren Jespersen in favorite's roles.
California Baker's Dozen - XC-Analyzer tabs top individuals in state
California Individuals by Division - XC-Analyzer picks top 10 individuals by division
DyeStatCal Athlete of the Week
Girls: Sacred Heart sr Michelle Gallagher Boys: Canyon sr Troy Werner
CO State Meet - Smoky Hill sr Megan Kaltenbach 18:21.3 5k won her fourth straight state championship (first four-peat ever in class 5A) in the fastest time ever, but for the second straight week she could not shake her younger sister, soph Katelyn Kaltenbach, who finished in 18:21.5. Morgan Schulz finished fourth for US#4 Smoky Hill, which won the team title with 41 points, best score ever in Colorado's 5A big school division. "With our team winning, and my sister getting second, it couldn't be better," Megan Kaltenbach said. In the boys race, Ian Burrell broke open a tight race with Brent Vaughn in the last 200 meters to win in course record time of 15:19 (Vaughn's 15:33 also bettered the old course record), duplicating his win over Vaughn in the state 1600 meters last spring. Denver West 105 won the team title. Results and more pictures

CT Class Championships - Conard jr Ahmed Haji 16:01 5k and Killingly sr Meghan Owen 15:39 4k are fastest of the day in six classes. Haji came from dead last out of 184 runners after tripping and falling to the ground in the first 200 meters.
CT Open Championships - Entries for Friday Nov 1 meet.
FL Panhandle Championships - Maclay Tallahassee jr Ryan Deak 14:56 3m won the individual battle, but South #6 Chiles Tallahassee won the team war, 30-53, with Herbert Thiele running in second at 15:11 with 4-5-8-11 support. Pensacola Catholic soph Anna Greskovich 18:34 won the girls varsity race, but Maclay topped her team, 91-96.
FL Florida Week by Ricky Quintana - Ryder Leary pulls away from Sam Vazquez in the last two laps to win Bishop Kenny Postal 2-mile in 9:18. Ryan Deak wins Panhandle Championships in 14:56(3 miles) over Chiles' Herbie Thiele. Chiles, #2 in the state overall, defeats #4 Maclay for the title. Paul Cross sprints to win in Broward County Championships(5K) in 16:46 on rainy muddy course. Defending state 3A 1600m Champion(5:03.94), Courtney Hall of Bishop Kenny, wins St. John's Country Day Invitational (5K) in 19:05.
GA Regionals - Wesleyan sr Lauren Blankenship 18:58 5k led team to win with 31 points (1-6-7-8-9) in Region 8 AA.
IA State Meet Saturday Nov 2 at Kennedy Park in Fort Dodge will feature two nationally ranked teams: #10 Roosevelt Des Moines boys and #7 Iowa City West girls. District qualifiers - District Highlights
IL Illinois Week by Scott Bush, IllinoisRunner.com - Stephen Pifer, Matt Withrow, and Meghan Braffet are impressive in regional meets. Sectionals are next. US#1 Sandburg girls 23 placed 6 in top 9 in their regional.
IN Semi State - Lawrence North sr Nef Araia 14:54 5k blitzed the Southeastway Park course, wet from 2 days of rain, to remain undefeated this year. He beat Columbus North jr Christian Wagner by 21 seconds and took 11 seconds off the course record held for 20 years by former Indiana U. star Scott Williams. Wagner led US#6 Columbus North over Lawrence North for the team title, 53-100. Columbus North doubled with its US#21 girls team winning a close one over Franklin Central, 69-72, as Carmel jr Katie Harrington 14:09 4k won individual honors.
KS Regionals - Shawnee Mission Northwest sweeps Emporia super-regional (15 of top 20 ranking teams in Kansas). Connie Abbott 11:10, Grady Sullivan 15:24. Kansas #1 Lawrence boys win easily at Manhattan, setting up big showdown with Shawnee Mission NW in state meek next week.
KY Metro Meet of Champions - St. Xavier Louisville sr Bobby Curtis rolled to a 14:50 5k in soft mud, only 2 seconds behind the fastest US 5k this year, which was run on a hard, fast surface by Nef Araia at the Midwest Meet of Champions September 7. The race was spread out with two lonely leaders. Curtis finished 36 seconds ahead of Butler Louisville sr Jacob Buckman, who in turn was 48 seconds ahead of anyone else. Story and pix by Charles Zimmerman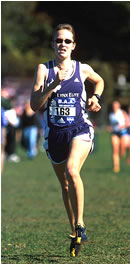 MA home-schooled NH soph Chantelle Dron 18:18 5k went to Boston looking for a race and ran 18th among top club women in the big Mayor's Cup at Franklin Park. Right, photo by Victah Sailor
MA Wachusett Regional swept the Midland-Wachusett League A Division championships, the with the boys scoring 16 points (1-2-3-4-6) and the girls 36 (1-7-8-9-11). Individual winners were soph Vicki Weismann 18:20 2.9m and sr Dan Sullivan 15:08.7 (Mike Banks 15:09 and Tim Cunningham 15:10).
MD Montgomery County Championships - Northwest boys 48 win second straight county title, Walter Johnson girls 49 5th straight.
ME Western Maine Championships - Greely jr Ben True continues to be Maine's best runner, winning by more than a minute in a course record 16:06 5k in rain, wind, and mud. Falmouth edged Greely for the team title by 4 points.
MI Upper Peninsula Championships - Westwood Ishpeming jr Amber Smith, a 2001 Foot Locker finalist, won Div 2 in 18:49 5k by 97 seconds.
MI Lower Peninsula Championships - Qualifiers for 4-division meet at Michigan International Speedway, Brooklyn MI, Saturday Nov 2.
MI Regionals - Brighton girls 28 (3-4-5-7-9) upset US#10 Clarkston 40 (1-2-8-11-18). Clarkston soph Liz Mengyan 19:21 5k was the individual winner. Rockford girls run a perfect 15 in their regional, led by Nikki Bohnsack's 18:51.
NC Independent Schools state meet - Freddy Torres 15:51 5k was fastest of the day as he led Cardinal Gibbons 31 (1 2 4 7 17) to the 3A title. Cardinal Gibbons girls 31 (1 3 6 7 14) completed the school's sweep behind Lauren Holesh 18:58.
NC Regionals - South View's Robert Longoria 15:14 5k.
NE STATE MEET - Fastest of cold, snowy day are Kearney jr Colby Wissel 16:12 5k and Millard West fr Meredith Snow 15:21 4k.
NM Los Alamos Invitational - US#8 Albuquerque Academy boys and US#5 Los Alamos girls roll on in last big invitational before district and state meets the next two weekends.
NY Suburban Council - Saratoga fr Nicole Blood 17:04 5k, 10 seconds faster than last year in this meet and the fastest 5k in the nation this year despite 43 degrees temp and heavy rain. Blood led the US#1 girls team to a big 19-100 victory over Northeast #8 Columbia. Mike Foley 15:26 gave Saratoga a sweep of individual honors, but runner-up Jacob Gurzler led US#16 Shenendehowa 27 to the team title over Burnt Hills 90.
NY New York week by George Febles www.armorytrack.com - Sayville sr Brian Dalpiaz continues his speedy recovery from an emergency appendectomy at the start of the season, and New York observors think he will be ready for the favorite's role by November 30 at Van Cortlandt Park -- the Foot Locker Northeast regional. Meanwhile, he has serious competition in New York. In the Section 11 divisional championships at super-tough Sunken Meadows, Northport soph Kevin Tschirhart shaded Dalpiaz by 4 seconds, 16:05 to 16:09.
OH State Meet - Davidson Hilliard became the first Ohio Division 1 team ever to win both boys and girls state championships. The girls won with 72 points (Turpin Cincinnati 93, Dublin Coffman 116) and the boys won with 87 points (LaSalle Cincinnati 104, St. Xavier Cincinnati 145). Hudson sr Wesley Smith 15:15 5k won the boys race (Strongsville sr Chris Kollar 15:20). Mason Cincinnati freshman Angela Bizzari 17:47 won the girls race over veterans Carolyn Rauen 18:01 and Michelle Sikes 18:09. The course was wet and muddy and slippery. Complete results and 54 DyeStat Elite performances.
OK 5A Regionals - US#2 Jenks girls 28 for 40-point win over Union, led by senior 1-2 punch of Brianna McLeod 11:20 (course record), back in top form after a siege of tendonitis, and Rachel Barber 11:31.
OR Portland District - Grant swept the team titles, with its boys 1-2 punch of Scott Wall 15:21 5k and Joaquin Chapa 15:22 each surpassing Galen Rupp's course record set earlier this season. Cleveland's Olivia Bender 18:25 won the girls race.
PA PENNSYLVANIA WEEK BY DON RICH - District Meets - Council Rock-North boys pull off mild upset at District 1, over US#11 Henderson, by just five points. But Henderson's Ian Gottesfeld wins in 15:25 5k saying "we're confident for States." Hatboro-Horsham sr Janine Ricci continues "breakthrough" season with 18:16 win. Sam Bair 16:10. Parkland edges Allentown Central Catholic by 1 point in battle of last two state AAA girls champs. ACC's Frances Koons wins race in 18:39. US#14 Wyomissing girls place five in top eight behind 1-2 Amy and Debbie Huss for just 20 points and a 1:13 spread. Ryan Blood cruises alone to best time of day on a muddy, slow Hershey Park course in 16:22. Red Lion jr Kate Papenberg 19:04 is fastest girl at Hershey.
TX Districts - US#1 The Woodlands and US#9 Kingwood boys and US#17 Cedar Park girls advance easily.
VA The Virginia State Meet has been delayed a week to Nov. 16 because of meet cancellations caused by the sniper attacks in recent weeks.
VA Districts - Jefferson Alexandria got a 1-2 finish in both boys and girls races to sweep team titles in the Concorde District at Fort Belvoir, with US#12 boys scoring 28 and the girls 27. . Madison swept the Liberty District at the same course. Regional championships are next week
WI Sectional - Stevens Point sr Chris Solinsky 15:27 5k, winning by 90 seconds for course record on wet, hilly Waupaca sectional course.
WY State Meet - Campbell County swept 4A titles, the US#17 boys putting 5 in the top 10 and the girls 4. Campbell sr Andrew Jones won the boys race in 15:55 5k, and Natrona County soph Sarah Balfour 18:23 (Gretchen Fagley 18:58) the girls race. The unbeaten Balfour's time was only 2 seconds off the state record held by Alicia Craig.
---
DyeStat Featured Meets
Meets that will be covered in depth by DyeStat in 2002-2003
* = DyeStat on-site meet
CROSS COUNTRY 2002
* Sep 7 - Midwest Meet of Champions, Hilliard OH
* Sep 21 - Iolani Invitational, Kualoa HI
* Sep 27-28 - Great American Cross Country Festival, Charlotte NC
* Oct 5 - Portage Invitational - Portage MI
* Oct 12 - Manhattan Invitational, Van Cortlandt Park, NYC
* Oct 25-26 - Mt. SAC Invitational, Walnut CA
* Nov 17 - OR-WA BorderClash, Nike World Headquarters, Beaverton OR
INDOOR 2003
* Dec 21 - Bishop Loughlin Games - New York Armory
* Dec 27 - Holiday Classic - New York Armory
* Jan 11 - Hispanic Games - New York Armory
* Jan 25 - New Balance Games - New York Armory
* Feb 7 - Millrose Games - Madison Square Garden NYC
* Feb 8 - Colgate Women's Games - Madison Square Garden NYC
* Feb 13-15 - Simplot Games - Pocatello ID
* Mar 15-16 - Nike Indoor Classic - Landover MD
OUTDOOR 2003
* Mar 28-29 - Sugar Bowl Classic - New Orleans LA
* Apr 4-5 - Mobile Challenge of Champions - Mobile AL
* Apr 11-12 - Arcadia Invitational - Arcadia CA
* Apr 24-26 - Penn Relays - Philadelphia PA
* June 13-14 - adidas Outdoor Championships - Raleigh NC
* June 19-22 - USATF Nationals - Palo Alto CA
June 28-29 - 1st National Decathlon/Heptathlon Ch. - Albuquerque NM
July - USATF Junior Olympics
August - AAU Junior Olympics