photo by John Nepolitan

photo by Jacob Brown

first DyeStat Featured Meet
of the 2002-2003 school year

Midwest
Meet of Champions

HILLIARD OH -- In its second year, the Midwest Meet of Champions September 7 again features top teams from OH, MI, and IN. Six teams are ranked in The Harrier pre-season poll, led by host Hilliard Davidson's boys, ranked #3 in the country. Davidson will try to unseat defending champion Midwest #10 Milford MI, and Midwest #6 LaSalle Cincinnati OH will have a say also. US#8 Rockford MI is the highest rated girls team, but they will have to beat defending champion Carmel IN and US#10 Turpin Cincinnati OH. Lawrence North IN sr Nef Araia, last year's MMOC champion and a Foot Locker national finalist, returns. He will be challenged by Hudson OH sr Wesley Smith (runner-up here last year and 5th in the AOC Raleigh 2-mile last June in 9:03.61) and Middletown OH soph Jeff See (who set a new national record for indoor mile by a freshman, 4:22.62 at the Nike Indoor Classic last March and ran 4:15 outdoors). In the girls race, Rockford MI jr Nikki Bohnsack, who won the inaugural MMOC last year, will not defend her title because an injury which was aggravated at last week's Benzie Central Invitational will sideline her for 3 weeks. The girls favorites thus become Beaumont Cleveland Heights jr Maggie Infeld (2:11.24 and 4:53.09 last year and anchor of Beaumont's sprint medley winner at AOC Raleigh), Carmel IN jr Katie Harrington (4:56.04 and 10:48.50 last year and 7th in the Golden West mile), and Turpin jr Carolyn Rauen (4:58.54 Mile and 10:53.81 2Mile last year). MMOC DETAILS

Cross Country gets going - early results and rankings

CO 8/29 Pat Patton Memorial - Megan and Katelyn Kaltenbach finished 1-2 to lead Smoky Hill girls at Boulder. Brent Vaughn made it an individual sweep for Smoky Hill by winning the boys race.
CA Danny Luna 15:15 3m wins at Huntington Beach as all comers come to a close and the real season looms. Rubidoux boys time trial indicates they are ready for Great American. Much more California news on DyeStatCal.
PA Pennsylvania Preview by Don Rich - Can Jessica Cickay win that elusive state championship and get back to FootLockers? Will Jesi Christiansen three-peat? Will the great Henderson program re-assert itself? Will Ryan Blood put it all together? Don't know. But guessing is fun!
MD Pre-Season Team Rankings - C.M. Wright boys and Bryn Mawr girls are #1 on MD Running, Donnie Mickey's new Maryland web site.
NY Pre-Season Boys Team Rankings - Shenendehowa claims #1 in Tom Cuffe's poll.
NE Pre-Season Coaches Poll - by Craig Christians. Boys leaders are Omaha Benson and Colby Wissel of Kearney. Girls leaders are Omaha Burke and Kym Bennett of Bellevue West.
OK Pre-Season Coaches Poll - Jenks boys and girls are rated best in Oklahoma. Tyler Schmiedeberg of Edmond Memorial and Brianna McLeod of Jenks are top ranked invididuals.
TN 8/22 KIL All Comers - Oak Ridge and West Knoxville trade wins. Oak Ridge boys win 27-50, and West Knoxville girls win 33-34.
Pennsylvania news from PennTrackXC - (1) Council Rock splits into 2 schools, with the power supposedly going to South, but last year's JV runners backed up ace Jessica Cickay to give North the win in a dual meet between former teammates. (2) Angie Saterstad is locked out of the Hershey HS team and will run as an independent. (3) State cross country championship course at Hershey may be revamped to make it more athlete-friendly and fan-friendly.
Texas Coaches poll has The Woodlands and Kingwood 1-2, with a head to head battle looming this Saturday 8/31 at The Woodlands Invitational. Kingwood tops 5A girls list.
Nevada Pre-Season Rankings - Centennial boys and Green Valley girls are picked #1 by Nevada Track Stats coaches poll.
8/29 Idaho preview by Brett Hill - Defending champs all look strong: 5A Meridian, 4A Bishop Kelley, 3A Preston, 2A Firth boys and Malad girls. Hillcrest dropping from 5A to 4A affects both divisions.
8/27 Illinois Coaches Poll #1 - York boys and Wheeling girls take top spots in first poll of the season by ITCCCA.
8/27 New Mexico preview - Gallup favored to sweep 5A titles. It would be 7th straight for the girls and 14th in 20 years for the boys (but the first in 3 years). In 4A, the favorites are the Albuquerque Academy boys and Los Alamos girls -- by Adam Kedge.
8/27 Florida individual top 20 rankings - Ryan Deak and Elly Kabboord still #1. (Ricky Quintana, runflorida.com)
8/26 Florida team rankings (Ricky Quintana, runflorida.com)
Illinois PreSeason Rankings - IllinoisRunner.com picks the team and individual favorites in both classes. Will the boys of York return to the throne room, or will Glenbard South's four super sophs of 2001 defend their title? Who will step into the void left by Erika Odlaug and Maria Cicero?
Georgia rankings 8/26 - Pope sr Sean Reilly moves to #1. Brookwood boys, Christy Brewer and Marist girls stay #1.
California pre-season rankings - Doug Speck calls top 10 teams and individuals in each division
Sunset in the Park - Erick Maldonado beats Michael Haddan in 2.8 miler at Huntington Beach CA
8/24 OH Celina Invitational - LaSalle Cincinnati romps with 22 points.
8/24 2 Ohio meets - St. Xavier wins Henry Jacquez Inv and Sycamore wins Brian Plasman Inv.
GA 8/24 North Gwinnett-Walton Stage Races - Parkview boys 11 and Collins Hill girls 14

MI - Rockford sweeps Benzie Central Inv
Rockford warms up in big early Michigan meet, US#8 ranked girls 31 and boys 34. Matt Wish of Rockford 15:56 3.1m wins individual honors. Nicole Bush of Kelloggsville 18:31 is girls winner. Complete Results

DyeStat hears . . .
Katya Kostetskaya, the diminutive Russian exchange student who ran so well as a freshman at Jonesboro AR last year, went home to Russia for the summer and is having visa problems that delay her return to the US. Her aunt and coach, Tatiana Bell (sister in law of pole vaulter Earl Bell), is working on the problem. Tatiana reports that Katya ran well this summer: a 2:10.49 800m at the International Youth Games in Moscow and a 59.69 400H in St. Petersburg June 29.
Smoky Hill CO star Megan Kaltenbach tells the Denver Post why she wins by such big margins: "I hate people on my heels." Her coach, Greg Weich, advises anyone wanting to beat Megan: "I hope you're ready to deal with a lot of pain." Fort Collins coach Craig Luckasen said, "Melody (Fairchild) was the best I've seen, and (Kaltenbach) is close, if not better." Denver Post season preview.
A "sprint summit" is on the drawing boards in conjunction with the 2003 Nike Indoor Classic to be held at Landover MD next March 15-16. Modelled roughly after the Pole Vault summit in Nevada, the event would involve elite and high school athletes and coaches and would include instruction, demonstration, and competition.
Two nationally ranked girl distance runners who won't run for their high school teams because of differences with coaches will face each other at the Great American Cross Country Festival in Charlotte. Chaska MN fr Bria Wetsch and Hershey PA sr Angie Saterstad are entered unattached in the College Open race Friday night September 27. [PennTrackXC.com]




ShopDyeStat

limited to items of special interest to DyeStat people - INDEX

Get Ready for Cross Country!

with

The Harrier

-

authoritative chronicle by acclaimed running journalist Marc Bloom -

Super 25 national rankings.

- 8 issues for $32 -





2002 Outdoor
State Leaders
Select a state from the menu
to get the current state leaders
for each event based on the
DyeStat Elite database
Brian Dalpiaz has appendectomy
Sayville NY star undergoes emergency surgery Monday 8/26 for a burst appendix. Sayville coach Glenn Drago said Brian may be ready to run again in 4-6 weeks, but the recovery period could be as long as 12 weeks. Dalpiaz was entering his senior year as one of the leading distance runners in the country. He was the Penn Relays champion last April at 3000 meters.
Georgia girl dies after cross country race
Cedar Grove jr Shai Lauren Owens collapsed after completing a 3.1 mile race at Shamrock in Dekalb County and died at 8 pm at Dekalb Medical Center. Atlanta Journal-Constitution story.
The Harrier pre-season rankings
Marc Bloom tabs The Woodlands TX boys and Saratoga Springs NY girls as US#1 in first Super 25 rankings of the 2002 cross country season. Kingwood TX boys, #1 last year, start out this year at #7. Dana Hills CA and Mountain View UT bid for top school honors with each in top 10 of both boys and girls rankings. Top 10 lists are loaded with new faces: Boys - 3. Davidson Hilliard OH, 5. Davis UT, 6. West Plains MO, 8. Russellville AR, 9. Salesianum DE, and 10. Jefferson Alexandria VA. Girls - 2. Valparaiso, 3. San Pasqual CA, 9. Hopkins MN, and 10. Turpin Cincinnati OH.
The Harrier top 10 national and top 5 regional teams
Natasha Roetter Says No
to running at Duke
2-time Foot Locker Northeast champion opts for marching band and intramural basketball instead

8/26/02 -- Natasha Roetter (Lexington, Ma), who finished 4th (2000) and 3rd(2001) at the last two Foot Locker Cross Country Championships, walked into Duke coach Jan Ogilvie's office yesterday with her parents (a day before classes started), and announced that she didn't want to compete at the collegiate level at this time.
Walt Murphy's X-Country story
"The best coach on the planet is Scott Raczko"
says Alan Webb in USATF teleconference.
National Coaches of the Year
The National High School Coaches Association selected these coaches for the 2001-2002 school year:
Cross Country -- Girls: Jeff Arbogast, Bingham UT. Boys: Rich Trenoze, Bayonne NJ
Track & Field -- Girls: Tom Knudson, Northrop Fort Wayne IN. Boys: Lindy Remigino, Hartford CT

DyeStatCal
a new California web site with an old familiar name
Doug Speck, the guru of high school track in California and the nation, has joined DyeStat as editor of DyeStatCal, our new California page at www.dyestatcal.com. This page takes the place of our California state page in the States section. It will have saturation coverage of the important Golden State with all the latest news, results, rankings, and photos.
Speck has been covering the California and national prep scene for many years. As announcer at most of the leading meets, he combines his encyclopedic knowledge with a coach's observations to enliven every race. Speck is a long time teacher at Arcadia CA high school, where he built the Arcadia Invitational into the leading in-season prep meet in the country and 2 years ago took over the duties of athletic director. With the onset of the Internet, Speck was one of the web pioneers for several years as editor of prep.CalTrack.com. We are delighted to welcome Doug to the DyeStat team. [John Dye]
Check out DyeStatCal - opening day featured Sunset in the Park race at Central Park in Huntington Beach CA and California pre-season rankings, team and individual by division. Talk about it all on the California TrackTalk message board
Sunset in the Park collage by Jason Watanabe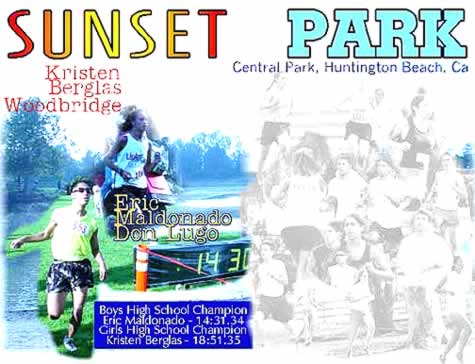 Athletes to Watch in 2002-2003
Going into the 2003 class year, the athletes to watch will come from these lists. Of course, many others will emerge during the year.
8/26/02 Outdoor Returnees to 2003 - undergrads in 2002 outdoor who made the DyeStat Elite rankings
8/26/02 Indoor Returnees to 2003 - undergrads in 2002 indoor who made the DyeStat Elite rankings
8/26/02 Cross Country Returnees to 2003 - undergrads in 2001 cross country who made DyeStat XC Leader Lists
8/26/02 New Faces of 2002 - freshmen and younger who made the DyeStat Elite national rankings
Welcome to the 2003 version of DyeStat
We have redesigned the navigation links (Site Map) and sponsor section, with a standard position on all new pages added to DyeStat. Please email John Dye if any links don't work. You can use the old Page 1 to reach all content prior to August 20, 2002.
Iolani Update
Here are some early confirmed teams for the 4th Iolani Invitational in Hawaii September 21: Poly Long Beach CA girls, Gunn CA, Auburn Riverside WA, Rotorua Girls (New Zealand), Eisenhower WA, Crescent Valley OR, Montgomery Santa Rosa CA, Clovis East CA, Milikan CA, Valley Christian CA, Orange CA, Deer Valley CA, Chino CA, and Bingham UT.
55 teams named
for Great American
Race of Champions
CHARLOTTE NC 8/6/02 -- Great American founder Rick Hill today named 55 teams (27 boys and 28 girls) to run in the Race of Champions, the most prestigious pair of the 22 races to be run at the 4th Great American Cross Country Festival at Ballantyne Resort September 27 and 28. Defending champion Kingwood TX boys and Saratoga NY girls return. Bobby Curtis KY, who won the Seeded Invitational race last year, will be in the ROC this year. Other top runners include Foot Locker national finalists Liza Pasciuto CA and Amber Harper UT, Saratoga NY freshman ace Nicole Blood, and Amanda and Katy Trotter of Red Bank NJ.. The Trotter twins are running cross country for the first time after leading Red Bank's distance medley team to a national indoor record (NSIC New York) and AOC Raleigh championship. Details
DyeStat Featured Meets
Meets that will be covered in depth by DyeStat in 2002-2003
* = DyeStat on-site meet
CROSS COUNTRY 2002
* Sep 7 - Midwest Meet of Champions, Hilliard OH
* Sep 21 - Iolani Invitational, Kualoa HI
* Sep 27-28 - Great American Cross Country Festival, Charlotte NC
* Oct 5 - Portage Invitational - Portage MI
* Oct 12 - Manhattan Invitational, Van Cortlandt Park, NYC
* Oct 25-26 - Mt. SAC Invitational, Walnut CA
* Nov 17 - OR-WA BorderClash, Nike World Headquarters, Beaverton OR
* Nov 30 - Foot Locker Cross Country regionals

Northeast, Van Cortlandt Park, NYC
South, Charlotte NC
Midwest, Kenosha WI

* Dec 7 - Foot Locker West Regional, Mt. SAC CA
* Dec 14 - Foot Locker National Finals - San Diego CA
INDOOR 2003
* Dec 21 - Bishop Loughlin Games - New York Armory
* Dec 27 - Holiday Classic - New York Armory
* Jan 11 - Hispanic Games - New York Armory
* Jan 25 - New Balance Games - New York Armory
* Feb 7 - Millrose Games - Madison Square Garden NYC
* Feb 8 - Colgate Women's Games - Madison Square Garden NYC
* Feb 13-15 - Simplot Games - Pocatello ID
* Mar 15-16 - Nike Indoor Classic - Landover MD
OUTDOOR 2003
* Mar 28-29 - Sugar Bowl Classic - New Orleans LA
* Apr 4-5 - Mobile Challenge of Champions - Mobile AL
* Apr 11-12 - Arcadia Invitational - Arcadia CA
* Apr 24-26 - Penn Relays - Philadelphia PA
* June 13-14 - adidas Outdoor Championships - Raleigh NC
* June 19-22 - USATF Nationals - Palo Alto CA
June 28-29 - 1st National Decathlon/Heptathlon Ch. - Albuquerque NM
July - USATF Junior Olympics
August - AAU Junior Olympics